The Kim Newport Band Story (1978-1983)
Photo Gallery - Band Lineups - Discography - Audio samples - Where Are They Now?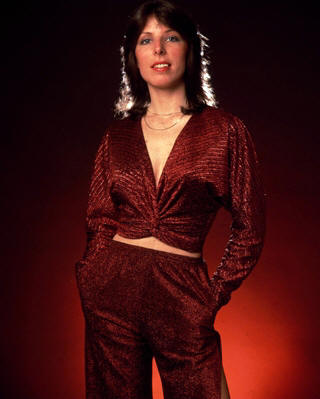 The Story
For over five years - from July, 1978 through September, 1983 - The Kim Newport Band toured the ballrooms, dance clubs, and cabaret circuit across Ireland. During that time, Kim appeared on Ireland's national television network (RTE) ten times, including two appearances on Ireland's top rated Late Late Show with legendary host, Gay Byrne. She released nine singles, and played in every county in Ireland.
Kim arrived in Ireland in July, 1978. She and husband, Gerry Gallagher had met and performed together in California the previous year. Born in California, this was to be Kim's first home outside the "Golden State." Gerry lived and worked in Sligo from 1970 to 1976, including a stint with the original Magic and the Magic band from 1974-75.
Gerry recruited former local band mates Dick Lynott and Joe Foley (both from Sligo) and the the band played it's first gig as Kim Newport and California in the Blue Lagoon, Sligo. Within two months, Gerry realised something was missing and added a second lead guitarist, Seamie McGowan to the lineup. The addition allowed the band to feature twin lead guitars and also Gerry to play keyboards when needed.
The band quickly established themselves as a top regional band by winning the "Opportunity Knocks" talent competition in Ballyshannon, County Donegal. They gained a reputation for playing a good mix of pop and rock music, with a touch of country thrown in. Kim was also a solo winner in the Benson and Hedges "Golden Voice" competition held in Ballina, Co. Mayo. Within a few months, the band signed with Tom Kelly Promotions of Ballina, who also managed the Fairways Band featuring Gary Street and Sandy Duskey (now Sandy Kelly).
On August 15th, the Kim and the band traveled to Dublin to Dick Keating's Cuckoo's Nest Studio where they recorded Linda Ronstadt's When Will I Be Loved and Barbra Streisand's Evergreen as their first demos. After hearing the band's demo, Marcus Connaughton of Hawk Records came to hear the band play and they were signed by Brian Molloy and Marcus on December 13, 1978. Hawk was also home to the Cotton Mill Boys and Johnny McEvoy, among other top Irish acts.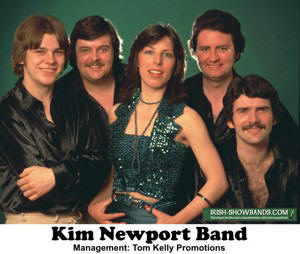 Kim's first recording was with The Cotton Mills Boys on their single You Are No Angel. On March 3, 1979, Stop, Think was featured at the launch of the Northwestern Health Board's anti-drinking campaign and was a featured story on RTE's Evening News. The song was written by RTE Producer (and former Greenbeat) John Keogh to support the campaign's message to young people.
Hawk followed up with Midnight Lullaby and on October 13, 1979 Kim first appeared on the Late Late Show with Gay Byrne singing the song. At the end of the year, Kim was interviewed by Morgan O'Sullivan on his RTE Radio One program, Late Date.
Kim and the band started 1980 by being voted "Best New Pop Band" by readers of the Connaught Telegraph newspaper (the "not yet famous" two-time Eurovision Song Contest winner Johnny Logan was voted "Best New Vocalist" on the same night). The band was now playing dates from Glencolumbkille in the North to Castletownbere in the South, and every place in between.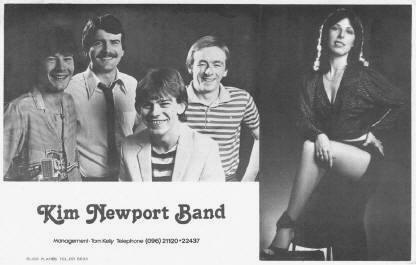 Although both singles received decent airplay Hawk was reluctant to enter the recording studio again and at this point, Kim and the band left Hawk Records and formed Sunset Records to release the rest of their singles. Gerry took over the production, publicity for the band and they struck out on their own.
1980 was the first year Kim and the band recorded their own original songs and they released the double A-side I Am A Woman, c/w Too Many Heartaches recorded in Greenfields Studios, near Tuam, Co. Galway with Tony Maher (of the Conquerors) on keyboards, Dick Lynott on drums, and Ger O'Donoghue engineering the sessions. The session also featured former Cotton Mill Boys member, Francie Lenehan on guitar and former Conqueror, Michael Keane on steel guitar. This was the first of many songs recorded at the then brand new 8 (soon to be 16) track facility.
At the beginning of 1981, the band underwent its first of several lineup changes. Joe Foley and Dick Lynott left the band and were replaced by James Blennerhassett of Sligo on bass and Seanie Ryan from Thurles on drums. James had played with Gerry previously in Sandy Duskey and Easy Listenin' and Seanie had previously played with Kenny Ryder's (ex-Tweed) Band. 1981 would see the band perform on the first of three SBB Ina Shui programmes hosted by RTE's Seán Bán Breathnach. They performed their first single, Stop Think, along with the next of their Greenfields recorded numbers, Evergreen Wedding. Shortly after, Kim was invited to appear on Brendan's Grace's series, That's Showbiz where she sang one of the band's most popular live numbers, I Got The Music In Me.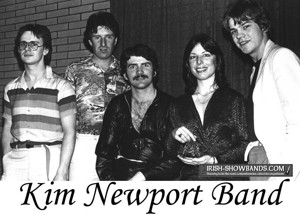 As 1981 progressed, the band continued to grow its reputation. Another appearance on SBB showcased two more original numbers, Come Up To Dublin and I Need A Lover. Although it never reached the Irish charts, Come Up To Dublin received significant airplay and attracted the attention of Paddy O'Connell, a top manager in Limerick. The band signed with Paddy and joined the same management stable as Shaun O'Dowd and Dingaling, one of Ireland's leading pop bands. Kim and the band hit their stride winning reader polls in the Sligo Journal and the Northwest Showbiz Awards in Donegal. As 1981 came to a close, the band's lineup underwent another shake up. James left the band to become one of Ireland's top session musicians (after several years with the Conquerors, he now tours (2016) with Daniel O'Donnell), and Seanie was snapped by Tweed to fill their newly vacant drummer's spot.
The band found replacements in Omagh's Brian Mullin, who had relocated to Sligo and played bass, and Paul Hamilton, a Donegal drummer suggested by Ted Ponsonby of The Rascals. Unfortunately, Paul only stayed a few months and was replaced by year's end with Gerry's brother, Michael Gallagher, on drums. This would be the band's lineup through the next two years. Also joining the band occasionally on stage was road manager, Colm Feeney who played guitar and sang backup.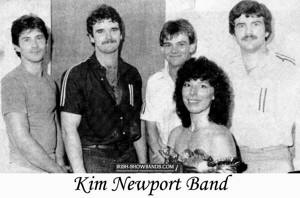 1982 started with yet another appearance on The Late Late Show singing Come Up To Dublin. In April, Kim was asked to be a part of the finale of the Twink Series where she invited most of the top female performers to sing the last medley of songs with Maxi Dick and Twink. Kim joined stars like Sandie Jones, Karen Black, Alma Carroll, Yvonne Costelloe, Nicola Kerr, Eileen Reid, and Tina Reynolds. The band was also featured on Gerry Ryan's show, Non-Stop Pop as well as their third SBB Ina Shui program performing originals Take It Or Leave It and Rock n' Roll Party. Finally, Kim appeared on another Brendan Grace show along with Tony Kenny and Sheeba.
Although 1983 would prove to be Kim's last year in Ireland, it ended up being one of her most successful. Touring continued and the band started playing more dates in Northern Ireland. The band recorded Somewhere Along the Way and Take It Or Leave It. Kim was also a solo performer on RTE television's The Music Show which was aired after the band's final performance in Ireland.
The band toured continuously until a week before leaving for the States. Their last performance was appropriately in the Baymount Entertainment Centre in Strandhill, Co. Sligo where they got to say thank you to the local fans who had been with them every step of the way. Gerry and the boys performed one last time as California at the Over 21 Club in the Sligo Park Hotel a few days later.
In 2011, Kim returned to Sligo and released her first single in over 25 years, Girls' Night Out which is available for free download on her website, www.kimnewport.com. She was interviewed on several radio stations including Pascal Mooney's Show on Ocean FM in Sligo, Highland Radio in Donegal and Cork's C103. Kim also played some dates in summer, 2012, releasing a completely new version of Somewhere Along The Way. Current plans are for Kim to return to gigging in Ireland in 2018.
Click on thumbnails for full image
| | | | | |
| --- | --- | --- | --- | --- |
| | | | | |
| Kim Newport - 1978 | Kim Newport - 1979 | Kim Newport - 1979 | Kim Newport Band - 1979 | Kim Newport Band - 1979 |
| | | | | |
| Kim Newport - 1979 | Kim Newport - 1980 | Kim Newport Band - 1980 | Kim Newport Band - 1980 | Kim Newport Band-'81 |
| | | | | |
| Kim Newport - 1981 | Kim Newport Band - 1981 | Kim Newport Band - 1981 | On The Road - 1981 | Brendan Grace Show - 1982 |
| | | | | |
| Kim Newport - 1982 | Kim Newport - 1982 | Kim Newport - 1982 | Kim Newport Band - 1982 | Kim Newport - 2011 |
| | | | | |
| March 1980 | Coming Soon | Coming Soon | Coming Soon | Coming Soon |
Years
Vocals/Keys
Guitar/Keyboards
Bass
Drums
Guitar
Guitar
June
1978
Kim
Newport
Gerry
Gallagher
Joe
Foley
Dick
Lynott
Aug
1978
Kim
Newport
Gerry
Gallagher
Joe
Foley
Dick
Lynott
Seamie
McGowan
Feb
1981
Kim
Newport
Gerry
Gallagher
James
Blennerhassett
Seanie
Ryan
Seamie
McGowan
July
1981
Kim
Newport
Gerry
Gallagher
Brian
Mullin
Paul
Hamilton
Seamie
McGowan
Colm
Feeney
Dec
1981-1983
Kim
Newport
Gerry
Gallagher
Brian
Mullin
Michael
Gallagher
Seamie
McGowan
Colm
Feeney
Singles:
Stop, Think / A Love Song
Hawk - HASP 436 - March, 1979
Midnight Lullaby / I'd Do It Again
Hawk Records - HASP 443 - October, 1979
I Am A Woman / Too Many Heartaches
Sunset Records - SUN 001 - 1980
Evergreen Wedding / Please Help Me
Sunset Records - SUN 003 - 1980
I Need A Lover / Please Help Me
Sunset Records - SUN 007 - 1981
Come Up To Dublin / Too Many Heartaches
Sunset Records - SUN 008 - 1981
A Love Song / I Need A Lover
Sunset Records - SUN 009 - 1982
Girl's Night Out
Sunset Records - 2011
Somewhere Along the Way
Sunset Records - 2012
| | | | | |
| --- | --- | --- | --- | --- |
| | | | | |
| Stop Think | Midnight Lullaby | I Need A Lover | Come Up To Dublin | |
| | |
| --- | --- |
| | Kim Newport (Kim Gallagher): Kim and Gerry returned to the United States in 1983 and settled in South Carolina with their two children. Kim recently has been involved with a variety of stage productions in Columbia including starring roles in The Wizard of Oz, Peter Pan, and Cheaper By The Dozen. In 2005, Kim earned her Master's Degree in Education to go with her Bachelor's Degree in Fine Arts/Dance. On November 18, 2006, Kim and Gerry suffered a tragedy when their 16 year old son, Grant, was killed in a car accident. In 2010, Kim returned to Ireland and released her first single in over 25 years, Girls Night Out. Kim was back in Ireland in 2012 and released the original single, Somewhere Along The Way. |
| | Gerry Gallagher: Gerry and Kim relocated to the United States and after getting his MBA, he worked in business for nearly twenty years, before selling his company in 2003. He continues to be involved in music through his video production and audio recording company, GMS Productions. In 2007, he returned to Sligo and was Managing Director of Big Bocca Productions, an international animation production company, but recently started lecturing at IT Sligo in Management and Marketing. He still plays regularly across the Northwest. |
| | Joe Foley: Joe Foley remained in Sligo and has continued to play with local pub groups for the past twenty years. He still gigs around town with his own band, The Showband Boys for the past few years with Michael "Rip" Carty, Tony, and Noel Stewart. In 2016 Joe plays with New Edition in Sligo and as a solo artist. |
| | Dick Lynott: After leaving the band, Dick played with many bands in the Sligo area, but eventually formed his own band with Dave Moriarty of the Fairways called Staganua. The band played regionally and received airplay on local pirate radio, but broke up shortly thereafter. Today Dick lives in Spain, where he spends much of the year gigging with the Poco Loco Steel Band, one of the only steel drum bands in the country. |
| | Seamie McGowan: After the Kim Newport Band broke up, Seamie went on to join Those Nervous Animals, one of the top rock groups in Ireland in the mid-1980's. Married and still in Sligo, Seamie has two children and continues to play locally often pairing up with Seamie O'Dowd, the son of famous Sligo musician Joe O'Dowd and former member of the band, Dervish. He plays with several different bands, including the Shelly River Band. |
| | James Blennerhassett: After James left the band, he started doing session work and eventually became one of the top rated session players in Ireland. In more recent years he has been a steady member of Mary Black's band on her world tours and has been traveling with Ireland's 2006 Eurovision entrant, Brian Kennedy. In the mid-2000's James moved to Ballyfarnon, a rural area just outside Boyle in County Roscommon where he built his own recording studio. He has also released several solo albums in the last five years. He joined the Conquerors in 2008 and was with them until around 2012. Today he lives in County Kildare and remains one of the country's most respected musicians. In 2016, he joined Daniel O'Donnell's touring band. |
| | Seanie Ryan: Seanie left the band to join Tweed, one of the top rated pop bands of the 70's and 80's. He left Tweed in 1985, and emigrated to the United States where he stayed with Kim and Gerry for a time. It wasn't long before he was playing with several bands and relocated to Oklahoma with his new bride. Seanie now lives in Houston, Texas and has two children. He still plays regularly with a local blues group five nights a week, and also spends much of his time refereeing youth soccer these days. |
| | Brian Mullen: Brian joined a Northern Ireland based pop band for a time and eventually emigrated to the UK where he also played with a pop group. In 2013, we reconnected with Brian who now lives in the UK. He is still very active in music performing with several outfits including a wedding band. He has started writing music and recently posted one of original songs to YouTube. |
| | Paul Hamilton: Although we don't know what happened to Paul immediately after he left the band, he recently emailed us to say he is living in Letterkenny and still gigging locally in County Donegal. If you have more info, please email us |
| | Michael Gallagher: Michael stayed in Sligo and played with a few local bands, including a jazz group, Katch which featured Stan Burns, formerly of The Capitol Showband and Sligo's Jazz Ladds on sax. Eventually he returned to the United States. He now lives in Arizona with his wife and three children, but no longer performs. |
| | Colm Feeney: After the band called it quits, Colm moved into the promotion side of the business and staged several folk festivals in and around Sligo. He started his own shipping company which was bought out several years ago. Colm still lives in Carney near Sligo with his wife and children, but never returned to the music scene. Colm is now a builder in the Sligo area and across the country. |
For more info on Kim and the band, visit their website at www.kimnewport.com