Maisie McDaniel Feature
Photo Gallery - Band Lineups - Discography - Audio samples - Where Are They Now?
The Story
Fendermen - Nevada Showband - Ramblers - Fintan and Maisie in cabaret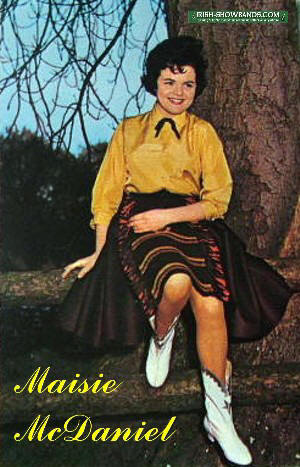 Born Mary Anne McDaniel, "Maisie" was one of the earliest female superstars of the Irish entertainment industry. At the height of her fame, Maisie was a regular guest on Irish TV, released several singles on English labels Beltona and Fontana Records and was one of the most recognizable faces in Ireland.
Our first signal of Maisie's impending fame came in a front page story in the Sligo Champion newspaper in August 1958. Maisie, along with sister Deirdre, had entered and won the ballad singing competition at the Cootehall (Co. Roscommon) Feis. She had previously won the Strokestown Feis a month earlier. She sang Noreen Bawn and She Lived Beside the Anner.
She became a celebrity when she won a major ballad competition in Swinford, Co. Mayo and turned professional under the watchful eye of manager, George O'Reilly.
Her first single was released in 1961 on the English Beltona record label, it featured Forty Shades of Green and Lovely Armoy.
By 1963/64 Maisie was playing the ballroom circuit with her own group, The Fendermen.
Maisie's earliest recordings were typical girl pop vocals on the UK Fontana label, but it was George who suggested Maisie move to country and western music and she never looked back. However, even though she was a major star, appearing on (R)TE's Jamboree programme and Maureen Potter's radio show, the Fendermen were dwarfed by the powerhouse lineups of showbands like Brendan Bowyer and the Royal, Butch Moore and The Capitol, and Dickie Rock and the Miami.
In late 1964, manager George decided it was time for Maisie to hit the showband circuit. She was to front the new Nevada showband, who had achieved only moderate success with Brian O'Brien as their lead singer. On St. Stephen's Night, 1964, the band debuted in the Premier Ballroom in Thurles, Co. Tipperary. Within weeks, the band was seen as one of the best lineups in the country, but Maisie's role in their success was to be short lived.
On January 21, 1965, tragedy struck when she was seriously injured (breaking her hip) in an accident as a passenger in a car driven by showband entrepreneur, Oliver Barry. She was off the road, out of the Nevada and hospitalized for several months after the accident. And because of the accident, Maisie missed her chance to represent Ireland at Eurovision and was replaced by Dickie Rock in the National Song Contest.
After recuperating on her farm in Tullyhill, outside Sligo, Maisie decided to take a break from show business and in May, 1965 she married ace accordion player Fintan Stanley. Fintan and Maisie went to England for several years, playing the cabaret scene there, but were enticed back to Ireland in 1969 when she was offered the chance to be part of a new Telefis Eireann show, Hoot-nanny, which was hosted by Shay Healy (who would later write Johnny Logan's Eurovision smash in 1980, What's Another Year).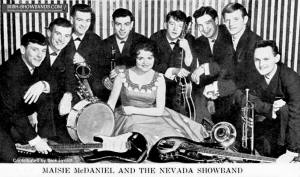 The show was a huge success and as a result, she and Fintan formed a five piece group called the Ramblers which originally included Des Moore (brother of Butch) on guitar. The re-launch of Maisie also included a unique "package" which manager George O'Reilly put together which also included the Paragon Showband, along with Maisie and the Ramblers.
In the March 6th, 1970 issue of Spotlight it was reported that the five piece group was expanding to six with the addition of the Cadets former front man, Gregory Donaghy with his first appearance set for at Easter Sunday. With the move, the band was renamed the Nashville Ramblers and they released a duet single, Okie From Muskogee which featured both Maisie and Gregory. Although there seemed to be a glut of country bands hitting the road around this time, The Nashville Ramblers were being touted as one of the up and coming bands on the scene, mostly because of Maisie's earlier successes. The band toured England also also appeared on the BBC Show, Country Meets Folk, as well as recording a spot for Larry Cunningham's Show on RTE.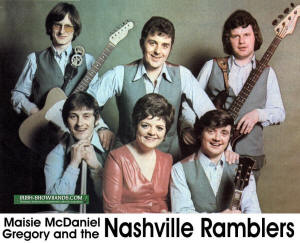 With their single doing relatively well, the band's reputation was growing, but in August, an article in Spotlight reported that Maisie would be leaving the band temporarily because of a threatened miscarriage. Gregory took over fronting the band and manager George O'Reilly said Maisie would be back and sing until about three months before the birth. A week later, the band announced Terry Mahon (formerly with Jim Farley's Tophatters), would be replacing Maisie, although it was still reported to be temporary. Said Fintan, "Her doctor says everything is fine, but she may rest a little longer than the couple of weeks indicated earlier."
Although it had initially seemed that in 1970 the band was destined for great things, in the October 2nd issue of Spotlight, an article announced Maisie "Won't Be Back." The article also reported that Fintan had left the band as well. This would be Maisie's final flirtation with the showband circuit as she and Fintan settled down to life in Sligo and played the cabaret and lounge scene in and around the Northwest of Ireland. Maisie was permanently replaced by Terry Mahon, who had played with Jim Farley's Band. Eventually Gregory formed his own trio before emigrating to Canada around 1974.
In the early seventies, Fintan and Maisie played the cabaret circuit and in 1973, an article in the Sligo Champion reported that Maisie had decided it was time to release another single, but that never happened. Maisie did give birth though, in early 1973, to her and Fintan's only child, Lisa. Throughout the 1970's, Maisie and Fintan continued to play the local cabaret scene on and off, but never made a commitment to the entertainment scene as before, preferring a quiet life in rural County Sligo. Eventually Fintan and Maisie split up and Fintan emigrated to the United States where he still lives today in Massachusetts.
However, in 1985, Maisie came out of her semi retirement and went into Greenfields Studios in County Galway to record an album of her former hits. Over the final twenty years of her life, Maisie remained "out of the limelight" coming back to the stage only once in a while for special occasions. Although somewhat recluse, she remained a celebrity in and around Sligo.
Sadly, Maisie passed away at her home in Sligo on June 28, 2008. She had retired from performing for many years, although her legacy as one of Ireland's premier female vocalists of the early 1960's lives on in her daughter, Lisa Stanley, who released a CD of Maisie's hits in late 2009.
click on thumbnails for full image
| | | | | |
| --- | --- | --- | --- | --- |
| | | | | |
| Maisie McDaniel & The Fendermen - 1964 (BK) | Maisie McDaniel & The Fendermen - 1964 (LR) | Maisie McDaniels - 1964 (LR) | Maisie McDaniel | Maisie McDaniel |
| | | | | |
| Maisie - 1965 | Maisie & Fintan - 1965 | Article - Feb, 1965 | Article - April, 1965 | Maisie McDaniel (LR) |
| | | | | |
| Maisie McDaniel & The Nevada - 1965 (DL) | Maisie McDaniel & The Nevada - 1965 | Article - January 1965 | Maisie - 1969 | Maisie - 1969 |
| | | | | |
| Maisie - 1969 | Maisie - 1969 | Maisie - 1969 | Maisie - 1969 | Maisie - 1970 |
| | | | | |
| Maisie & The Nashville Ramblers - 1970 | Maisie & The Nashville Ramblers - 1970 | Maisie & The Nashville Ramblers - 1970 | Maisie - 1970 | Article - May, 1973 |
| | | | | |
| Maisie Tribute CD-2009 | Dermot & Maisie - 1969 | Fendermen (PL) | Maisie McDaniel (RF) | Maisie McDaniel (RF) |
| | | | | |
| Maisie McDaniel (RF) | Maisie McDaniel (RF) | Maisie McDaniel (RF) | Maisie McDaniel (RF) | Maisie McDaniel (RF) |
| | | | | |
| Maisie McDaniel (RF) | Maisie McDaniel (RF) | Coming Soon | Coming Soon | Coming Soon |
Discography (more to come)
Forty Shades of Green / Lovely Armoy
Beltona Records - BE-2741 - 1961
Take Good Care Of Him / Just One Time / Foolin Around / Are You Lonesome Tonight / I'll Be All Smiles Tonight
(with the Clubmen)
Beltona Records - BE-2742 - 1961
Christmastime In Ireland / The Old Pigsty
Beltona Records - BE-2744 - November, 1961
Christmas Candles / Sweetheart of Friend
Fontana Records - 267 251 TF - November, 1962
Something Special / This Song Is Just For You
Fontana Records - ETF.400 - June, 1963
My Heart Cries For You / Belonging To You (with the Johnny Gregory Orchestra)
Fontana Records - ETF.430 - December, 1963
Room Full of Roses / He Thinks I Still Care
Fontana Records - ETF.492 - August, 1964
Not Enough Indians (Maisie) / Clogherhead (Fintan Stanley)
Dolphin Records - DOS.52 - December, 1969
Okie From Muskogee / D-I-V-O-R-C-E (Maisie and Gregory)
Quality Records - QT.102 - June, 1970