Angela Farrell Feature (More to come)
Photo Gallery - Band Lineups - Discography - Audio samples - Where Are They Now?
The Story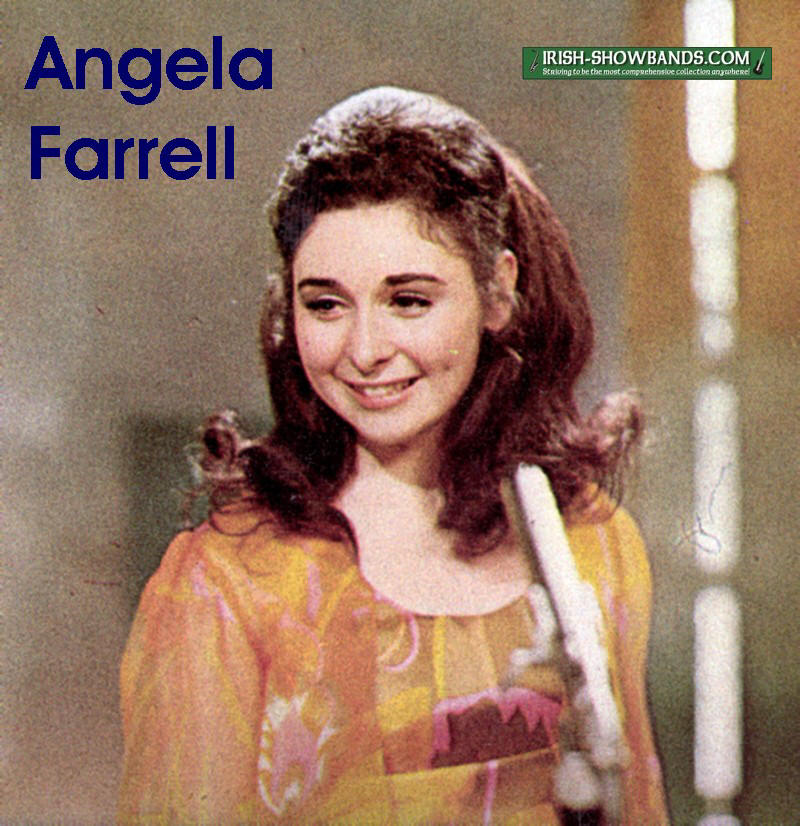 After Dana's triumph in the 1970 Eurovision Song Contest with All Kinds of Everything, the gala event was held in Dublin the following year. Ireland's National Song Contest (from which its Eurovision entry would be picked) featured showband favourites like Red Hurley, Danny Doyle and Sonny Knowles among others. The cover of the Spotlight issue dated March 6, 1971 featured a photo of most of the National Song Contest singers...but surprisingly absent was Angela Farrell.
The preview of the contest described Portadown, Co. Armagh-based, 19 year old Angela, as leading a "double life," working in a chemist shop by day and singing cabaret at night. She was also making her debut on RTE television, although the article reported that she had appeared on Ulster Television and on RTE radio previously. Although living in the North, Angela was actually born in Donegal.
The song, One Day Love, was written by Donegal dentist, Donal Marin and Dublin housewife, Ita Flynn (although a report elsewhere suggested Ita had arranged the song). Despite a strong showing by the showband "heads," Red Hurley was edged into second place by the relative unknown Angela, with the Coterie Folk group taking third place. The showband loss continued a new trend as Ireland's first five entrants in Eurovision had all been showband stars. But Dana and Angela both came from cabaret, a growing entertainment trend at the time. Additionally, Angela was the third consecutive female singer based in the North to win the National Song Contest (Muriel Day was the first).
In the run up to Eurovision, Angela appeared in entertainment weekly, Spotlight, several times, posing with her parents and in her old job at the chemist shop. There was speculation that she would be backed by a local two piece cabaret group from near Portadown called The Sandmen, but we don't know if this ever happened. The article also featured Angela with her manager, Bill Carville, who also happened to be her cousin. It was also reported that although she had gone back to work for a few days following the National Song Contest, she had quit her job to become a full time cabaret artist before Eurovision.
However, lightning did not strike twice and it would be another decade before Ireland would win Eurovision again with Johnny Logan singing Shay Healy's What's Another Year. Angela acquitted herself well, placing 11th overall. Severine, from Monaco, was the winner that year with "Un banc un arbre une rue." She was signed by Decca subsidiary, Rex Records prior to the song contest (as was Dana the year before), the record of One Day Love entered the Irish charts just before the Eurovision and went as high as number 4, staying on the chart for 5 weeks. Her follow up, I Am, also charted in the top ten, reaching number 9, but only stay in the charts for two weeks.
Our records show that Angela released one more record on Rex (the same label as Dana), Top of the World, which failed to reach the charts.
Although we have searched the Internet, we can find no information on Angela today, other than You Tube videos of her 1971 performance. We have found in a few Eurovision "Where are they now" features in 1988 and 2000 that Angela now lives in Melbourne Australia. If you know any further info about Angela, please let us know.
Hopefully, more to come.....
click on thumbnails for full image
| | | | | |
| --- | --- | --- | --- | --- |
| | | | | |
| Angela Farrell - 1971 | Angela and Dana- 71 | Angela and Dana- 71 | Angela Farrell - 1971 | Angela Farrell - 1971 |
| | | | | |
| Angela Farrell - 1971 | Angela Farrell - 1972 | Angela Farrell - 1972 | Spotlight - 1971 | Coming Soon |
| | | | | |
| Coming Soon | Coming Soon | Coming Soon | Coming Soon | Coming Soon |
| | | | | | | | |
| --- | --- | --- | --- | --- | --- | --- | --- |
| Years | Vocals | Guitar | Bass | Drums | Keyboards | Sax | Trumpet |
| | | | | | | | |
| | | | | | | | |
| | | | | | | | |
| | | | | | | | |
One Day Love / How Near Is Love - #4 Irish Charts
Rex Records - R.11063 - April, 1971
I Am / Somewhere In The Shadow of My Dreams - #9 Irish Charts
Rex Records - R.11071 - December, 1971
Top of the World / Dusty
Rex Records - R.11080 - April, 1972