Elmer Fudd Feature (1970-74)
Photo Gallery - Band Lineups - Discography - Audio samples - Where Are They Now?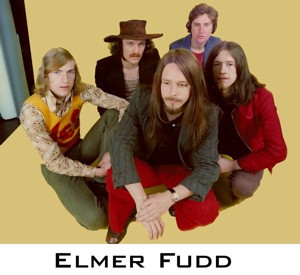 The Story
Elmer Fudd started life as a band named Portrait around 1970. The band's original lineup included Benny White (vocals), Keith Mansfield (bass), Philip Donnelly (guitar), Jimmy Mahon (drums) and Jody Pollard (guitar). In 1971, they changed their name to Elmer Fudd and John Donnelly replaced Jimmy on drums. The only other change that would occur was when Dave "Mojo" Lennox (keyboards) replaced Philip Donnelly who left to play in Donovan's touring band. The band moved to the UK but eventually split in 1974.
More to come.....
click on thumbnails for full image
| | | | | |
| --- | --- | --- | --- | --- |
| | | | | |
| Elmer Fudd | Elmer Fudd - 1972 | Elmer Fudd - 1972 | Elmer Fudd - 1971 | Elmer Fudd - 1973 |
| | | | | |
| Elmer Fudd - 1973 | Elmer Fudd - 1971 | Elmer Fudd - 1972 | Elmer Fudd - 1971 | Coming Soon |
| | | | | |
| Coming Soon | Coming Soon | Coming Soon | Coming Soon | Coming Soon |
Years
Vocals
Guitar
Bass
Drums
Gtr / Keyboards
Portrait
1970
Benny
White
Jody
Pollard
Keith
Mansfield
Jimmy
Mahon
Philip
Donnelly
Elmer Fudd
1971
Benny
White
Jody
Pollard
Keith
Mansfield
John
Donnelly
Philip
Donnelly
1972
Benny
White
Jody
Pollard
Keith
Mansfield
John
Donnelly
Dave (Mojo)
Lennox
S - #3 Irish Charts
M
Audio Clips (our thanks to Jody Pollard)
Coming Soon
| | |
| --- | --- |
| | Benny White: After Elmer Fudd, Benny located to England again and played with a few groups doing a lot of rehearsing but little else. In April, 1974, Simon Scott left the Plattermen and Benny stepped in for about a year. This was followed by a long stint with The Times after the Swarbriggs left to form their own band around 1976. Around 1982, The Times called it quits and Benny tells us he took a break until 1986 when he formed a band with Jimmy Slevin, Greg Donaghy, and Jack Costello called Male Order and played for a short while until Jimmy moved to Germany. Jimmy and Benny had also been part of a recording group called Steal Moon before Male Order. They made two records, "The Mainstream" and "The Landlord." In the 1990's, Benny did a lot of gigging in the United States and Tenerife. These days he plays the odd gig with Terry Merrick and Maxie McEvoy and some solo work. |
| | Jody Pollard: Jody left the band and joined Bananas with Robin Irvine, formerly of Chips. He spent many years as one of the top rock musicians playing with many bands across Ireland. Eventually, Jody moved to London and continued his successful career over there. He then moved on to New York for a while but decided that he had enough of big cities and headed further south. Jody always had an itch to live in the sunshine and now resides in Palm Beach County in South Florida, USA were he still plays regularly. |
| | Phillip Donnelly: Phillip left Fudd when he joined Donovan's band for a short time before returning to Ireland and joining Gary Moore's Band until 1974 when he joined Donovan once again for a world tour, but based in America. Phillip ended up in the studios of Hollywood where he spent most of the middle seventies recording with several major artists. It was in Hollywood where Philip met and teamed up with Lee Clayton. After making some demos in the Record Plant, Lee signed with Capital Records, the result being four albums. He then spent many years in Nashville writing for and playing with many of the top country artists including winning a BMI Song of the Year Award for writing Crystal Gale's hit "Living in These Troubled Times." |
| | Keith Mansfield: Unknown - if you have info please email us |
| | Dave "Mojo" Lennox: Jody Pollard tells us Dave wrote and recorded the theme music for the RTE music show 'Like Now', he now lives in London, England. He has gone on to work with jazz artists Dee Dee Bridgewater, Archie Shepp and Herbie Hancock. He also played rock and blues with Al Green, Blodwyn Pig, Jay Owens and legendary Cream drummer, Ginger Baker. He has also played with a number of chart topping acts, including the Stylistics, Dave Berry, The Foundations, Alvin Stardust, The Equals, Slade, Thin Lizzy and many others. |
| | John Donnelly: Unknown - if you have info please email us |