Johnny Logan Feature (1976-present)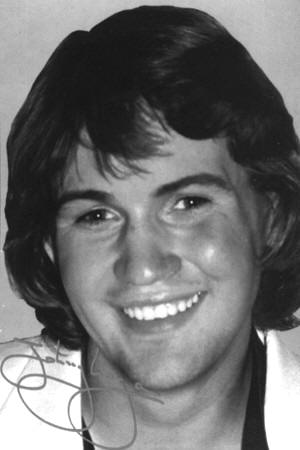 Sean O'Hagan, son of Irish Tenor Patrick O'Hagan was born in Melbourne,. Australia, but returned to Ireland in the 1970's. Brother of Mick O'Hagan, Sean started his career as an an apprentice electrician.
The first mention we found of the soon to be Eurovision superstar, was in a copy of Starlight magazine dated September 30, 1976. The article announced Sean would be starring as Adam opposite Annie Kavanagh as Eve in Alan Dee's new musical "Adam and Eve." The article mentioned that Sean had previously been singing with his brother Mick in the Rob Strong band, something we did not know.
After starring in the production of "Adam and Eve" alongside another future Eurovision contestant and International star, Colm Wilkinson (who played the Devil), Sean stepped into the role of Joseph, following in the footsteps of of Tony Kenny, who also did the role in the early 70's.
In early 1977, Sean and his brother Mick, formed the O'Hagan Brothers Band and played their first gig in the National Ballroom in Dublin on Friday, February 11th, 1977. The band also included musicians Joe Monk (keyboards), Sam Nevin (guitar), Carl Geraghty (sax), Frank Daly (bass) and Danny O'Keefe (drums).
In 1978, like many stage singers of the day, Sean tried his hand in the ballrooms, changing his name and hitting the road with his own Johnny Logan Band.
In 1979, he took his first crack at Eurovision singing the song, Angie in the Irish National Song Contest, but finished third behind Cathal Dunne's Happy Man. Undaunted, he continued to plug away at the ballroom circuit and started to create a bit of a stir, although he never reached the top tier of the showband elite. He was awarded "Best New Singer" by readers of the Connaught Telegraph newspaper in 1980, but his ballroom days were already numbered.
Johnny's life changed forever when he was selected to sing Shay Healy's What's Another Year as Ireland's entry in the 1980 Eurovision song contest. The win, Ireland's first since Dana in 1970, set him on a course for International stardom. Johnny would also set a few records along the way. Following his Euro win, he toured Europe and the World, making it especially big in Germany.
He would return to Eurovision again in 1984 as the writer of Ireland's entry Terminal 3 sung by Linda Martin of Chips. Finishing second, Johnny now was established as a songwriter as well as performer. In 1985 his entry, "Hearts," performed by his brother Michael, did not fair as well, but he remained committed. His 1986 entry, "If I can change your mind" (again performed by Linda) placed a respectable fourth.
In 1987 though, Johnny would become the first performer in history to win Eurovision twice, this time with his own composition, Hold me Now. The song was a number two hit in the U.K. and further enhanced Johnny's career on the International circuit. Following his win in 1987, Johnny was busy touring and it wasn't until 1991 that he ventured into Eurovision again, this time with brother, Michael performing "When do I get over you?" The song finished sixth, but Johnny was back the following year and recorded his third win with Linda Martin performing his self penned song, Why Me?
Following his third Eurovision success, Johnny focused on his recording and television career and during the nineties he recorded numerous hit songs in Europe and made dozens of television appearances. Although he spends most of his time in Germany these days, he remains one of Ireland's most successful performers on the International stage, something no one could have imagined as he held the trophy for Best New Singer in the Royal Ballroom in 1980 (photo below)!
Click on thumbnails for full images
Johnny Logan
1st Record-1978
Johnny Logan-1980
Eurovision 1980
Johnny Logan-1980 (KS)
Johnny Logan-1980 (KS)
Johnny Logan-1980
Johnny Logan-1986
Johnny Logan-1980
Johnny Logan-1987
Johnny Logan-1989
Johnny Logan-1982
Johnny Logan-1980
Johnny Logan (RF)
Johnny Logan (RF)
Johnny Logan (RF)
Johnny Logan (RF)
Johnny Logan (RF)
Johnny Logan (RF)
Johnny Logan (RF)
Johnny Logan (RF)
Johnny Logan (RF)
Johnny Logan (RF)
Johnny Logan - 2017
Johnny Logan - 1977
Coming Soon
Coming Soon
Coming Soon
Coming Soon
Coming Soon
Record Sleeves
1980
1980
1980
1980
1980
1980
1980
1980
1982
1982
1984
1984
1985
1985
1985
1985
1986
1986
1987
1987
1988
1988
1989
1989
1990
1990
1994
1994
Coming Soon
Coming Soon
Singles:
No I Don't Want To Fall In Love
Release Records - RL.917 - 1978
In London / Sad Little Woman
Release Records - January, 1980
What's Another Year / One Night Stand - #1 Irish Charts
Release Records - RL.1005 - Eurovision Winner - April, 1980
Save Me / Love Is A Small Town
Release Records - RL.1022 - July, 1980
Give A Little Bit More - #25 Irish Charts
Epic Records - October, 1980
Oriental Eyes / Flame - #18 Irish Charts
Epic Records - EPC A 2553 - July, 1982
Becoming Electric / Emotional Blackmail - #22 Irish Charts
Epic Records - October, 1982
Standing In There / Hollywood
Epic Records - EPC A 3416 - 1983
Heaven / Hollywood - #20 Irish Charts
Epic Records - EPC A 4338 - March, 1984
Ginnie Come Lately / Everytime I Dream
Epic Records - EPC A 6159 - 1985
Stab In The Back/Sara Smile
A.1 Records - LOG 1 - 1986
Hold Me Now / Living A Lie - #1 Irish Charts
Epic Records - LOG 1 - April, 1987
I'm Not In Love/Such A Lady - #8 Irish Charts
Epic Records - LOG 2 - July, 1987
Heartland / Stay - #21 Irish Charts
Epic Records - EPC 65144817 - April, 1988
All I Ever Wanted / Me and My Jealous Heart
Epic Records - EPC 6549777 - 1989
Lay Down Your Heart - #20 Irish Charts
K-Tel Records - 1990
Albums:
In London
Release-1979
What's Another Year
Release-1980
Love Songs
K-Tel - 1990
Coming Soon
For complete info on Johnny, visit his website: http://www.johnnylogan.net/