Johnny McEvoy
Photo Gallery - Band Lineups - Discography - Audio samples - Where Are They Now?
The Story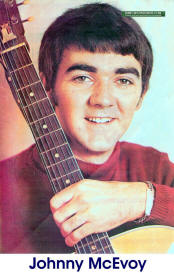 Born in Banagher, Co. Offaly on the 24th of April, 1945, Johnny and his family moved to Dublin when was six years old (1951) where his father was a bus driver. The third youngest of four children, he went to school in Inchicore and eventually enrolled in a commercial arts course in Rathmines. Early on, Johnny wanted to become a commercial artist, but had trouble landing a job without experience. After finishing the course, he landed a job with an advertising agency and his parents were delighted.
As a hobby, Johnny started singing with Mike Crotty and the pair called themselves the Ramblers Two. They had spent their time listening to bands like the Clancys. Folk music had just made a big comeback in Ireland courtesy of acts like the Dubliners, Ludlows, Wolfe Tones and Johnstons. "Folk was just happening in the pubs and hotels and we got a lot of work," said Johnny in a 1966 Spotlight interview. Although the duo had some success, their time together was relatively short. "After a time, Mike and I decided to quit the double act, said Johnny, "there were no hard feelings, but I just wanted to try it alone."
The year was 1966 and Johnny had to decide whether to concentrate on the agency business, or pursue a career in music. "Actually, it was an easy choice and money played a major part in my decision," said Johnny. "I was getting £8 a week in advertising after two years. As a solo singer I was a able to make that much in one night. If it didn't click, there was always America." Against his parents wishes, Johnny quit the day job and became a full time entertainer. His first single release, Love Minus Zero failed to make an impression.
As was popular at the time, Johnny was singing a mixture of Irish ballads and American folk. He wasn't doing so well and decided to try his luck in America and wrote to his sister who was already living in Kansas. In the meantime, he got a job singing with Maureen Potter's Gaels of Laughter show at the Gaiety Theatre in Dublin. Although he had filled out all the forms and was waiting for his visa to come through, his manager, Tom Costello, convinced him to give Ireland one more try. He decided to record Mursheen Durkin and the rest, as they say, is history.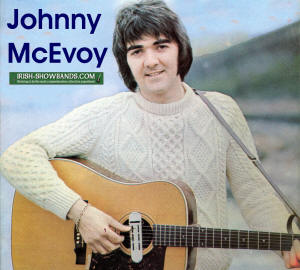 The record went straight to the top of the Irish charts and made Johnny an overnight sensation. Armed with an acoustic guitar, harmonica and boyish good looks, Johnny took the country by storm. Early in 1967, he released his follow up single, Boston Burglar to even greater chart success. Johnny was now firmly established as one of the country's top folk acts.
However, despite the commercial success of the two singles, Johnny was still worried, "I'm more confused than ever," he said in a May, 1967 interview, "things are going too well." He continued, "I seem unable to do wrong. Then you begin to wonder what's going to happen." Despite his reservations, he toured America and played in Carnegie Hall, one of the highlights of his career to this day.
Even with the success, Johnny continued to experiment and in a 1967 interview said, "It's no use becoming accepted as a country and western singer or a pop-folk artist. I want to be classed as an entertainer." During this period, the big money was in the Irish ballrooms, which Johnny played on a regular basis, one of the few solo acts to do so. "I just try to put on a memorable show every night," he said, "never stay too long on stage and even dancers seem to enjoy it." He toured American in the summer of 1967 and went from strength to strength. He also recorded material for his first album, using the rhythm section of the Cadets Showband in the studio.
1967 saw Johnny change direction slightly as he moved away from guitar backed ballads to a more electric country sound. He signed a deal with John Keogh's Greenbeats showband to back him in the ballrooms and his album, For The Poor and For The Gentry, featured ballads along with country music. It also featured Johnny's first self penned effort, Reflections-Take One. This move was further fueled by Johnny's own feeling that "the traditional scene is getting a bit tired." (Spotlight interview, 19th July, 1967). In his own story published in Spotlight in November, he said, "I have done all I can do in Ireland."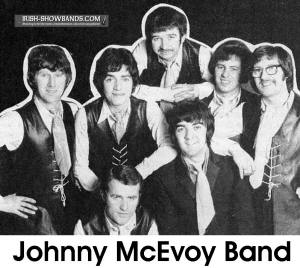 Johnny scored another number one in early 1968 with Nora. However, the next few years were a time of transition for Johnny and many other Irish artists. The real money was still in the ballrooms, even though their heyday was drawing to a close. Many groups and folk artists all faced the same dilemma: to make it in the ballrooms, you had to have a band and play dance music.
In an interview with B.P. Fallon in the October 26, 1968 issue of Spotlight, Johnny complained about the ballroom scene. "In a ballroom each night, a bit of your incentive dies," he reflected, " A concert is a challenge because people are better able to watch and criticise...ballrooms are so drab and and so cold."
It would be three years before Johnny would once again hit the Irish charts. In March, 1970, Spotlight carried a major article outlining the formation of Johnny's new country band. When the Cadets broke up in early 1970, Gregory Donaghy went to Maisie McDaniel's new band, the Ramblers (strangely enough the original name Johnny used when he was paired with Mick Crotty). At the same time, several of the remaining members formed the basis of Johnny's new country band. The members of his band were Brendan O'Connell (guitar), Noel McGann (bass), Michael Keane from the Gamblers (keyboards), Alan Loughnane
(fiddle), Jimmy Greely from the Orange Machine beat group (drums) and fellow folk artist Tim Corbett (guitar). It was announced that the new band would be called the New Horizons, but that name never stuck.
In a 2014 Interview with Henry McGlade on the Entertainment Ireland show (Irish TV) Johnny explained the move to the showband scene. "When I was going around on my own after Mursheen Durkin and Brown Eyes, the only places I could work was in the ballrooms. So you'd have a dance with a band on (they'd be playing for the dancing) and half way through the night they would break and I'd go one for 45 minutes as a guest star." However, it soon became impossible for the dancers to accept such a long break in their evening's dancing programme. Continued Johnny, "they didn't like anybody interfering with the dancing and my work at the dances started to drop away." Eventually Johnny and his manager thought "if you can't lick 'em, join 'em" and he formed his country band.
Johnny seemed to be rejuvenated by the addition of the band. In a 1970 Spotlight interview Shay Healy noted that when Johnny took the stage he was, "alive and well and happier looking than he has been for quite a while." Johnny talked about the band's first gig which had been in Manchester and they took the boat over from Dublin. Previously he would have flown over by himself as a solo artist and in his own words, "I was miserable," he added "this time there were six other guys to share it with and the difference was incredible. It's great to have someone to share the measure of glory and and the time before and after."
In July, 1971 RTE launched the Anna McGoldrick Show and Johnny was the first guest to appear on the show. The year also started with Johnny releasing yet another chart single, Three Score and Ten, another ballad which reached number 6 in the Irish charts. He followed this up later in the year with Paddy's Green Shamrock Shores which failed to make an impression on sales, one of few McEvoy records which did not make the charts. Seeing Johnny with a country band was still a bit of a curiosity for most Irish dancers and he needed a strong band to ensure they got their money's worth.
On the TV and recording side, things were going great for Johnny. He had his own series on RTE in 1972 and his next single, Gentle Annie, brought him back to his familiar place in the top ten of the Irish charts, topping out at number 8. However, the ballrooms were changing and Johnny knew it. As bands like the Big 8 started to broaden their appeal by playing everything, he felt the country band thing was in danger of getting stale.
In August, 1972, Johnny added a girl singer to the band's lineup. At the time, it seems like it was all the rage following the success of female artists like Tina (Real McCoy), Tracy (Grassroots) and many others. Gloria Smyth was the eldest of nine children from Navan and her father was Jimmy Smyth, who was the bandleader with the Arcadians Showband. From a very musical family, Gloria not only sang, but played accordion and piano and had released her own single in 1971, LA International Airport.
In 1973, Johnny had his own show on the ITV network, "Sounds Like McEvoy" which featured his band and Gloria and included a wide variety of artists from both the North and South of Ireland. At the same time, he started doing solo concerts again, although he claimed "I don't know if I'd like to be doing them every night." An article in Spotlight exclaimed Johnny was enjoying "the best of both worlds." Not only was Johnny doing a couple of concerts every week, but he also explained that "the cabaret thing should happen in the next two years."
More to come.
click on thumbnails for full image
May - 1967
January - 1968
June - 1968
August - 1968
January - 1969
October - 1969
May - 1970
April - 1971
March - 1972
March - 1973
As far as we can tell, Johnny graced the cover of Spotlight magazine more times than any other solo artist and definitely more than any other folk artist between 1967 and 1975.
May - 1975
Johnny McEvoy - 1966
Johnny McEvoy - 1966
Johnny McEvoy - 1967
Johnny McEvoy - 1967
Danny & Johnny - 1967
Johnny McEvoy - 1967
Johnny McEvoy - 1967
Johnny McEvoy - 1967
Johnny McEvoy - 1967
Johnny McEvoy - 1968
Johnny McEvoy - 1968
Johnny McEvoy - 1968
Johnny McEvoy - 1968
Johnny McEvoy - 1968
Johnny McEvoy - 1969
Johnny McEvoy - 1969
Johnny McEvoy - 1969
Johnny McEvoy - 1969
Johnny McEvoy - 1969
Johnny McEvoy - 1969
Johnny McEvoy - 1970
Johnny McEvoy - 1970
Johnny McEvoy - 1970
Johnny McEvoy - 1970
Johnny McEvoy - 1970

Johnny's Band - 1971

Johnny McEvoy - 1970
Johnny McEvoy - 1970

Johnny's Band (KS)

Johnny McEvoy - 1970
Johnny McEvoy
Johnny and wife (KS)
Johnny McEvoy (KS)

Johnny's Band (KS)

Johnny McEvoy (LR)
Johnny McEvoy Band
Johnny McEvoy

Johnny McEvoy (KS)

Johnny McEvoy - 1971
Johnny McEvoy - 1971
Johnny McEvoy - 1971
Johnny McEvoy - 1971
Johnny McEvoy - 1972
Johnny McEvoy - 1972
Johnny McEvoy - 1972
Johnny McEvoy - 1972
Johnny McEvoy - 1973
Johnny McEvoy - 1973
Johnny McEvoy - 1973
Johnny McEvoy - 1973
Johnny McEvoy - 1973
Johnny McEvoy - 1973
Johnny McEvoy - 1973
Johnny McEvoy - 1974
Johnny McEvoy - 1975
Johnny McEvoy - 1975
Johnny McEvoy (RF)
Johnny McEvoy (RF)
Johnny McEvoy (RF)
Johnny McEvoy (RF)
Johnny McEvoy (RF)
Johnny McEvoy (RF)
Johnny McEvoy (RF)
Johnny McEvoy (RF)
Johnny McEvoy (RF)
Johnny McEvoy (RF)
Johnny McEvoy (RF)
Johnny McEvoy (RF)
Johnny McEvoy (RF)
Johnny McEvoy (RF)
Johnny McEvoy (RF)
Johnny McEvoy (RF)
Johnny McEvoy (RF)
Johnny McEvoy (RF)
Johnny McEvoy (RF)
Johnny McEvoy (RF)
Johnny McEvoy (RF)
Johnny McEvoy (RF)
Johnny McEvoy (RF)
Johnny McEvoy (RF)
Johnny McEvoy (RF)
Johnny McEvoy (RF)
Johnny McEvoy (RF)
Johnny McEvoy (RF)
Johnny McEvoy (RF)
Johnny McEvoy (RF)
Johnny McEvoy (RF)
Johnny McEvoy (RF)
Johnny McEvoy (RF)
Johnny McEvoy-1970
Coming Soon
Coming Soon
Coming Soon
Coming Soon
Coming Soon
Coming Soon
Coming Soon
Coming Soon
Coming Soon
Coming Soon
Years
Vocals/Gtr
Guitar
Bass
Drums
Keyboards
Guitar
Fiddle
1965
Johnny
McEvoy
Mick
Crotty
1966
Johnny
McEvoy
March
1970
Johnny
McEvoy
Brendan
O'Connell
Noel
McGann
Jimmy
Greeley
Michael
Keane
Tim
Corbett
Alan
Loughnane
March
1970
Johnny
McEvoy
Brendan
O'Connell
Noel
McGann
Jimmy
Greeley
Michael
Keane
Tim
Corbett
Alan
Loughnane
Dec
1971
Johnny
McEvoy
Brendan
O'Connell
Noel
McGan
Dessie
Reynolds
Kevin
Crowley
Alan
Loughnane
Discography (More to come)
Singles:
Love Minus Zero / An Bonnan Bui (as the Rambler)
Pye Records - 7N.17164 - 1966
Mursheen Durkin / Those Brown Eyes (as the Rambler) - #1 Irish Charts
Pye Records - 7N.17196 - October, 1966
The Boston Burglar / I Still Miss Someone - #1 Irish Charts
Pye Records - 7N.17303 - April, 1967
Funny Man / Was It You - #10 Irish Charts
Pye Records - 7N.17365 - August, 1967
About This Time / Bells Of Christmas Eve / Standing In The Rain / Little Drummer Boy
Pye Records - NEP.24290 - November, 1967
Nora / Tarry Flynn - #1 Irish Charts
Target/Pye Records - 7N.17472 - January, 1968
The Hedgehog Song / Time and Time Again
Target/Pye Records - 7N.17607 - September, 1968
Mary of the Curling Hair / Hickory Wind
Target/Pye Records - 7N.17770 - June, 1969
But That's Alright / Don't Talk To Strangers (with his country band)
Target/Pye Records - 7N.17938 - April, 1970
The West's Asleep / Happiness Is Love
Target/Pye Records - 7N.17988 - October, 1970
Three Score and Ten / You Win Again - #6 Irish Charts
Target/Pye Records - 7N.45033 - January, 1971
Paddy's Green Shamrock Shore / Just In Time
Target/Pye Records - 7N.45076 - June, 1971
Gentle Annie / Blue Canadian Rockies / Kentucky Woman - #8 Irish Charts
Target/Pye Records - 7N.X7001 - February, 1972
All I Have To Offer You Is Me / Spancil Hill - #13 Irish Charts
Target/Pye Records - 7N.60022 - November, 1972
Tomorrow Is Forever / Golden Jubilee (with Gloria Smith) - #14 Irish Charts
Hawk Records - HASP 317 - June, 1973
Rose of Moray / James Connolly / Nora / Teardrop On A Rose / Leitrim Queen - #6 Irish Charts
Hawk Records - HASM 2001 - August, 1974
Christmas Maxi EP
Hawk Records - HASP.2002 - December, 1974
Where My Eileen Is Waiting / Castle of Dromore - #2 Irish Charts
Hawk Records - HASP.364 - March, 1975
Rose of Allendale / Life of the Rover - #6 Irish Charts
Hawk Records - HASP.371 - August, 1975
Long Before Your Time - #1 Irish Charts (The first song recorded by Johnny which he actually wrote himself)
Hawk Records - Unknown - June, 1976
Nora - #7 Irish Charts
Hawk Records - Unknown - July, 1977
Bound for Botany Bay / All In All - #16 Irish Charts
Hawk Records - Unknown - May, 1978
Just One More Night
Hawk Records - Unknown - November, 1978
The Old Rocking Chair / Lovely Lady
Hawk Records - Unknown - April, 1980
A Rich Man's Garden - #14 Irish Charts
MCA Records - Unknown - December, 1984
Since Maggie Went Away / The Losing Game
MCA Records - MCA.953 - January, 1985
You Seldom Come To See Me Anymore / Lusmagh Fields
Play Records - PLAY.216 - 1987
Staten Island / Big Mansion House on the Hill
Play Records - PLAY.226 - 1988
Michael / Pat Murphy's Meadow
Play Records - PLAY.237 - June, 1989
Round Round Angel - #21 Irish Charts
Play Records - Unknown - June, 1990
Long Way From The Sun / Wheels Go Round
Play Records - PLAY.257 - 1991
Albums:
For The Poor and the Gentry
Pye Records - NPL.18190 - July, 1967
With An Eye To Your Eye
Pye Records - NPL.18264 - January, 1968
All Our Wars Were Merry, All our Songs Are Sad
Target Records - LNR.18324 - January, 1970
Sounds Like McEvoy
Hawk Records - HALP.117 - 1973
Best of Johnny McEvoy
Heritage Records - HSLP.005 - January, 1975
Where My Eileen Is Waiting
Hawk Records - HALP 143 - July, 1975
Golden Duets (with Gloria Smith)
Hawk Records - HALP 144 or 146 - November, 1975
Long Before Your Time

Hawk Records - HALP.150 - 1976

Leaves In The Wind

Hawk Records - HALP.164 - 1977

I'll Spend A Time With You

Hawk Records - HALP.174 - November, 1978

Twenty Greatest Hits

Hawk Records - HALP TV1 - October, 1979

Collection

Hawk Records - HALP TV2 - 1980

Johnny McEvoy Goes Country

Harp Records - HPE.621 - 1980

Songs Of Ireland

MCA Records - MCF.3327 - 1986
Coming Soon
| | |
| --- | --- |
| | Johnny McEvoy: Johnny, has been entertaining audiences across Ireland, the USA and Europe for 50 years. He continues to tour, release new CD's and has written many hit songs for himself and others. Unlike some of the era's stars who have ridden the wave of nostalgia to make come backs, Johnny has consistently been one of the country's top recording and TV stars. |
| | Alan Loughnane: In recent years Alan has been playing with Dublin born Tommy Courtney. Alan and Tommy were the only Irish group to play at The Kennedy Center for the Performing Arts in Washington D.C. during President Clinton's first Inauguration in January 1993. They can still be heard playing around the Boston area. Alan is still kept busy in the recording studio appearing as a guest on numerous recordings by other artists. Alan resides in Cambridge, Massachusetts. |
| | Mick Crotty: Unknown, if you know more, please let us know. |
| | Brendan O'Connell: Unknown, if you know more, please let us know. |
| | Jimmy Greeley: Jimmy Greeley left the band and went on to fame as a radio and TV presenter, first on RTE2 FM and then a host of other stations in and around Dublin. Today he presents for 4fm. |
| | Noel McGann: Unknown, if you know more, please let us know. |
| | Michael Keane: Unknown, if you know more, please let us know. |
| | Tim Corbett: Unknown, if you know more, please let us know. |
| | Gloria Smyth: Of course, after leaving Johnny's band, Gloria became a superstar in her own right, having a huge hit with Kris Kristofferson's One Day At A Time. The song stayed on the Irish Charts for 90 weeks. She went on the road with her band, Mississippi and married fellow musician Don Sherry. Gloria retired when she turned 50 in 2001. In recent years, she and husband Don have been in the news over domestic issues. |