Maxi, Dick & Twink Feature (1968-1971)
Photo Gallery - Band Lineups - Discography - Audio samples - Where Are They Now?
The Story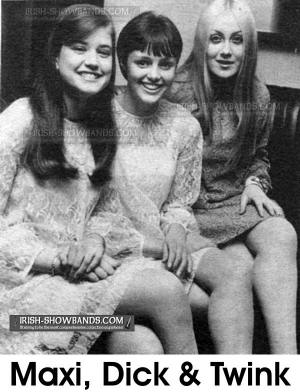 The first mention of Maxi, Dick and Twink we can find is from May, 1968 when the trio was slated to appear on an upcoming Johnny McEvoy Show at the Gaiety Theatre in Dublin. Previously they had been part of the Young Dublin Singers and had taken part in the "Gaels of Laughter" show and appeared with Johnny earlier as well.
Maxi (Irene McCoubrey), Dick (Barbara Dixon) and Twink (Adele King) were definitely Ireland's first "girl group." The three Dublin born girls were all born within 2 years of each other (in fact Dick and Twink share a birthday a year apart) and were all educated at the St. Louis school. They all got their starts in "show business at a very young age. Maxi at age 7 at the Gate Theatre, Dick also at the Gate Theatre aged 7 and Twink at a ballet in the Covent Garden at age 3.
They got their start on the TV show, Opportunity Knocks and although they didn't win, it set them on their way to stardom. With their incredible good looks and three part harmonies, the girls took the scene by storm. They were especially popular on television (for obvious reasons) and sang a verity of genres. On an appearance on "Top of the Night" programme on RTE they sang a selection from the musical "Calamity Jane." The girls were managed by showband impresario, T.J. Byrne, who was also managing the Royal at the time.
All three girls sang while Twink provided the guitar backing. They program was mostly "folksy" and they enjoyed riding the wave of ballad and folk music which was sweeping the country in the mid to late 60's, along with artists like Johnny McEvoy and Danny Doyle.
In June, 1969, they appeared at the Kilkenny Beer Festival which had featured bands like Emmett Spiceland in earlier years. A note in Spotlight reported that their "twenty minute act gave us Don't Let The Rain Come Down, numbers from Calamity Jane, and ending with Twink's version of Goodbye (by Mary Hopkins)."
Perhaps the most amazing thing about the girls and their success at the time was that they were all still teenagers. In fact, in an interview in the October 10, 1969 issue of Spotlight (they appeared on the cover). Dick, the baby of the group at age 17 described her hectic schedule, "I study in the mornings trying to get my Leaving Cert (editor's note - the Irish equivalent of high school diploma) - and often do some photo modeling before going on to a night engagement."
By mid 1969, the girls were at the top[ of their game. They were featured artists (and eventual stars) of the RTE series, "Steady as She Go-Goes." They performed in London and across the continent and had sang on many records, but always as backing singers. They had to turn down an appearance at the Eurovision Song Contest as backing singers because of previous concert dates.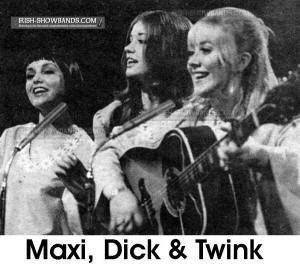 In early 1970, the girls were selected to sing in the Sixth Irish National Song Contest. They sang the song, Things You Hear About Me, accompanying themselves. Reports from the night claim that the girl's were favoured and eventually placed second, getting beaten at the pole by Dana. Unfortunately for the girls, that was the year Dana took the top honours and Ireland's first Eurovision victory with All Kinds of Everything. However, earlier in the year they had appeared on the Late Late Show with Gay Byrne and their rising star continued to climb.
Out of the contest came the girls' first record. They released Things You Hear About Me on EMI's Columbia record label. The record charted at number 17, but only stayed on the charts for two weeks. By late 1970, all three girls had finished school and were now professional singers (and models). In a July, 1970 interview in Spotlight, they discussed the fact that all had been offered spots with top showbands (and all would eventually join showbands). However at the time, they stated they were not interested in "the showband life with its three-hour-long show every night. They would prefer to stick to cabaret with the odd twenty minute spot in the dancehalls."
In his "Where It's At" column in Spotlight in October, 1970, Pat Egan reported the girls had released their second record, Tangerine, Tangerine, and announced they were going to America for at least six months to seek their fortunes there. In actual fact, they were going to the States with the Dublin group, The Bye Laws. The two groups would join together and call themselves Toybox.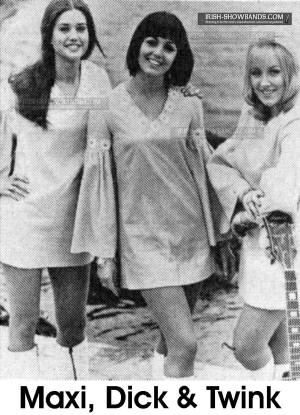 The end of the band was not far away. After only a few months in the States (and Canada) Pat Egan reported in May, 1971 that the girls had officially split up. Twink had joined with the Bye-Laws (she was dating guitarist Jimmy Conway). He also reported that Maxi and Dick were staying in Canada and joining an unknown (at the time) Canadian Group.
Meanwhile, Twink and Jimmy eventually left the Byelaws and joined the newly formed Big 8 when Brendan Bowyer and Tom Dunphy left the Royal Showband in August, 1971. The move was engineered by her former manager, T.J. Byrne, who was also managing the Big Eight. Twink would stay with the band for less than three years and soon tired of the dual lifestyle necessitated by spending half the year in Las Vegas. She would end up forming her own band on her return in 1974. She also would go on to be one of the most in-demand session singers of the next decade.
In January, 1972 Shay Healy reported that Maxi and Dick were playing with Stuart Smith (formerly of the Jim Farley Band) in a Canadian based outfit called The Smilin' Faces. Stuart was the lead singer in the band with the two girls providing mostly backing vocals.
Stuart and Maxi would return home to Ireland in March, 1972 and join with Danny Doyle in one of the most unlikely pairings of the showband era. Folk artist Danny and former folkie turned pop singer, Maxi, formed an uneasy alliance in the band Music Box. Although the band met with some success on the ballroom scene, and lasted for three years, it never quite clicked.
It seems Danny and Maxi were too far apart when it came to musical tastes. Said Danny in an interview, "The Music Box were a great bunch but then again Maxi and myself were poles apart musically. She was keen on pops and I was always a country fan." Eventually, it made sense that they should each form their own band and so in June, 1974, Maxi left to form her own band which reportedly would be called "Maxi and Company" and in July 1974, Danny and the Music Box played their final gig. An article in Spotlight announced the formation of his new band, "Country Music Box.
Dick would be the last to return to Ireland, but she did around May, 1972 and she joined the Royal Showband (managed , of course, by T.J. Byrne) which were still struggling to find their way after the loss of superstars Brendan Bowyer and Tom Dunphy a year earlier. Dick was paired first with Carl Phillips as the male lead vocalist and within a few months with Derek Mehaffey (formerly of The Sounds). However, within a year, Dick had left the band and by 1974, the Royal Showband was no more. She would end up marrying singer Peter Law (Pacific and Dublin Corporation) and moving to Canada where she had a successful singing and acting career.
Although these three teenagers did very well as a group, it is more amazing that all three went on to front major showbands following their time together and have continued to entertain audiences for over forty five years since they first were seen on Opportunity Knocks.
More to come.....
click on thumbnails for full image
| | | | | |
| --- | --- | --- | --- | --- |
| | | | | |
| Maxi, Dick &Twink-68 | Maxi, Dick &Twink-68 | Maxi, Dick &Twink-69 | Maxi, Dick &Twink-69 | Maxi, Dick &Twink-69 |
| | | | | |
| Maxi, Dick &Twink-69 | Maxi, Dick & Twink (LR) | Maxi & Dick-1971 | Maxi, Dick &Twink-69 | Maxi, Dick &Twink-69 |
| | | | | |
| Oct 10, 1969 | Maxi, Dick &Twink-69 | Maxi, Dick &Twink-69 | Maxi, Dick &Twink-70 | Song Contest 70 |
| | | | | |
| Maxi, Dick &Twink-70 | Maxi, Dick &Twink-70 | Maxi, Dick &Twink-70 | Maxi, Dick &Twink-70 | Maxi, Dick &Twink-70 |
| | | | | |
| Maxi, Dick &Twink-70 | Maxi, Dick &Twink-70 | Maxi, Dick &Twink-70 | Maxi, Dick &Twink-70 | Maxi, Dick &Twink-70 |
| | | | | |
| Maxi, Dick &Twink-71 | Maxi, Dick &Twink-71 | Maxi, Dick &Twink-71 | Maxi, Dick &Twink-70 | Toybox Depart - 1970 |
| | | | | |
| Maxi, Dick &Twink-71 | Bye-Laws - 1971 | 1972 | | |
Years
Vocals
Vocals
Bass
1968
Maxi
(Irene McCoubrey)
Dick
(Barbara Dixon)
Twink
(Adele King)
Things You Hear About Me - #17 Irish Charts
Columbia Records - DB 8663 - February, 1970
Tangerine, Tangerine / Sweet Eye
Columbia Records - IDB 763 - August, 1970
Coming Soon
Maxi (Irene McCoubrey): As mentioned above, Maxi went on to join Danny Doyle in the band Music Box for three years. In 1973 she represented Ireland at Eurovision singing Do I Dream. In the late 70's she joined another girl trio, Sheeba with Marion Fossett and Marion Campbell. They were in Eurovision in 1981 singing Horoscopes. Sheeba ended in 1982 after a road accident in 1982. Maxi then worked as a broadcaster with RTE and also as an actor. Most recently she was sideline with an illness. She was also was appointed special representative for UNICEF Ireland, and one of her first public engagements was to highlight the situation is on several disaster fronts, particularly in sub-Sahara Africa.
Dick (Barbara Dixon/Law): She moved to Canada and was married to singer Peter Law (of The Dublin Corporation).
In Toronto, she recorded a disco album at John Luongo's Pavillion label, produced by Harry Hinde. She had a disco club hit with the title track. In 1984 she was a Genie award nominee for her role in the thriller "Bedroom Eyes." Barbara has been singing and acting ever since, although we have not been able to find any reference to her in the last ten years.
Twink (Adele King): Twink left the Big 8 after 3 years joined with fellow ex-Big 8 musicians to form the Paddy Cole Superstars where she would eventually be starring with Derrick Mehaffey, who also sang with Dick in the Royal. She had her own band for a short while, but it wasn't long before TV beckoned and she was a guest star on several shows, ending up with her own Twink Show in the early 80's. For the last 20 years, she has been one of the most enduring entertainers in Ireland on stage, the small screen and singing and acting. She still regularly tours, stars in the Dublin Christmas Pantomime and in the past few years opened a cake company in Dublin. Although sometimes controversial, Twink has remained one of the era's best loved entertainers.