All About The Memories (1963-2005)
Photo Gallery - Band Lineups - Discography - Audio samples - Where Are They Now?
The Story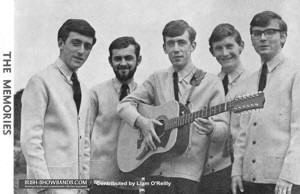 One of Ireland's most beloved pop bands, the Memories humble beginnings came together at St. Vincent's School in Glasnevin. Mick Swan, Daire Doyle, Jim Barry and Colm Harpur had all attended the school and knew each other well, but their paths didn't come together musically until the early 60's when Jim joined the local church choir at St. Peter's in Phibsboro where the other three lads were already members.
Mick, Daire, and Colm had been involved in various vocal harmony groups as teenagers, the members of which seemed to vary with alarming frequency, and were keen to set up something a bit more permanent. Wanting to tape themselves to see how they sounded (a difficult task in the early 60's for teenagers without any money), they had a major problem. Luckily (for us) they discovered new choir member, Jim, owned a tape recorder and their problem was solved after they offered Jim the position as lead singer with the band. The four lads continued to rehearse and it was starting to sound good.... with one little problem, the material they thought they sang best - The Beach Boys, The Lettermen, Mamas and Papas - needed more than a piano accompaniment.
It was 1963 and the boys had been going out to socials and hops for a couple of years and they had seen a group a few times that they admired. One of the members of the group, Ray Crowe, went to school with Jim and as luck would have it the group was about to split so Ray was at a loose end and it turned out to be the perfect opportunity to add an extra voice (and a guitar) to the fledgling band. Thus the original Memories line up whose first professional gig (for a staggering £8) was at the interval of a bingo session in St. Peters Hall, Phibsboro in 1964. Billed as a "vocal group," they featured heavily in cabaret and within a couple of years they appeared on The Late Late Show with Gay Byrne.
In the early sixties in Ireland there were really only two "scenes" the ballrooms and the folk/cabaret circuit. The Memories had put together a class act which featured close vocals harmonies that were more suited to the cabaret scene, which also at the time featured a lot of folk acts.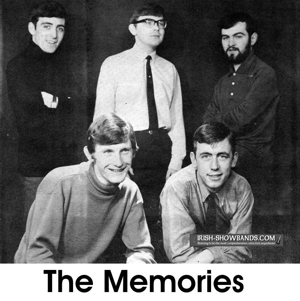 They released their first single, A Summer Song, in 1967 to little response. However, their follow up, Oh No, was a hit and reached the Irish Top Ten in 1968, setting the way for the band's success. In the summer of 1968, the band had released "Oh No" and were playing summer cabaret in Jury's Hotel and in the legendary "Gaels of Laughter" show in the Gaiety Theatre in Dublin. Still a five piece, they were still very much a folk/cabaret group. The band were still semi-professional as they all had day jobs. An article in Spotlight's August 24th, 1968 issue mentioned the boys were "considering going full time into music." In October, 1968 they were interviewed by B.P. Fallon and told him of their plans to get back to the pop scene.
When discussing their follow up to Oh, No, Jim said, "We spent ages trying to select material, listening to LPs by The Doors, The Association, Harper's Bizarre, Simon and Garfunkel and the Fifth Dimension. We had rows for three weeks, then Ray came along with this Cowsills record his mother had bought in Canada."
B.P. went to see the boys' show in the Gaiety that night and reported, "their act was a medley from West Side Story that included The Jet Song, Maria, Officer Krupke and Tonight. All very polished, all in true showbiz tradition even ending their songs with arms outstretched in true Bachelor's style. All very good if you like that sort of thing." At this point the band did not do any dance music.
In fact, in the same interview, the boys discussed the possibility of moving from cabaret into the ballrooms. Said guitarist Ray Crowe, "our present environment is cabaret and concerts, because people can't dance to us. But we're rehearsing bass and rhythm. After here (the Gaiety gig) we go on a fortnight's holiday, then practice for a month. But even in ballrooms we wouldn't like people to dance to us - we'd do a cabaret type spot."
For the next couple of years, the band continued to focus on their cabaret show, resisting the temptation to move into the ballrooms. They continued to release records, but had little success after Oh, No which topped out at number 10 in the Irish Charts. They made the move towards pop, releasing Where's the Playground Suzie, but this had little impact on sales.
Finally, by 1970, the band dropped their folk image and turned to play more contemporary music, still focusing on cabaret and concert venues. However, several members were still completing their studies at university.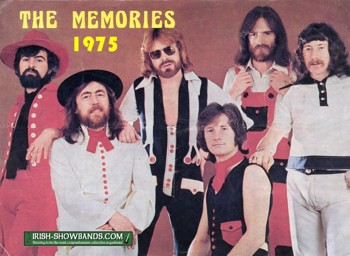 It wasn't until February, 1972, that the band finally decided to join the showband circuit when they brought drummer, Chris Heenan, into the band, making them a six piece. Managed by Des Kelly, the band played its first gig on the same bill as Dickie Rock and the Miami in Dublin's Television Club on Thursday, February 16th, 1972. To support the launch of the new Memories, the band released a single which had two original numbers, Say Good Morning and Sing Me A Happy Song.
Immediately, they became a hit on the ballroom circuit, mainly because they were so different from the other top bands. While other bands regurgitated the top hits of the day, the Mems (along with the top twenty) added specialty numbers like a medley from Jesus Christ Superstar and other harmony rich, complex numbers. Their reputation in the halls continued to grow and finally, they seemed to be hitting their stride musically.
The band suffered a small setback in 1974 when bass player, Daire Doyle, was injured in a car accident and could not play for several months. Former Creature, Liam McKenna, was drafted to stand in for Daire on bass and ended up staying on, switching back to guitar, when founding member Colm Harpur left the band to work in cabaret in March, 1975.
As the seventies progressed, the band continued to grow their fan base and adopted a very colorful stage presence when Mick started dressing up as a preacher. Their rendition of Queen's Bohemian Rhapsody became legendary across the ballrooms of Ireland, a feat Queen themselves didn't even try live (resorting instead to a taped rendition of the operatic section of the song).
Around 1978, the second founding member of the band, Ray Crowe, left and was replaced by Dominic Green, formerly of The Sands on lead guitar. "Domo" added a new somewhat heavier sound to the band, whose sound and reputation continued to grow, making them one of the top three pop bands of the era.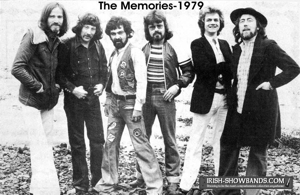 As the 1980's started, change was in the air for the Memories as well. In 1981, Mick, Daire, and Dom spilt from the Memories to form The Message. The boys thought there was room on the circuit for the two bands playing similar style music and Jim, Chris, and Liam (switching back to bass) continued on as The Memories. The band added Pat Coldrick (guitar), Tony Kelly (guitar), and Peter Eades of the Miami (keyboards and guitar) as the band's new musical director. Peter and Jim started writing songs together and recording. The partnership eventually led to the founding of Ireland's first 24 track mobile recording studio, Eerie Mobile Music.
Meanwhile, although the bands competed for gigs for a while, it wasn't long before they realized the scene was changing. In the early eighties, the ballroom scene was under attack from discos and bar extensions and promoters only wanted bands with the "name recognition" as crowds dwindled. The Memories were back together by the end of 1983. Now a five piece, the band's lineup was Jim, Mick, Daire, Pat Coldrick (guitar) and Liam Bradley (drums) as Chris Heenan decided to retired from the business. When the band reformed, Liam McKenna and Tony Kelly decided to move to the UK to continue performing. Peter Eades continued to work in production, becoming one of the Ireland's top producers. He also formed Jump The Gun which represented Ireland in Eurovision a few years later.
It took the band nearly 27 years to reach number one in the Irish charts when their single, The Game, hit the top spot in 1990. The band enjoyed its greatest record success in the mid seventies when four of their singles reached the top ten. Although temporarily sidetracked in the early 80's when several key members left to form The Message, the band eventually reunited and continued to play together until fairly recently. Lead singer Jim Barry recently retired and now lives in Spain, but bass player Daire Doyle and keyboard player Mick Swan continue to play together from time to time.
More to come.......
click on thumbnails for full image
Memories - 1966
Memories - 1967
Memories - 1968
Memories - 1968
Memories - 1968
Memories
Memories - 1969
Memories - 1969
Memories - 1971
Memories - 1972 (DL)
Memories - 1972
Memories - 1972
Memories - 1973
Memories - 1973
Memories - 1974

Memories - 1974
Jim Barry - 1974
Memories - 1974
The Memories - 1975
Memories - 1975
Memories - 1975
Memories - 1975
Memories - 1975
Memories - 1975
Memories - 1975
Memories - 1976
The Memories - 1977
The Memories - 1978
The Memories - 1978
Memories - 1978 (PH)
Memories - 1978 (PH)
Memories - 1979 (PH)
Memories - 1979
The Message 1982
Memories - 1984
Memories (RF)
Memories (RF)
Memories (RF)
Memories (RF)
Memories (RF)
Memories (RF)
Memories (RF)
Memories (RF)
Coming Soon
Coming Soon
Memories - 2004
Jim Barry Art - 2006
1st Single Release PR
Coming Soon
Coming Soon
Coming Soon
Coming Soon
Coming Soon
Coming Soon
Coming Soon
Record Sleeves
A - Memories - 1981
B- Memories - 1981
A - Memories - 1972
B - Memories - 1972
A - Memories - 1976
B - Memories - 1976
Memories - 1990
Memories - 1990
Coming Soon
Coming Soon
Years
Vocals
Keyboards
Guitar
Bass
Guitar
Drums
1963
Jim
Barry
Mick
Swan
Colm
Harpur
Daire
Doyle
1964
Jim
Barry
Mick
Swan
Colm
Harpur
Daire
Doyle
Ray
Crowe
1972
Jim
Barry
Mick
Swan
Colm
Harpur
Daire
Doyle
Ray
Crowe
Chris
Heenan
1974
Jim
Barry
Mick
Swan
Colm
Harpur
Liam
McKenna
Ray
Crowe
Chris
Heenan
March,
1975
Jim
Barry
Mick
Swan
Liam
McKenna
Daire
Doyle
Ray
Crowe
Chris
Heenan
1978
Jim
Barry
Mick
Swan
Liam
McKenna
Daire
Doyle
Dominic
Greene
Chris
Heenan
1981
Jim
Barry
Peter
Eades
Pat
Coldrick
Liam
McKenna
Tony
Kelly
Chris
Heenan
1983
Jim
Barry
Mick
Swan
Pat
Coldrick
Daire
Doyle
Liam
Bradley
Discography 1967-1990
Singles:
A Summer Song / Words I Remember
Rex Records - R.11028 - 1967
Oh No / Wearin' of the Green - #10 Irish Charts
Rex Records - R.11035 - July, 1968
Indian Lake / Be My Girl
Rex Records - R.11039 - 1968
Where's The Playground Suzie / I'm Losing You
Rex Records - R.11049 - 1969
Exodus / A Summer Song
Rex Records R.11053 - 1970
She / Wish and Want and Wonder
Rex Records - R.11069 - 1971
Say Good Morning / Sing A Happy Song
Rex Records - R.11075 - 1972
Baby Don't Get Hooked On Me / Baby Let Me Take You In My Arms
Rex Records - R.11079 - 1972
Don't Pretend Anymore / The House Fell Down - #7 Irish Charts
Rex Records - R.11089 - November, 1973
Lay It On Me / D'Ja Gerra - #7 Irish Charts
Rex Records - R.11091 - May, 1974
The Likes of Heffo's Army / Never Goodbye - #7 Irish Charts
Rex Records - R.11093 - August, 1974
Part of the Road / Singalong Song
Rex Records - R.11099 - November, 1974
What Ya Gonna Tell Your Mama / He Was A Young Boy
Stop Records - OP1001 - 1975
Skyin' / All I've Got - #9 Irish Charts
Hawk or Stop Records - HASP 390 - August, 1976
All The King's Horses / Skyin'
NEMS Records - NES 105 - 1977
The Main Attraction / We're Coming Back Again
Stop Records - OP1012 - December, 1979
Stairway to Heaven / Stairway to heaven (Extended) - #12 Irish Charts
Ritz Records - RITZ 073 - May, 1984
Easy Come, Easy Go / Marianne - #22 Irish Charts
Ritz Records - RITZ 091 - February, 1985
The Game / Black Betty - #1 Irish Charts
Spex Records - SP 015 - June, 1987
Albums:
The Time Is Now
Rex Records - RPS.106 - 1972
Time To Go On
Hawk Records - HALP.163 - 1977
Coming Soon
Where Are They Now? (Coming Soon)
Jim Barry: Jim retired in 2005 after 40 years on the road with the Memories. He now lives in Spain where he relaxes in his new occupation as a painter. Click here to see his art work.
Mick Swan: Up until a couple of years ago, Mick was still doing gigs as the Memories, although the last show I know of was the Miami 30th Year tribute in 2005 in Vicar Street in Dublin.
Daire Doyle:
Colm Harpur: If you know more, please let us know.
Ray Crowe: If you know more, please let us know.
Chris Heenan: If you know more, please let us know.
Liam McKenna: If you know more, please let us know.
Dominic Greene: Domo left the Memories along with Mick Swan and Daire Doyle forming The Message, We are not sure what happened to him after that although he still lives in Dublin and gigs regularly. If you know more, please let us know.
Pat Coldrick: After his stint on the showband circuit, Pat continued his musical studies at the
college of music in Dublin with John Feely and has also studied with world renowned
guitarists "David Russell" and "Gabriel Esterellas". These days, he is touring on a regular
basis playing his unique brand of classical guitar and has released a CD recently.
Liam Brady: If you know more, please let us know.