Mushroom Feature (1972-1975)
Photo Gallery - Band Lineups - Discography - Audio samples - Where Are They Now?
The Story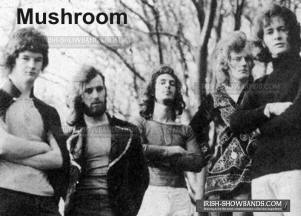 Few bands generated the excitement, buzz and hype that heralded the short-lived Celtic rock band, Mushroom. The first mention of the band we can find is in Pat Egan's Heavy Sounds column in Spotlight in early December, 1972. He described them as as young band who showed some promise. At this point, the lineup was John Dee (Donoghue) (guitar), Pat Collins (violin and mandolin), Alan Brown (bass), Colm Lynch (drums) and Michael Power (keyboards). Pat Egan was the guru of Irish rock in those days, and as he did not mention the band prior to December, we can only assume, they either did not exist, or had made no impression on the scene.
An advertisement in the December 21, 1972 issue of Spotlight announced that after five months of rehearsals, the Dublin based band were calling themselves Mushroom and "doing gigs all over the country." We doubt this was true at the time as they were unknown outside of Dublin at this point. Aside from a mention a few weeks previously from Pat, the band were still not making any impact on the scene. Despite this, there was talk of a single in January called Beggar Man, which apparently was never released. At this point John Dee (Donoghue?) was managing the band.
However, all that changed a few weeks later. A new venue, the Fillmore West, in Bray had opened in December, 1972. Although we have read that the venue could hold 4,000, it's beginnings were less than spectacular. It's opening night on December 9th had to be canceled when Emerson, Lake and Palmer did not show. The following week this was explained as being due to the "present political situation." Subsequently the opening night was December 16th featuring Horslips. A few weeks later, the English band, Family, were scheduled to appear. Although they, too, failed to arrive, the promoters quickly put together a free show which included Dublin bands Eyeless, Cromwell, Johnny Duhan and Mushroom. Pat Egan described Mushroom saying, they "spent an age tuning up and even though they are a carbon copy of Horslips, they go down well." Not the greatest endorsement at the time, but it did hint at the popularity the band would enjoy with audiences over the next few years.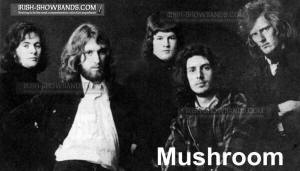 One way or another, this appearance seemed to catapult the band to a kind of instant stardom. Pat Egan began talking about them on a weekly basis. Just a few months later, in May, 1973, the band was being hailed as "the next Horslips." A two page spread in Spotlight announced that the band was being managed by Brian Molloy, then with the Tom Costello Organisation. In February, 1973 it was announced that John Dee had left the band and was replaced by 17-year-old Aonghus McAnally (son of Irish actor Ray McAnally) on guitar. John Dee had left and formed a new band in the same vein called Keltic Wine.
The same article (May) recounted the band's nightmarish follow-up to their Fillmore West appearance when they were booked to play support to the Strawbs in the Stadium in Dublin on March 27th. The Strawbs did not show (are we sensing a pattern for English bands, or Irish promoters here) and Mushroom attempted to stretch their set which "freewheeled to a sluggish halt through a mixture of discord and noise." The article also recounted that the setback forced the band to rehearse even harder which helped polish their performance and served to enhance their reputation with punters.
On March 28th, an article in the Evening Herald announced that the band had signed with the Tom Costello organisation and would be heading to the studio to record their first single which would be released on the Hawk label before Easter. The same article said that four of the lads in the band had previously played under the name "Hessuantah."
The band started touring the ballrooms of Ireland on Easter Sunday (April 22nd), 1973. The band's set (which included some rock n' roll, and mostly Irish traditional tunes) gave rise to mixed reviews. Some places in Ireland loved Celtic-rock and some not so much.
In the late spring of 1973, the boys went into the studios and recorded their first single, Devil Among the Tailors, which was an instant, and relatively massive, hit which rode the wave of popularity for the Celtic-rock genre started a few years earlier by Horslips. The record was released on the Hawk label and spent 12 weeks in the Irish charts, topping out at number four and outperforming even Horslips, who had only managed (at that point) to barely crack the top ten with their classic track, Dearg Doom (which stalled at number 8).
By the summer of 1973, Mushroom had arrived. They started work on their first (and only) album and continued to play ballrooms up and down the country. By the end of the year, they had completed and released their album, Early One Morning. We're not sure how the album sold but in some circles it is considered a collector's item, a testament to the band's popularity.
In July, the band took part in one of the strangest open air festivals on record, held in the Showgrounds, Mullingar on the 29th. Top of the bill were the Indians, with the rest of the bill including Mushroom, Brendan Grace, The New Smokies, and local band "Johnny Irwin and Popcorn," all for the price of 60p. Sound equipment was supplied by the late, great man from Glenamaddy, Joe O'Neill.
In February, 1974, the band was featured on the cover of Spotlight, a further indication of their popularity on the scene. Inside, Manager Brian Molloy said the band was taking it easy, cutting back on their ballroom appearances, as they preferred to play for "fans that listen" to the music. There were talks of European tours, but the article said 1974 would be focused on the Irish market, but mostly doing concerts. In his February 7th column, Pat Egan said he saw the band for the first time live and said that he liked their style, although they "lacked experience." He still felt the band would be capable of great things in time.
In late February, the band went into the studios to record a new single. A few months later in May, they released their second single, Kings and Queens. It only stayed on the charts for two weeks and never got any higher than number 13. It would be their last single, as far as we know. In March, the band appeared at the Spotlight Poll Winners concert, alongside Horslips and the top showbands of the day.
In August, it was reported in Spotlight's Rock On column (Smiley Bolger) that plans had been dropped to have Mushroom star in a one hour movie. Less than a month later, it was reported the band had suffered a major split. Drummer Colm Lynch left the band to move to Denmark and keyboardist Michael Power left, reportedly to enroll in the School of Music. In early October Paul Moran joined the band as the new drummer. A further blurb in Spotlight in October, announced a major shift in the band's musical direction, although no details were given.
The last reference we can find to the band is a small blurb in the Quickies section of Spotlight's Rock On column dated May 1, 1975. It simply stated, "Mushroom are disbanding this week with the individual members going their separate ways..."
We will continue to research whether the band got back together or not, but it appears after less than 3 years Mushroom called it quits. Once hailed as the "next Horslips," the band's history is a tale of the fickle business which is entertainment (especially in Ireland). Making quite a bit of noise in their first year on the road, the band never quite recaptured that initial excitement and quietly faded away like so many bands of the era.
More to come.....
click on thumbnails for full image
| | | | | |
| --- | --- | --- | --- | --- |
| | | | | |
| Mushroom - 1972 | Mushroom - 1972 | Mushroom - 1972 | Mushroom - 1973 | Mushroom - 1973 |
| | | | | |
| Mushroom - 1973 | Mushroom - 1973 | Mushroom - 1973 | Mushroom - 1973 | Mushroom - 1973 |
| | | | | |
| Mushroom - 1973 | Mushroom - 1973 | Mushroom - 1973 | Mushroom - 1973 | Mushroom - 1973 |
| | | | | |
| Mushroom - 1973 | Mushroom - 1973 | Mushroom - 1973 | Mushroom - 1973 | Mushroom - 1974 |
| | | | | |
| Mushroom - 1974 | Mushroom - 1974 | Mushroom - 1973 | Mushroom - 2017 | Mushroom (RF) |
| | | | | |
| Mushroom (RF) | Mushroom (RF) | Mushroom (RF) | Mushroom (RF) | Coming Soon |
| | | | | |
| Coming Soon | Coming Soon | Coming Soon | Coming Soon | Coming Soon |
Years
Violin/Mandolin
Guitar
Bass
Drums
Keyboards
1972
Pat
Collins
John
Dee Donoghue
Alan
Brown
Colm
Lynch
Michael
Power
Feb
1973
Pat
Collins
Aongus
McAnally
Alan
Brown
Colm
Lynch
Michael
Power
August
1974
Pat
Collins
Aongus
McAnally
Alan
Brown
Paul
Moran
Harry
Colley (Guitar)
Singles:
Devil Among the Tailors (single version) / Siuin Ni Dhuibhir / King of Ireland's Daughter - #4 Irish Charts
Hawk Records - HASP 320 - June, 1973
Kings & Queens / Met A Friend - #13 Irish Charts
Hawk Records - HASP 340 - May, 1974
Album:
Early One Morning
Hawk Records - HALP 116 - November, 1973
| | | | | |
| --- | --- | --- | --- | --- |
| | | | | |
| Coming Soon | Coming Soon | Coming Soon | Coming Soon | Coming Soon |
Coming Soon
John Dee:
Pat Collins:
Alan Brown:
Colm Lynch: We received an email from Colm in December 2013 letting us know that he is alive and well and living in Denmark which he has been for the last nearly 40 years. In Denmark, he has maintained his musical career and has released 7 CD's of original material since his heady days with Mushroom.
Michael Power:
Aonghus McAnally: After leaving Mushroom, in 1978 he joined Starband with Des Lee and Stephen Travers. It was
then onto Crackers (which became the Crack) and then RTE television where a generation of Irish children grew up
watching him on Anything Goes. In more recent years, Aonghus splits his time between television, acting, singing,
and a variety of entertainment "gig." In the Fall of 2013 he was touring Ireland with When Jolie Met Christie which
he first did in 2011. Aonghus has even tried his hand at the big screen and had a role as the bartender in the hit
movie, P.S. I Love You and also appeared in The Tiger's Tail.
Paul Moran:

Harry Colley - RIP

: We are still checking whether Harry was the same Harry Colley who played guitar with
The Farmer's Son. If you know, please drop us a line.