All About Stage 2 (1972-1979)
Photo Gallery - Band Lineups - Discography - Audio samples - Where Are They Now?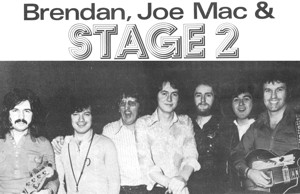 The Story
Because of its heritage, Stage 2 is a band that holds a special place in the annals of Irish showband history. Like the Sands and the Times, the band came into being following the implosion of one of the era's greatest showbands, the Dixies.
The band was formed when two of the era's biggest stars, Joe "Mac" Macarthy and Brendan O'Brien of The Dixies, decided it was time to move on in late 1971. However, the history of the Dixies goes back to their time as a relief group in The Arcadia Ballroom where they played relief to the showbands. Turning professional, they changed their name to The Dixielanders and when Brendan joined their ranks in 1961 and they turned professional, things really began to take off.
Brendan was one of the heart throbs of the 60's along with the likes of Dickie Rock and Brendan Bowyer. He, and the Cork-based Dixies, had been one of the era's top draws with a string of hit records like, Little Arrows, and Don't Let The Stars Get In Your Eyes. While Brendan strutted his stuff our front, Joe played drums, acted the clown and added the comic touch. Stage 2 was a little different in that comedy featured heavily in their program and Joe Mac became one of Ireland's most famous "funny men," without ever doing a stand up comedy routine.
In late 1971, Joe and Brendan decided to go their separate ways. Band leader Sean Lucey continued to play as The Dixies, but with a group of new musicians from the Cork area. Joe and Brendan decided it was time for the "next stage" of their careers and Stage 2 was born. Stage 2 recruited a group of talented Dublin musicians for the new band. An article in the January 15, 1972 issue of Spotlight listed the new band as: Alan Cranny (Mexicans - guitar), Ernie Durkin (Gentry - bass), Mick Dunne (Mexicans - keyboards), Danny Ellis (Miami - trombone), and Mike Nolan (Billy Brown Superband - trumpet). We understand Dave Traynor (sax) also joined the band. They released a single, "I'd Still Believe in You Baby," written and strangely enough, performed by Danny Ellis. The new band made its debut in Pontoon, Co. Mayo (now demolished) on January 23, 1972. In August, 1972, a blurb in Spotlight announced Alan Cranny was leaving the band (and show business) to emigrate to to Canada.
In the Spring of 1973, trouble was brewing within the band's ranks. There were some personality conflicts and the band had a major makeover. Danny Ellis left the band to join the Guru Maharaji Ji. Alan Carr came in on trumpet, Des Hickey was the new guitarist, Mike Short stepped in on bass and Dermot Ryan came in on sax. Only Mick Dunne (along with Brendan and Joe) remained. This lineup would stay intact for just a few years.
Unlike most showbands of the era, Stage 2 traveled in two Ford Transit vans (most bands had only one); one for the gear and the roadies and the other for the band members driven by Eamon Travis. The band's road manager at the time was Ronnie McGinn from Cork who looked after the setup, sound and lighting. Originally managed by Cork dentist Robin Power, the band found success where the Dixies had left off. As an aside, when Robin moved on, Ronnie (who had always had an interest in the business side of the band) took over managing the boys. Although they first tried a heavily brass sound (i.e., Blood, Sweat, and Tears), the band soon found that a mix of pop and comedy material kept the punters on the floor and they drew good crowds from one end of the country to the other.
A blurb in Spotlight on June 14, 1973 reported that Danny Ellis had left the band to "devote his time to the Guru Maharaji Ji and the Divine Light Mission." At the same time, Danny produced a single for Luke Kelly of the Dubliners as he was recognised as one of the country's best musicians and songwriters.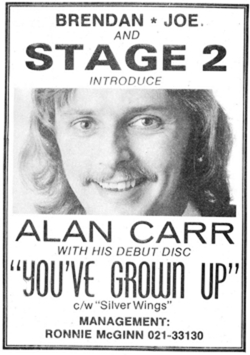 In 1973 the band recorded and released the song "Beautiful Sunday," which went to the top to the Irish charts. It had been a hit the previous year in the U.S. and Britain for Daniel Boone. Over the next few years, Stage 2 got lots of air play on the radio and even did a couple of TV shows until Joe Mac happened to use an inappropriate word during a live TV broadcast, and he was banned from the live airways. "Sky Diver" was the band's next single, released in late 1973.
A note in Julie Boyd's Social Scene column in October, 1973 reported that Paul Duffy (keyboards) was leaving the band and he was being replaced by Mick Dunne, who had left the band a year earlier to go to Canada and had returned as he was "tired of the Canadian scene." There is some confusion here as it was also reported that Mick was the only original member to stay with the band after their shake up in early 1973. Paul was reported to be going off to the States, but ended up (we think) in the Cotton Mill Boys a few years later.
Unfortunately for the band, tragedy would strike when Brendan O'Brien was electrocuted on stage at a charity gig in the Stardust Ballroom in Cork, which knocked him out of commission for many years. We understand that this very unfortunate accident actually affected Brendan until his death in 2008.
It was late 1974 and Brendan was a guest at a charity function in Cork when he grabbed a "live" microphone while holding a guitar and was thrown ten feet across the stage. He suffered a severe electric shock and was lucky to survive. After the incident, Brendan was taken to the local hospital, examined and released. He even went back to play with the band for about a month or so. However, one night in Monaghan after a gig, he was having problems walking, so the band took him back to the hospital the next morning. Doctors discovered blood clots that had been missed the night of the accident. The clots were cutting off the blood supply to his legs, and Brendan was unable to play again for years. The legal case surrounding the accident went on for many years.
Following Brendan's accident, Alan Carr was asked to step out front as lead vocalist and fortunately, the band was able to continue without really missing a beat. Within weeks, the band "introduced" Alan on their new single You've Grown Up, which was a successful enough to help the band regain precious ground they may have lost with Brendan's departure.
However, without Brendan, who had been one the the biggest stars of the 60's showband era, the band found it difficult to pack them in as they had done before. In late 1975, Mick Dunne left again for Toronto and was replaced by Ray Clifford on keyboards. The band continued to tour using the slogan, "All the World's a Stage 2," which may not have been very original, but it looked good on the bumper/window stickers.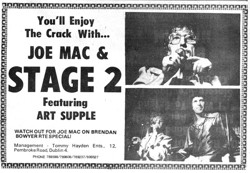 In late 1976, Alan Carr decided it was time to quit the scene and he also emigrated to Canada, where he still lives today. Stage 2's next single was done with Ray Clifford assuming the name "Rudy Jordan," but within a year, without a true "front man," the band needed a boost to help rejuvenate it's sagging appeal. They found one in long time friend, Art Supple, whose band, The Victors was also undergoing changes. In 1978, the two bands joined forces and the band continued to tour as Joe Mac and Stage 2 featuring Art Supple.
However, things would never be the same. As the seventies drew to a close, hotels and pubs were getting their closing times extended and their licenses changed to "cabaret" venues and it became increasingly more difficult to fill the huge ballrooms and maintain a larger six plus piece showband format. The band finally split in 1979 and went their separate ways, but they left an indelible mark on the scene. However, Joe and Brendan would not "go quietly into the night," and ended up back on stage with the reformed Dixies in 1982.
Our thanks to Alan Carr for his help in writing much of this feature and providing photos as well.
Click on thumbnails for full images
Dixies Showband (LR)
Stage 2 - 1972
Stage 2 - 1972
Stage 2 - 1972
Stage 2 - 1972
Stage 2 - 1972
Stage 2 - 1972
Stage 2 - 1972
Stage 2 - 1972
Stage 2 - 1972
Stage 2 - 1972
Stage 2 - 1972
Stage 2 - 1973
Stage 2 - 1973 (AC)
Stage 2 - 1975 (AC)
Alan Carr (AC)
Joe Mac & Stage 2 - 1978
Joe Mac (LR)
Stage 2 - 1973 (LR)
Stage 2 - 1973
Stage 2 - 1973
Stage 2 - 1973
Alan & Joe-1975
Stage 2 - 1976 (AC)
Stage 2 - 1976 (AC)
Stage 2 (RF)
Stage 2 (RF)
Stage 2 (RF)
Stage 2 (RF)
Stage 2 (RF)
Stage 2 (RF)
Coming Soon
Coming Soon
Coming Soon
Coming Soon
Records
Danny Ellis and Stage 2 - 1972 (DL)
Danny Ellis and Stage 2 - 1972 (DL)
Danny Ellis and Stage 2 - 1972 (DL)
Alan Carr & Stage 2 -
1975 (AC)
Alan Carr & Stage 2 -
1975 (AC)
Years
Vocals
Trumpet/Voc
Guitar
Bass
Drums
Sax
Trombone
Keyboards
1972
Brendan
O'Brien
Mike
Nolan
Alan
Cranny
Ernie
Durkin
Joe "Mac"
McCarthy
Dave
Traynor
Danny
Ellis
Mick
Dunne
June
1973
Brendan
O'Brien
Alan
Carr
Des
Hickey
Mike
Short
Joe "Mac"
McCarthy
Dermot
Ryan
Paul
Duffy
Oct
1973
Alan
Carr
Des
Hickey
Mike
Short
Joe "Mac"
McCarthy
Dermot
Ryan
Mick
Dunne
1974
Alan
Carr
Des
Hickey
Mike
Short
Joe "Mac"
McCarthy
Dermot
Ryan
Mick
Dunne
1975
Alan
Carr
Des
Hickey
Pat
Fortune
Joe "Mac"
McCarthy
Dermot
Ryan
Ray
Clifford
1977
Des
Hickey
Pat
Fortune
Joe "Mac"
McCarthy
Dermot
Ryan
Ray
Clifford
1978
Unknown
Art (vocals)
Supple
Joe "Mac"
McCarthy
Dermot
Ryan
Ray
Clifford
Stage 2 released nine singles:
I'd Still Believe In You Baby / Move Along (Danny Ellis)
Play Records - Play 38 - 1972
Beautiful Sunday / Rave On (Brendan O'Brien) - #5 Irish Charts
Dolphin Records - DOS.97 - April, 1972
Whole Lotta Woman (Brendan) / In Heaven There Is No Beer (Joe Mac)
Play Records - PLAY 55 - 1973
Sky Diver/Honkey Tonk Girl (Brendan) - #18 Irish Charts
Play Records - PLAY 67 - December, 1973
Sunshine Love (Brendan) / Whiskey Woman (Des Hickey)
Play Records - PLAY 76 - 1974
You've Grown Up / Silver Wings (Alan Carr)
Play Records - PLAY 82 - 1975
The Opera / Muscle Man (Joe Mac)
Play Records - PLAY 95 - 1976
Will You Still Love Me Tomorrow (Rudy Jordan-aka Ray Clifford)
Play Records - PLAY - 1977
Queen of the ICA (Joe Mac)
Play Records - PLAY 105 - 1977
Coming Soon
Brendan O'Brien - RIP

: Although Brendan never fully recovered from the injuries he received over 30 years ago, he rejoined the scene a couple of times in the early 80's and 90's wioth the reformed Dixies (along with Joe Mac). He would continue to sing whenever he could and frequently took part in showband reunion concerts such as The Waterfront Concert series in 2004. RTE featured Brendan in an episode of their series, "A Little Showband," but sadly, Brendan passed away before the series aired. He died on April 3, 2008 in Cork at the age of 67.
Joe 'Mac' McCarthy: Stage Two finally went off the road, but Joe never stopped. After joining the reformewd Dixiesin 1982, he finally quit the scene in the late 80's. Since then, he has played from Sneem to Carnegie Hall, from Las Vegas to Bahrain, all over the world, playing all sorts of music. Jazz is his favourite these days, but it won t always pay the bills, so you can find Joe Mac performing whatever is popular at a wedding, club or pub near you in and around his native Cork. Ireland's crown prince of showband comedy turned 70 in August, 2006!
Ernie Durkin: Ernie joined the Gentry and went to Spain. They had a hit with Yellow River. He then emigrated to the United States to Seattle in 1975 and played in bands all over the States, mostly Top 40 music on vocals and bass. Some of the bands included Roscoe, Rouge, The Steven Tate Band and more. Today Ernie works at Boeing (building airplanes!) and still plays part time in a band called J.E.M. He is married and has a daughter.

Mike Nolan - R.I.P:

After leaving Stage 2, Mike join Jim Doherty's 10 piece jazz ensemble, Spon. For the next 30 years, he would continue to reach greater heights as a jazz musician, expanding into theatre and orchestral work as well. Sadly, after a spectacular career as one of Ireland's premier jazz players, Mike passed away in 2005 at the age of just 61.
Alan Cranny: After leaving the band, Alan emigrated to Toronto, Canada in the early 1970's where he has been living since. Alan Carr writes to tell us that Alan still gigs on a regular basis around the city.
Dermot Ryan:

Dermot Ryan still plays around Dublin and also owns a school bus company.

Danny Ellis: When Danny left the band, he went to New York to study with the Guru Maharaji Ji. That move lead him on a quest of self discovery that has lasted over 30 years, Danny still plays and writes music and has recently made a CD called This Tenderness which Danny describes as "simply a way for me to express my journey to joy, my longing for more of the same and my gratitude to life." More recently, Danny released his CD, 800 Voices, which he wrote about his days in the Artane School in Dublin. He recently did a concert in the National Concert Hall in Dublin (April, 2010). You can read more about Danny at www.dannyellis.net.
Paul Duffy: After leaving the band, Paul later joined the Cotton Mill Boys for a short spell. If you know any more about him, please let us know.
Alan Carr: Alan emigrated to Canada after leaving the band and settled on the West Coast. A few years ago he relocated to Red Deer, Alberta, where he lives with his wife. He is still very active in music and now plays the North American "casino circuit" under the name Alan James. He has his own website at www.alan-james.com.
Des Hickey: Des Hickey also plays around Dublin, although he did a stint with The Nevada, replacing Red Hurley's brother Liam on lead guitar in the late 70's or early 80's.
Pat Fortune: Unknown - if you have info please email us
Mick Dunne: After leaving the band, Mick emigrated to Canada where for a time, he played with Ray Clifford. We understand he still plays full time. He currently lives in Toronto and stays in touch regularly with Alan Carr.
Mike Short: After leaving Stage 2, Mike Short went on to play with Red Hurley's Band. He now lives in Bray and we are told he owns a grocery store.
Ray Clifford: We received an email from Lynda Clifford telling us that after leaving Stage Two, as the showband scene faded, he moved to cabaret and played with Johnny Christopher and Benny Kindillen. Eventually Ray went to Canada with Mick Dunne, but after six months returned to Ireland working the cabaret scene. After stints with the Pierce Butler band and Earl Gill band, he is now the musical director for Sonny Knowles and plays with his own band around Dublin called Charm. Our thanks to Lynda for the info.
Art Supple: Art continues to perform with his son Shane in the Art Supple band. Shane has his own band as well. Arts still regularly plays at weddings, dances, corporate functions, festivals and can still keep the dancers on their toes. To learn more about Art today, you can visit his website at www.artsupple.com.