The Managers & Promoters (Last name J-Z)
Welcome to a new page where we pay tribute to the men (have yet to find a female manager) behind the scenes...the managers. Often looked upon with mixed emotions, and much maligned, these are the movers and shakers that not only booked the bands, but often also ran the dances as well. This is another area in which we need your help. Finding out the managers of bands and venues 40-50 years after the fact is a difficult task, and the information generally only known by people inside the business. The info below was gleaned from personal diaries, friends, handouts, new articles and advertisements.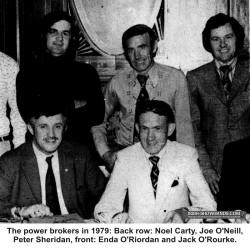 Click on the photo below for a full size image of the newly formed Irish Ballroom Bands Association IBBA).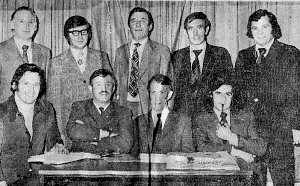 If you know of any promoters or managers, please click here to let us know!
Last, First

Venues Promoted

Bands Managed

Jennings, Pat

Beaten Path, Claremorris, Co. Mayo
Royal Ballroom (TF), Castlebar
Pontoon Ballroom, Pontoon

Johnston, Jackie

Cathal Dunne & The Formula
Some People (1970)

Johnston, Tony

Geraldine

Jones, Alan

Oceans Showband
Raydots Showband
Scholars
Dukes
Flair

Jones, Tommy

Matadors Showband
Presidents Showband

Jordan, Sean

Jackpots Showband
Mexicans Showband

Joyce, Bunny*

Letterfrack Hall, Co. Galway

Golden Aces Showband

Kane, Trevor*

Boom Boom Room (with Jim Aiken)
Queens Court, Bangor
Royal Ballroom, Dundonald

College Boys with Teddie Palmer
Tony G. Ford & the Seekers
(Brought Beatles to King's Hall, Belfast)

Kavanagh, Kieran

Georgian Hotel, Ballina, Co. Mayo
Culleens Carnival, Co. Mayo

Carole & The New Blues*
Gloria and her Band
Brush Shiels Band
Ray Lynam Band
Roly Daniels Band
Rascals

Kavanagh, Niall

The Ivy Folk

Keenan, Frank

Embassy Showband

Keeney, Leo*

Fiesta Ballroom, Letterkenny, Co. Donegal
Butt Hall, Balybofey, Co. Donegal

Kelly, Des

John Ross & The Jewels
Smokey Mountain Ramblers

Kelly, Eddie

April and the Silver Pennies

Kelly, Jimmy

Borderland Ballroom, Muff, Co. Donegal

Kelly, Johnny

Margo and the Country Folk
Dermot Henry & the Virginians

Kelly, Miko
(passed away 2006)

Johnny Flynn Showband

Kelly, Tom

Castlemore, Ballaghadereen
Weekend Club, Gurteen

Fairways
Duskey Sisters
Kim Newport Band (1978-80)
Monkey
Brotherly Love
Brendan Grace

Kelly, Vernon

Pluto

Kennedy, Alex

Tuxedo Junction

Kennedy, Eddie

Taste
Stud
Brush

Kennedy, John

The Ragg, Thurles, Co. Tipperary

Kennedy, Paddy
(Pat Schan write to tell
us Paddy passed away
in 2003)

Regal Showband

Kenny, Padraig

Impact Showband

Keogh, Donald

Paddy Hanrahan & Oklahoma (1972)

Kerr, John*

Mulroy Ballroom, Kerrykeel, Co. Donegal

Kiely, Dan

Hibernian Ballroom, Ballybunion, Co. Kerry

Kielty, Jack
(Murdered by terrorists
in Jan. 1988)

Epic Showband
Duggie Jane and Goldrush
Mary Lou & Harvest
Hugo Duncan & The Tallmen

Kielty, Pat

Oslo Hotel, Salthill, Co. Galway
Centre of Attraction, Boyle, Co. Roscommon

Kierans, Jim

Carl and the Actions (1971)

Kilbride, Frankie*

Park House Hotel, Edgeworthstown,Co. Longford

Kinsella, Don*

Airchords (early 1960's until 1967)
Marti, Mari & Argentina

Kinsella, Nick

Marti, Mari & Argentina

Kirwan, Seamus

San Bernadino

Kyle, Bobby*(Robert)
(Bobby sadly passed
away in March, 2005)

Cossacks Showband

Langton, Eamon

Newpark Hotel, Kilkenny, Co. Kilkenny

Latham, Dermot

Crickets Showband

Lavelle, Eddie

San Antones Showband

Lawless, Peter

Carousel Showband

Linnane, Paddy

Olympic Ballroom, Newcastle West, Co. Limerick

Loftus, John

Ambassador, Ballybunion, Co. Kerry

Lohan, Larry

Tweed
The Poets (1968)

Lohan, Liam

Agents Showband

Loughman, Tony
(Top Rank)
(Tony sadly passed
away June 1, 2007)

Rainbow Center, Glenfarne, Co. Leitrim
St. Patrick's Hall, Shercock, Co. Cavan
Central Ballroom, Mountfield, Co. Tyrone
Drumquin Social Center, Co. Tyrone
Starlight Ballroom, Clones, Co. Monaghan
St. Mary's Hall, Carrick-On-Shannon, Co. Leitrim
Wonderland Ballroom, Bawnboy, Co. Cavan
Metric Ballroom, Burnfoot, Co. Donegal
Four Seasons Hotel, Monaghan
Imperial Hotel, Garvagh
Barley Inn, Omagh
Plaza Ballroom, Buncrana, Co. Donegal
St. Brigid's Hall, Carnew
Termon Ballroom, Co. Donegal
Pettigo Community centre
Knock-na-Moe Hotel, Omagh, Co. Tyrone

Paddy Cole Superstars
Eileen King's Country Gifts
Patrice & Stage Five
Philomena Begley & her Ramblin' Men
Susan McCann & the Storytellers
Shelly & The Big Valley*
Anne, Shelly & The Marines*
Big Ivan & The New County*
Sharon & Green Forest

Loughran, Oliver

Rascals
Stampede

Lucey, Jerry*
(with brother
Murt)

Redbarn Ballroom, Youghal, Co. Cork
Stardust Ballroom, Cork
Majorca Ballroom, Crosshaven, Co. Cork

Lucey, Murt*
Murt passed away in
April, 1971 age 47

Redbarn Ballroom, Youghal, Co. Cork
Stardust Ballroom, Cork
Majorca Ballroom, Crosshaven, Co. Cork

Arrivals Showband

Lynch, Connie

INF Hall, Hilltown, Co. Down

Pat Lynch & The Airchords
Royal Showband
Top 7 Showband
Mary Lou & Harvest
Bill Ryan & Buckshot
Tony Kenny Band
Tony Hughes & the Ventures

Lynch, John

Duane Family

Lynch, Peter

Finnavons Showband

Lynch, Steve

Sandie Jones & Boyfriends
Sandie Jones Big Band Show

Lynn, Jim

Marguerite & The Kentuckians

Lynn, Stan

Stan Lynn Showband
Silhouettes

Mack, Syd

Nomads Showband

Madigan, Gerry

Whiskey Styl

Magee, S.

Siobhan and Pride

Magill, Mickey

Fir Trees, Strabane

Luv Bug
The College Boys
Chevys
Sean Quinn & Down Country
Dreams

Maguire, Molly

Pearl's Niteclub, Ballina, Co. Mayo

Maher, Joey

Maher Family Band (1976)

Mahon, Sean

Newmen

Mangan, Eamon

Palm Court Ballroom, Bellmullet, Co. Mayo

Maguire, Brian

Shaft

Maynes, P.V.

Incas Showband (Belfast)

McArdle, John

Earls Showband (Portadown)

McBrearty, Frank

Parting Glass, Raphoe

McBrien, Charlie
(we received word
that Charlie sadly
passed away in
2005)

Knocknamoe, Omagh, Co. Tyrone
Carrickmore, Co, Tyrone

The Ohio Showband
Pat Ely & The Rocky Tops (1972)
Hugo Duncan & The Tallmen
American Pie (1972)
Tony Kenny
Mighty Avons (with Larry Cunningham)
Dominic Kirwan

McCabe, Peggy

Carousel Ballroom, Belfast, Co. Antrim

McCadden, Joe

Denis Allen
Clipper Carlton
Furey Brothers

McCaffrey, John*

Lagoon Lounge, Termon, Co. Donegal

McCaffrey, Michael*
(we received word
that Michael sadly
passed away on
Dec. 7, 2005)

Creeslough Hall, Creeslough, Co. Donegal

McCaffrey, Leo
(Leo sadly passed
away in 2003)**

Glen Country
Leo McCaffrey & The Glensmen
The Country Stars

McCarron, T.J.

Annalees Showband

McCarthy, Mick

The Embankment, Dublin, Co. Dublin

McCarthy, Monty*

Beara Bay Hotel, Castletownbere, Co. Cork

McCarthy, Pat*

Star Ballroom, Cappamore, Co. Limerick

McCole, Charlie

St. Dominics Hall, Glenties

Paddy McDevitt & Northen Lights

McConaghey, Price

Beltona Showband

McCooey, Kevin

Four Seasons Hotel, Monaghan
Mayflower, Drumshanbo, Co. Leitrim
Swan Nite Club, Sligo

McCormack, Colm

Trixons Showband

McCormick, John
(John sadly passed
away in 1998)**

Maple Ballroom, Rockcorry, Co. Monaghan

Big Tom & The Mainliners
Finnavons (from Noel McGoohan)
Gerry Black & The Seasons

McCormack, Willie

Navak Showband
Ian Corrigan & Country Style (1973)

McCracken, John*
(John sadly passed
away-John Baird)

Mighty Rhythm Boys


McCusker, Seamus

INF, Omagh, Co. Tyrone
Lilac Ballroom, Carndonagh, Co. Donegal

Brian Coll & the Buckaroos
Dan O'Hara & The Country Flavour

McDonald, Brian

Holyrood Ballroom, Bundoran, Co. Donegal

Hugo Duncan & the Ranchers
Mary Lou & Harvest
Shelly & Startime
Pat Ely & The Storytellers*

McDonald, Pat
(Pat sadly passed
away 28-08-09)-
Anthony Loughman

Ian Corrigan and Country Style

McElroy, Damien

Newmen

McErlean, Eoin
(sadly passed away
14th Dec, 2003)

St. Oliver Plunkett Hall, Clady, Co. Derry

McGeough, Al

Glenamoy
Clody

Grainne and the Strangers
Trilogy

McGinn, Ronnie

Stage 2

McGinty, Peter

Canvas Wagon (1972)

McGlinchey, Bernard

Golden Grill, Letterkenny

McGovern, John

Rascals
Plattermen
Stampede

McGrade, Sean

Astoria Ballroom, Bundoran, Co. Donegal
Riverside Suite, Ballinamallord, Co. Fermanagh
Ballyliffin, Co. Donegal
Fort Lodge Hotel, Enniskillen, Co. Fermanagh

Ronnie Griffiths & American Pie
Ronnie Griffiths & Driftwood
Tommy Fee & The Cajun Sound
Eamon McCann Band*
Martin Cuffe Band*
Philomena & The Dawnbreakers
Colm Hughes Superstars
John Glenn & The Wranglers
Philomena Begley

McGrail, Stephen
sadly passed away in
October, 2010

Gaydons

McGrattan, Dan

Castaways Club Ballroom

Chessmen
Royal Earls Showband (1971)
Billy Brown Superband

McGrenra, John*

John McGrenra & Choice

McIvor, Tony

Sandie Jones Band

McKenna, J.F.

Bluegrass Country Bandshow

McLean, Gerry
(sadly passed away)

Green Angels

McLoone, Frank

Tara Ballroom, Dublin

McMahon, Henry

Tom Allen and the Mainliners
Gerry Black & The Seasons

McMahon, Pat

Astor Ballroom (our thanks to Dennis Osborne)

Seasons Showband

McManus, J.J.

Dawnbreakers

McNamara, Joe

Navak Showband

McQuillan, Jim

Gentry
Linesmen

Meehan, Roger

Pavisi Ballroom, Donegal

Milton, Frank

Gerry and the Hi-Lows

Mitchell, John

Carole, Frankie & The Black Dots

Molloy, Brian
Brian sadly passed
away in Nov 28, 2005.
He also was the
founder of Hawk,
Folk Promotions Ltd.
and Lunar Records

Cotton Mill Boys
Tracy & The Grassroots
Johnny McEvoy
The Broadsiders
Anne Byrne
Emmet Spiceland
Gypsees
Hedley Kay
Maxi, Dick & Twink
Noel V. Ginnity
Paddy Reilly
Shay Healy
Jubilee Four
McLaughlins Group
Mick Lynch

Molloy, Willie

The Towers, Duckett's Grove, Co. Carlow

Mooney, Larry

The Uptown Band
Orange Machine

Moore, Aidan

Memphis Showband

Mulcahy, Bill

Blue Aces
Decca Showband

Mullin, John

Genevas

Mullins, Noel

Classic Ballroom, Gort, Co. Galway

Mulryan, Jimmy

Vin Brogan and the San Antones

Murphy, J.

Blarney Ceili Band

Murphy, Mark

Blue Mountain Boys

Murphy, Sean

Rio Showband, Cork (1965)

Murphy, Tom

Gary Street & The New Fairways

Murray, Tom

Cades County

Nestor, Mrs.

Bealadangan Hall, Co. Galway

Nodwell, Matt

Arcadia Ballroom, Cork

Arrivals Showband
Mean Tom and the Tree Tops
Pat Lynch & the Airchords (1970)

Nolan, Michael
(Mick)

Town & Country Ballroom, Dublin
Crystal Ballroom, Dublin
Atlantic Ballroom, Tramore, Co. Waterford
PR Manager, Con Hynes Ballrooms

Bye-Law (1967)
Wolverines Showband
Ravens Showband
Columbia Showband
Jimmy Johnston Showband
Anna McGoldrick

Noone, Pat

Saints Showband
Times Showband (Sligo)

O'Boyle, Charlie

Seaview Hotel, Bunbeg, Co. Donegal

O'Brien, Jim

CYMS, Tralee, Co. Kerry

O'Brien, Tony

Moulin Rouge Club, Dublin

O'Connell, Nelius
(Nelius sadly passed
away on August 5,
2006. Our thanks to
his son, Donal.)

Kerry Blues (1968)
Jim Farley Showband/All Stars (64-71)
Frankie McBride & The Polka Dots
Frankie McBride and Rio Grande
Maisie McDaniel
Nita Norry
Philomena Begley & The Country Flavour
Big Four (1974)

O'Connell, Paddy
(Paddy sadly passed
away in January, 2006)
**

Two Mile Inn, Limerick

Tommy Drennan & Top League
Shaun O'Dowd & Dingaling
Candy & Dynamite
Kim Newport Band (1981-82)

O'Connell, T.P.

Astoria Ballroom, Bundoran

O'Connor, Don

Reform

O'Connor, Eddie

Unyoke Inn, Wexford, Co. Wexford

O'Connor, Jim

Conquerors
Clubsound

O'Connor, John

Bantry, Co. Cork

O'Connor, Michael

Sliver Slipper Ballroom, Kenmare

O'Connor, Paddy

County Arms Hotel, Birr, Co. Offaly

O'Donnell, Alex

Albany Brothers (1971)

O'Donoghue, Shay

Angel

O'Hanlon, Mike

Polka Dots Showband

O'Keefe, Shay

The Urge

O'Kelly, Mike

Ther Fleet Showband (1972)

O'Mahony, Bertie

Breakaways (Cork) (1972)

O'Mahony, Con

Irish Club, Dublin

O'Mahony, Denis

Lilac Ballroom, Enniskean, Co. Cork

O'Malley, Mick

Bill Ryan and Buckshot
Adam and the Big Apple

O'Neill, Gerry*

Swingtime Aces

O'Neill, Joe
(Joe passed away
17th May, 2012)

Sound of Music, Glenamaddy, Co. Galway
House of Music, Cong, Co. Mayo
Jet Club, Ennis, Co. Clare

O'Neill, M.

Kangaroos Country Band

O'Neill, Ted

Chips (1975)

O'Neill, Terry

Thin Lizzy

O'Neill, William

States Showband (Cork)

O'Reilly, George

Collegemen (1967)
Dermot O'Brien and the Clubmen
Glen Curtin
Roly Daniels
Twink
Maisie McDaniel
Freedom

O'Riordan, Enda
(Enda sadly passed
away on April 14, 2008)

Collins Hall, Clonmel, Co. Tipperary
Ormonde Ballroom, Carrick-On-Suir, Co. Tipp.

Cowboys

O'Rourke, Jack
(Jack sadly passed
away on May 1, 2005)

Majestic Ballroom, Mallow, Co. Cork
Top Hat Ballroom, Fermoy, Co. Cork
Olympic Ballroom, Newcastle West, Co. Limerick

O'Rourke, Tommy

Sands

O'Rourke, Eamon

Granada, Granard, Co. Longford
Sunset Club, Longford

O'Rourke, Peter

Riversdale House Hotel, Kenmare, Co. Kerry

O'Rourke, J.P.

Avengers Showband

O'Rourke, P.J.

Freemount, Co. Cork

Orr, Stanley

Top Hat Ballroom, Lisburn, Co. Antrim

O'Sullivan, Eamon

Sunset Club, Longford, Co. Longford

O'Sullivan, Kevin

Ritz Showband

Owens, Francis

Cadillac Showband

Palmer, Teddie

Silver Birch Hotel, Omagh
Deerpark Hotel,
Vision Nite Club, Antrim
Greenvale Hotel, Cookstown
Bannville House
The Kiln, Larne
International, Killyleagh
Inver River, Larne
Chesters, Moira
Brewsters, Ballyclare
The Yard, Downpatrick
Cubin's , Cork

TP Band
Rascals
DreemZ

Pearson, Noel*

Chessmen

Phelan Aidan

Clipper Carlton (late 60's)

Phelan Marty

Tony Kenny & the Sands

Platt, Bobby*

Strand Ballroom, Portstewart
Limavady Agricultural Hall

Derrick and the Sounds (pre-1967)

Ponsonby, Eamon*

Blue Glows Showband

Ponsonby, William*

William Ponsonby Showband

Power, Robin*

Stage 2

Prendergast, Peter*

Arcadia Ballroom, Cork Co. Cork

Dixies (1967)

Quinn, Mick
Mick sadly passed
away Feb 22nd,
2015


Dickie Rock
Daddy Cool & The Lollipops
Sheeba
Red Hurley
Pacific Showband

Quinn, Peter

Holyrood Hotel, Bundoran, Co. Donegal

Quinn, S.

The Executives

Unknown

Rahill, John

Lakeland Hotel, Cavan
Hillgrove Hotel, Monaghan

Regan, E.

Breakaways - Cookstown

Reilly, Sean

Freshmen
Ray Lynam & the Hillbillies (1970)

Reynolds, Albert
Albert sadly passed
away August 21, 2014

Barrowland Ballroom, New Ross, Co. Wexford
Borderland Ballroom, Clones, Co. Monaghan
Cloudland Ballroom, Roosky, Co. Roscommon
Danceland Ballroom, Portlaoise, Co. Laoise
Dreamland Ballroom, Athy, Co. Kildare
Fairyland Ballroom, Co. Roscommon
Hi-Land Ballroom, Newmarket, Co. Cork
Jetland Ballroom, Limerick, Co. Limerick
Lakeland Ballroom, Mullingar, Co. Westmeath
Moyland Ballroom, Ballina, Co. Mayo
Rockland Ballroom, Borris-in-Ossary, Co. Laoise
Roseland Ballroom, Moate, Co. Westmeath
Wonderland, Bawnboy, Co. Cavan

Reynolds, Peter

Long Arms Hotel, Longford

Riordan, Enda

Westpark Hotel, Portumna, Co. Galway

Pirates
Quinset
Tony Stevens Band

Rudden, Jimmy

Blossoms

Ryan, Denis

Mattie Fox & The Grassroots
Frankie Carroll & The Ranchers
Sun Valley Boys (1970)

Ryan, Liam*

Olympic Ballroom, Dublin
C.Y.M.S., Kildare
National Ballroom, Dublin
Television Club (1967- Sunday beat gig)

Casino Showband
The Farmer's Sons
Radio Showband (Wicklow - 1968)

Robinson, Guy

Cathal Dunne & Stateside

Robinson, Len

Arrivals Showband

Scott, Billy

Billy Donegan & The Country Hillsiders

Scott, Seamus

La Bamba Showband

Selwood, Peter

Chosen Few (1967)

Television Club

Sheridan, Anthony

Margo and the Blue Ridge Boys

Sheridan, John

The Croppies

Sheridan, Peter
(Peter sadly passed
away in 1998)**

Longford Arms, Longford
Odea's Hotel, Loughrea, Co. Galway
Granada Ballroom, Granard, Co. Longford

Brian Harkin & The Plainsmen
Frank McCaffrey & the Country Folk
Terry & the Trixons

Sheridan, Val

Brendan Grace

Sherlock, Fergus

Gene and the Gents

Shields, Bella

Fintra House, Killybegs, Co. Donegal

Shine, Syd

Roseland Ballroom, Moate, Co. Westmeath

Simpson, Oliver
(died Oct 2016)

Lilac Ballroom, Carndonagh, Co. Donegal

Sinnot, Noel

Decca Showband
Savoy Showband

Sinnott, Peter J.

Savoy Showband

Smith, Jimmy

Hugh McLean and the Mighty Avons (1976)

Smith, Leo

Mighty Rhythm Boys (1960)

Smith, Michael

John Tighe & the Hi-Lows (1971)

Smith, Paddy

Gerry Black and the Seasons (1972)
Dee Leydon & The Powermen (1973)

Smith, Peter

Gene Stuart & the Might Avons
Gene Stuart & the Homesteaders

Smyth, Sammy

Floral Hall, Belfast
Romano's Ballroom, Belfast (Mike Niblett)

College Boys
Tony G. & The Seekers
Gene and the Gents

Solomon, Phil

Dubliners

Stirrat, Liam*

Anne & The Tribesmen
Hugo Duncan & The Tallmen
Frank Coll and the Big Valley (1972)

St. Leger, Chris

Arrivals Showband (1967)

Sullivan, Matt

Central Ballroom, Ballybunion, Co. Kerry (1956)

Thompson, Cecil
"CT Promotions"

Valley Hotel, Fivemiletown
Deerpark Hotel, Co. Antrim*
Romanos Ballroom, Belfast, Co. Antrim
Milanos Ballroom, Bangor, Co. Antrim

The High Seas Showband
Colm and the Sundowners
Sunshine
Eileen King & Country Flavour
Candy
The College Boys (1973)
American Express

Todd, S.

Cosmos Showband (Belfast)

Trainor, Hughie

The Globe Trotters Showband

Traynor, Frank

Derek Joys Showband

Tuite, Brian

Thin Lizzy
Honey Sweet

Tyrell, Joe

Arrows (1970)

Tyrell, Pat
(sadly passed away)

Copper Beech, Edenderry, Co. Offaly

Van Etten, Yoop

Wheel Inn, Castletownbere, Co. Cork

Wallace, Jack

Federals Showband (mid 60's)

Walsh, Frank

Bridesiders Showband

Walsh, Louis
Louis, of course, went
on to International fame
with bands like
Boyzone and Westlife
and as a judge on the
X-Factor.

Ballymacward, Co. Galway

Freshmen
Brotherly Love
Joe Mac and Stage 2
Lyttle People
Rob Strong and the Rockets
Chips
Time Machine
Johnny Logan Band
Candy
Orphanage

Walsh, Marty

Great Southern Hotel, Galway
Lenaboy Arms, Salthill

Gary Green & the Glamour Band
Duggie Jane & Goldrush

Walsh, Sean

Hibernian Hotel, Mallow, Co. Cork

Walsh, Shay

Sugar Shack (1967)

Walters, Arthur

Zen Alligators
Spud
Kenny Ryder Superband
Orphanage
Mitch and the Edition (1970)
Tomorrow's People
Bell Brush Band (1974)
New Generation (1976)

Ward, Bill

Dean Swift and the Boys (1972)

Ward, Frank

Warriors Showband

Whelan, David
Brendan Cahill emailed
us to say David passed
away Oct 17, 2009

Mayflower Ballroom, Mitchelstown, Co. Cork

Whelan, Kevin*

Swingtime Aces

Whitren, Dave

Tony G & The Stellas Showband
The Paragon 7 Showband

Wickham, Gerry

Tony & The Graduates (1967)

Wilson, George

Snowdrifters Showband

Winders, Brian

Reform
Factory

Woods, Michael

Coolera House, Sligo

Woods, Sean

Canvas Wagon (1972)

Wright, Mike

Maxi, Dick & Twink

Wynne, Joe

Mama's Boys

Young, Michael

Altonaires Showband
* Special thanks to Teddie Palmer, Brendan McCarthy, John McGrenra, Peter Kinsey, Louis Chapman, Jan Lynch, Alan Carr, Mike Niblett, Billy Swann, Pat Hoye, Alan Jones, Ronnie Campbell, Gene O'Sullivan & Vincent Power's "Send 'Em Home Sweatin" for their assistance with this list.

**Thanks to Eddie Kelly (RIP) for letting us know about the passing of several managers.