My Showband Years
by Jimmy Compton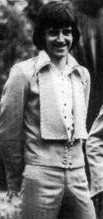 I started by career in showbands playing in my home town of Downpatrick, Co. Down with a group called "Sweet Neglect" starting in 1969. In the band were Liam Taggart (guitar) who went on to play with Lyttle People, and Seamus Mahon (rhythm guitar) who went on to play with The Sands and Roly Daniels - I think he also won or was runner up in the Cavan Song Contest at one time.
Anyway, we came to Dublin in about 1971 to make the big time!! We played all the usual clubs at that time: Good Time Charleys, The Revolution, The Ace of Clubs, etc. It was a pretty exciting time as we had only been playing relief in the North, and now we were doing gigs on our own, and meeting a lot of musicians. We didn't meet a lot of players in Downpatrick as you can imagine! The reason we moved to Dublin was because we were playing relief to bands like Tony Kenny and the Sands, Memories, etc. They kept telling us to go to Dublin as the scene there was really good for groups. Because of the troubles, there wasn't a great group scene back at home. However, things didn't go too well in Dublin for us.
We lived in a bed-sit opposite the National Stadium, had about a gig a week and no money at all. Paul Lyttle (who had just left Chips to form Lyttle People) was pretty good to us, getting us any work he could, so when a spot came up in his band for a guitarist, he offered it to Liam. Needless to say, Liam jumped at it! We carried on with the group for about 6 months with a couple of Dublin lads, but it became impossible to eat, and we went home to the North with our tails between our legs.
After a couple of months Liam contacted me and asked if I would like to join Lyttle People as their drummer was leaving. I believe his name was Joe Hanratty, who at one time played with Van Morrison in Them. I took the gig. In the band at the time were Paul and Linda, Liam, myself, Barry Woods (who went on to Clubsound), and Alan Holland (Friends). As a footnote we also had a roadie called John Dalton who I understand owns a mill or something in Kilkenny and has done very well! Remind me to tell you the story about feeding him the laxative chocolate sometime! I suppose I played with the band for about 6 months, and then Linda and Paul decided to reform Chips.
Luckily Mick O'Brien was reforming The Real McCoy, and he wanted myself, Liam, Barry, and Alan to form the band with him. At this time Mick also got Gay Brazel (Tweed) to join on guitar and pedal steel. We rehearsed with Mick as Lyttle People were winding down, so there was no time in between with no gigs - happy days. After about 6 months Barry left the band, and we brought a guy called Ray Donnan in on keyboards from Belfast. About a month after this I was actually forced out of the band to make room for a mate of Ray Donnan's from Belfast. At the time I was only about 18 or 19 and really didn't understand that politics had a part to play in the music business! What a rookie I was!! So, I went back up North again - very unsure about music and my own ability at this time.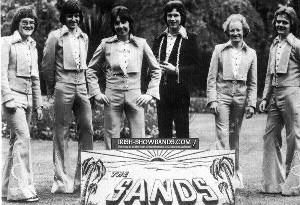 I took a job in the Civil Service! Dates here become a bit confused! I don't know how long I was in the day job, but at some point I got a call from Tommy O'Rourke, who had been the trumpet player with the original Miami and Sands showbands, but was now managing The Sands. He asked me if I would be interested in going back to Dublin and playing with The Sands (version 5!). I was truly sick of the day job, so I took it. I think this was about 1974. In the band at the time were Denis Murray (bass - original Miami), Noel Ryan (keys) who went on to join the Big 8 but left after Tom Dunphy was killed and became a Doctor, Murty Quinn (trombone and vocals) Tony Adams-Rosa (guitar) who I think had a couple of entries for the Eurovision later on, and a guy called Fran Troy on vocals - not sure what happened to Fran, but I remember he was a nice guy.
I was only in the band a short time when Denis Murray emigrated to the States, I think he ended up playing on the Queen Mary. He was replaced by a called Noel Sheridan from Kilcock on bass. Then Fran Troy then left which wasn't good news at all! We replaced him with guy called Jackie Kelly from Downpatrick who I had known from days of old! Then Murty left! We replaced him with Seamus Mahon from Downpatrick (see above), and then Tony Adams-Rosa left who we replaced with Dominic Green (who went on to Flint, The Memories, Nightcap, The Message). We had no brass at all at this stage so we augmented the band with a keyboard player called Anto Long - who went on to play with Kelly and Klass and The Miami. After about a year, Jackie decided he wanted to go back up north, so he was replaced by a guy called Pat Tynan. A while after that, things fell apart and when Dominic went to Flint, Seamus went to Roly Daniels, Noel went back to Kilcock, Anto to Kelly and Klass, and I went to London.
I played in London with groups around the pub circuit - trying to get the elusive record deal. I came home sometime in 1978, and I honestly can't remember how, but I got a call from Tommy Swarbrigg asking me to join The Swarbriggs Band. I took the gig and in the band were Sean Kenny (guitar) who had been in The Times and went on to join Shaun O'Dowd and Dingaling, Andy O'Callaghan (keyboards) who went on to join Johnny Logan, Bob Bolton (Bass) who had been with Stepaside and went on to form Beats Workin' with me. I stayed with the band for about 18 months, and then myself and Bob formed Beats Workin' with Cahir O'Doherty (Gentry), Brian Harris (Cats Pyjamas and Gentry) and Bobby Kelly (Greenbeats, The Sands). During rehearsals I broke my leg, so never actually played with them. I was in plaster for close to a year.
In 1980 I got a call from Jon Chisum (who had been a roadie with Flint) who asked if I was interested in joining Sheeba. At this stage I would have taken anything. Because of the year off work I was broke! In the band were Anto Drennan (guitar) who had played with Flint and went on to play with Genesis, Chris Rea, Moving Hearts, and the Corrs, Paul Drennan (keyboards) who went on to Riverdance, Spike Milliken (Bass) who had played with the Apaches and went on to play with the Bogey Boys, who in turn was replaced by Tony Malloy - gigs too numerous to list! Stayed with the girls for about 2 years and then moved to Japan for 3 years - I was writing for a band called Off Course out there.
Came home in 1983 I think, and joined Carole and the New Blues - I couldn't tell you who was in this band except for Neil Whiffen (The Radiators) on bass. I think I lasted about 3 or 4 months before I was approached by Roy Taylor to join himself and Karen Black in the Nevada. However, after about six months, myself and Roy formed Jump the Gun with Peter Eades. I was with them until 1986, but then left because they insisted on doing Eurovision and the band was never supposed to be about that.
Paul Duffy (sax) from the Miami offered me a gig with the Paul Duffy band which I took. In the band at that time were Vicky Duffy - who is still doing gigs around Dublin, a keyboard player whose name I can't remember, Robert Graham (guitar), and Keith Duffy (bass) who went on to play with the Corrs. I stayed with Paul until the band broke up, and then I moved to Bournemouth where I have been ever since working in a regular job. I thought at that stage I needed some job security!
Still I wouldn't change a thing. I loved the whole buzz of being on the road and some of the laughs we had needed to be seen to be believed.

Jimmy