Flying with The Blue Aces
by Mickey Gilligan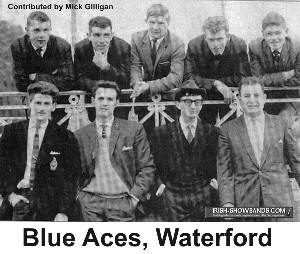 The Blue Aces Band was formed in Waterford round about 1957/58 from an earlier band called the MELLOCHORDS. Rehearsals used to take place in bass player, Seamus Carew's front room. How everyone fitted in remains a mystery. The bass in those days was a full size upright bass fiddle!! Jerry O'Shea used to carry his drum kit there in an old pram... Sophistication at its finest!! However from these modest beginnings emerged one of the finest bands in the country at that time.
I had been playing guitar with the "other" band from Waterford in those days, Brendan Bowyer and the Royal Showband. The lads had asked me to stand in for original guitarist, Jimmy Conlon, who was studying for his accountancy exams. When Jimmy returned, I was ready to move on and joined The Blue Aces.
During my time with the band, from August 1961 there were quite a few changes of dress. The earliest I can remember was blue shirts with yellow neckerchiefs, then blue jackets and black trousers, paisley type jackets, and finally all white suits. How they kept clean I'll never know.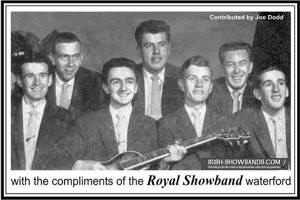 Again during my time, the 'Van" was a white Commer minibus with seating for ten, space at the back and a roof rack. Speakers, drum cases, and bass fiddle all went on top covered with a tarpaulin, and it was parked in the open at night... innocent times! Duchy O'Meara the trombone player, had the dubious honour of loading the roof in all weathers.
I was involved in the earliest record made by the band in Henry Street in Dublin in 1961 (Eamon Andrews studio I think) It was a demo: Sucu Sucu/Kon Tiki/Last Night&Rockin Goose. Other singles were made later when the band moved to the UK. These were on Pye and Columbia labels.
Early excursions to the UK took place as with other bands during Lent, when there was of course no dancing in Ireland. Clubs visited were mainly in London, Manchester, and Coventry. I myself never appeared on TV with the band, but in the later sixties they did quite a bit of work for the BBC. In fact the Blue Aces backed Lulu when she performed "Shout" on Top of the Pops.
In conclusion I have many fond memories of my time with the "Aces" I visit Waterford often and meet up with the boys. As recently as May 2002 a reunion was held in Waterford, the proceedings being filmed by WLR the local TV station. Ahh what nostalgia.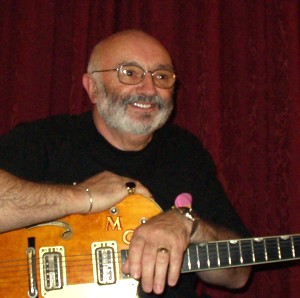 Life After The Showbands
After moving to Liverpool in 1963 I became involved in engineering with a large bus company. I'm afraid there wasn't much time for music in those early years, due to family committments etc. However, the occasional gig soon began to creep back in.
I have been retired since 1993 following an accident at work, and now play lead guitar with a Country/Irish trio in local pubs and clubs. My main interests now are grandchildren, gardening and guitar playing. I am still in fairly regular contact with the Waterford gang, and some other former music colleagues in Dublin, Limerick and Cork, and try to visit "home" once or twice a year. I was last there in October '04 for the jazz festival in Cork.
Life is sweet, my wife and I are looking forward to our 40th wedding anniversary later this year (2005). I've come a long way since that first gig in the Fishermans Hall in Dunmore East way back in nineteen fifty something................
Mickey Gilligan