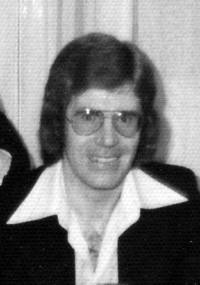 From Belfast to the Land Down Under
by Mike Arkins
The website fascinates me in so much as the old photos of Belfast bands throw up so many of my old mates from years ago from Katmandu to The College Boys, Cousins, Freshmen, Green Angels etc. My great friend and ex school mate the late magnificent Gerry McIlduff ex: Fontana, Green Angels, Jimmy Johnson, Plattermen, Pogues and Pretenders deserves an epitaph on your site. Gerry was my inspiration and motivator. A Drummers drummer who is sadly missed.

My own experience dates back to 1966 through to 1997 when I first came to Australia. Chronologically my playing days were;

Sack of Woe (1966) a Carrick based pop band playing Betty Staffs etc.

Nite Set with Roy Walker (1967/8) resident in the Talk of the Town Night Club Belfast

Capri Showband (1969) based in Newtownabbey, managed by CT Promotions.

Hurricanes Showband (1969/70) based in Belfast, but primarily Ballymoney boys.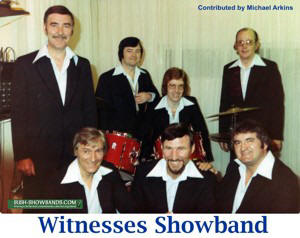 Headband (1970) formed out of the Hurricanes playing Chicago, Blood Sweat & Tears etc and
gigging in 'Just Jerrys' in Belfast and featuring Brian Scott on Keyboards who later became an integral part of Light with Jim Armstrong formerly of Them. Also lead singer was Davy Taylor who later formed Otis & the Elevators playing Blues Bros Material.

Dave Glover (1970/71) minus Muriel Day with Johnny Anderson on Trombone and a rhythm section featuring another ex cabaret band called Roadhouse. Roadhouse featured Ian Andrews on keyboards, ex Misfits from Belfast whose drummer was John Wilson of Rory Gallagher and Them.

Various cabaret bands from 1971 to 1977.

Witnesses (1977/78) resident in the Railway in Antrim featuring Tony Morelli, Gerry Rice, Trixie Hamilton, George Mullen and Joe 'Boots' Clarke from Canada and all original Witnesses members. Also Ned Mc Crudden on keyboards and myself. The band took over the residency from Clubsound.

Bronco (1979/82) featuring Kenny Mc Dowell on vocals ( ex Them, Mad Lads and College Boys).
An absolutely brilliant band who never got the recognition we deserved.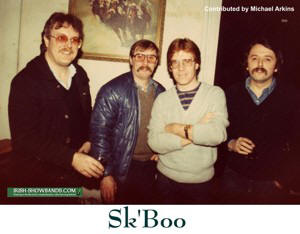 Sk'boo (1982/88) formed out of Bronco and Light and featuring Kenny Mc Dowell on vocals, Jim Armstrong on Lead (ex Them) Alan Hunter on bass and myself. Again a brilliant band playing blues, rock etc and mainly resident in the Errigle in Belfast. Belfast rocked for 6 years and was probably the last great rock band hewn out of 60's boys playing such material.

1988/1991) Jim Daly Blues Band featuring the late great Jim Daly (a mentor of Van Morrison) on keyboards, Ronnie Greer on lead ( probably Ireland's best blues guitarist) and Torry Mc Gahey ex Freshmen on bass. We played various blues festivals in Ireland and England. Ronnie and Kenny Mc Dowell are currently playing together in their own blues band doing various festivals across the country and mainland.

1991/97) Dusty Hagan Band featuring Dusty Hagan on vocals and Barry Mc Crudden on Keyboards, Tenor Sax ( ex Cousins). Dusty was ex Pennyfeather and Apartment, two great Belfast bands.
We recorded a CD in 1997 titled 'Dusty Hagan Band live at Cutters Wharf'. The band's keyboard player and MD at that time was Mark Dougherty who later became MD for Peter Corry and one of the Riverdance European touring shows.

As you can see my experience covered a lot of areas but not so much actual showbands. More local N Irish and Belfast pop/rock/cabaret. However they were great times and may jog a few memories for someone.

Mike