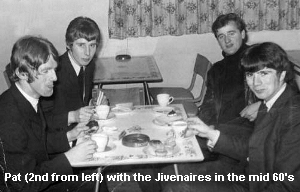 We decided on the name "The Phantoms" for our first" beat group" back in 1962-3. The Merseybeat thing was becoming all the rage in England so we did all the top twenty tunes, Stones, Beatles, Searchers, Pretty Things, Them etc. The group consisted of Colm Maher/gtr/vocals, Patrick Hoye/bass/vocals, Frank "Monty" Montgomery/rhythm/vocals and Aidan "kyd" Graham/drums.
Things were not going well at all at St. Mary's secondary school for all four of us when it was found out that we had a "beat group". The headmaster was a guy by the name of Brother McGrath who hated anything British and called the music "Ceol Gallda" which meant British or "foreign" music. He and his cohorts made life hell for us and when Danny Murray offered me a job as bass player for The Jivenaires out of Boyle in April 1965 I saw it as my salvation.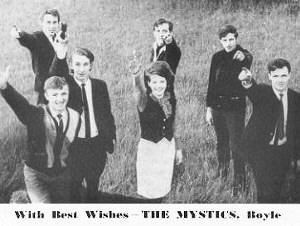 The Jives were Danny Murray /sax/vocals, Ricky McCaffrey/trumpet/vocals, Liam Conroy /drums, Sean Kenny/guitar/vocals, Evelyn O'Meara/vocals, Pat Feely/vocals, and myself on bass/ vocals. Later replacements were Frank Montgomery on guitar and vocals and Garry Street on vocals. l took the place of Christy Reagan who was about 5'4" and I'm 6'3", I also inherited his band uniform. Well...adjustments had to be made so we adjourned to the local tailors where we found a little journeyman tailor sitting cross-legged on a table and asked him to extend the length of the offending garment. He added a 6" piece of red velvet to the bottom of the pants (they were red also, which helped). I played my first gig with the band at the prestigious Metropole Ballroom just off O'Connell St. in Dublin and I was mortified .The "hippie" thing was in but this looked stupid.
On our breakup gig with the Jivenaires/Mystics we were at The Skyline ballroom just outside Galway, Jimmy Reilly and the 'Swingtime Aces' came to see us and offered me the bass chair. I accepted on the spot, salvation revisited. Athenry was to be my home for the next two years. The Swingtimes consisted of Jimmy on drums, Norman Payne /vocals, Bob Madden on gtr/voc, Joe Bernie/sax, Derek Kennedy/voc/gtr, Mick Guinnane/trumpet, and now me on bass. Our manager was Kevin Whelan (R.I.P.) and he got us our first gig in the U.S. A. On our trip I wore my favorite army surplus store acquisition, a light beige jacket with brass buttons.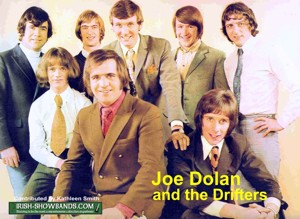 Groups like The Who and The Move wore this kind of regalia adorned with German/Nazi medals etc. Anyway...walking off Broadway one day I saw a swastika in a pawnshop and purchased it. When I got back to the Woodward Hotel I sewed it onto my jacket. That night coming back from the gig at the City Center Ballroom we all decided to go to the local deli for a midnight "nosh". We sat in a few booths and waited...and waited. After about twenty minutes or so the manager of the City Center who was with us called one of the waiters to enquire as to why we were not being served. Then the proverbial penny dropped ,we were told that this was a Jewish deli (duh) and that we wouldn't be served until I left or removed the offensive item. I removed it and apologized. There was a second world war where six million Jews were killed, but I was only 19...who knew!
"DRIFTERS DISBAND" read the headlines in the Evening Press on a Saturday evening as I was coming back to my room at the Western Hotel in Athenry. The waitress handed me a note with a phone number to call Mullingar immediately...salvation re-revisited. I called and spoke to Ben Dolan who asked me if I'd heard the news about the breakup and would I be interested in the gig, I said yes. My new companions were to be Seamus Shannon/tmb/accordion, Ciaran O'Donnell/kbds, Maurice Walsh/drms/voc, Gordon Coleman/gtr/voc, Joe Dolan/voc, Frankie McDonald /tpt/voc , and Ben Dolan /sax/voc.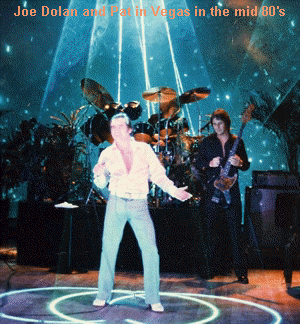 Our manager Seamus Casey was to remain. The first years were amazing, crowds of two to three thousand a night seven nights a week, ballroom managers shaking hands, alcohol, food, queue's, top class hotels etc. Maurice Walsh was a bonus and a pure joy to work with, he was responsible for a good percentage of the crowds turning up in the cities.
On one occasion while returning from a gig we went into the Treaty Stone an all night cafe in Limerick city. We were starving and were each looking forward to a big juicy steak. As Maurice Walsh and I sat waiting to be served I started to wipe between the tines of my fork with a napkin as it appeared to be greasy. Maurice soon joined me in doing likewise. Unfortunately, the lady behind the counter observed us and took umbrage with our cleaning efforts. She ordered us out and told us that we would not be welcome back anytime soon. She then proceeded to scold us about the" loose women" that we hung around within the Jetland Ballroom, the cheek of us. Needless to say we left a lot hungrier than when we arrived.
I left the band in June, 1973 to attend The Berklee College of Music, graduated in 1977 as Woody Herman handed me my sheepskin. Returning to Ireland in late ''77 I hooked up with Peter Law and we played a few gig's around Dublin with Terry on kbds, Eddie Campbell on gtr and I think the drummer from Peggy's Leg. Just before Christmas 1977 the doorbell rang and Ben Dolan was there asking if I would be interested in doing an eight week stint in South Africa, the money was good, I accepted. Ben Dolan was still on sax/vocals, Frankie was on tpt/voc, Jim Mullally was on keyboards, Tony Newman on drums, Raymond Dolan on percussion, Gerry Kelly on gtr/voc, Liam Meade on trombone, and Joe Dolan on vocals. Salvation re-re-visited. I went for eight weeks and stayed for eight years!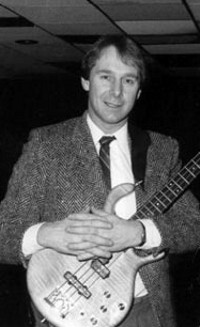 We played Las Vegas, Israel, Germany, Russia, South Africa, etc., etc. At this point I'd like to mention that I have never worked with a better or harder working musician than Joe Dolan he gave 110% every night that I played with him over a split period of 13 years. In 1985 I decided to move back to Boston because my family wanted to live there...and I did. I started a two piece band called "Brogue " which still exists today.
I don't play much bass anymore it's all guitar so as that I can do singles. I am currently considering a move to Mexico. I would like to take this opportunity to thank each and every musician that I have ever played with over the past 40 years as I learned from EVERYBODY. Salvation re-re-re-visited?
Patrick.