The Presidential Years
by Ronnie Campbell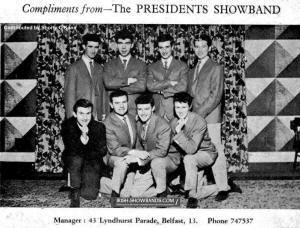 When I first joined the band they were still performing as the Easybeats, the name of their previous group which had split up. I suppose it was easier to fulfil existing gigs booked under this name. It was an eight piece consisting of Hughie Kelly on drums, Danny McLaughlin on bass guitar and vocals, Dessie on rhythm guitar, Paul McGreevey on lead guitar, Liam Shepard on trumpet, Howard Fleming & yours truly on tenor saxophones and vocals. Joe McGreevey, Paul's brother, completed the line-up as lead singer, later to take up trombone, so we had a pretty well balanced sound between rhythm section and brass.
Danny was the Jim Reeves of the band while Howard also sang a few country and western numbers. I helped out on vocals with accompanying harmonies but Joe was the front man doing most of the latest pop material.
The band met every Wednesday and Thursday evening in Belfast to rehearse in what was an old building situated in the middle of Milltown Cemetery off the Falls Road, Belfast. We had use of a small room which was a bit cramped but it did allow us to go over new top ten material that we deemed suitable to keep the band to the fore. We were able to lock this room after practice sessions keeping all the instruments and PA system stored there so that Danny, who was in charge of the minibus and the driver, could load up the gear into the bus prior to any gigs. The other part of this building was used as a gym for a body builders club. We were booked for dances most Friday, Saturday and Sunday nights. Sundays usually meant crossing the border from the north into the Republic of Ireland and to allow enough time this meant leaving Belfast usually early Sunday afternoon and travelling to venues which could be anywhere from Donegal to Dublin. I would drive from Monkstown, Newtownabbey in my old newly acquired 1951 Black Ford Anglia, park at Danny's house in Rockville Street and accompany him in the minibus to pick up the rest of the band opposite Maguire's Garage on the Falls Road. From all of this you can imagine that my week was pretty much taken up, what with my dream to become, on one hand, a star in the world of showbands and, at the same time, trying to keep a steady daytime job with Standard Telephones.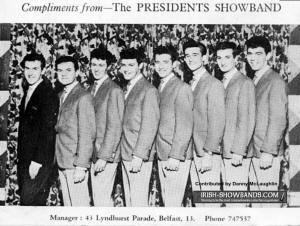 It was decided quite early on that if we were to create a good impression we would need to spend some money on necessary items such as new suits and photographs. On top of this, the running costs of the minibus had to be met which included servicing, road tax, petrol, insurance and any unforeseen problems that arose. Insurance was very high for the minibus as there had been several accidents of other bands travelling late at night and so insurance companies thought of bands as a notoriously high risk. After all, driving late at night, sometimes many miles, with a tired driver after a gig was not the safest combination.
To create this new impression we agreed to go to Burton's, tailors in Royal Avenue, to select material and get measured for new flash suits. These were paid for at so much a month and when we were eventually kitted out, the manager Joe Devlin, arranged for a photographer to take a few shots of the band one night prior to a gig in the Orpheus ballroom Belfast.
These were to be reproduced in quantity, in postcard form, to be handed out, autographed of course, to the fans after each dance, as was the norm with other bands. I was in the fortunate position of having my instruments fully paid off but some of the other lads were still paying off their gear monthly to Marcus's Music. On top of this the PA system, amplifier, speakers, echo box, mikes and stands etc. were also being paid off on the never never. Soon expenses mounted and it meant sometimes that we were playing for very little. But we were undeterred always believing that one day we would make it big.
Tragedies and Disasters
Thursday morning 8 a.m. Work at Standard Telephones & Cables as usual. I'm in a different production shop to Paul McGreevey so we only see each other if there is something important to discuss. The 10 o'clock morning tea break approaches and I'm about to head off to the canteen when Paul heads me off.
He tells me he noticed some activity in Milltown Cemetery, Belfast that morning as he was coming to work. Couldn't really see what was going on, he gets a lift in a car, but he did see the fire brigade there and in the distance he could see some smoke.
Later that morning he made a call to his brother Joe to see if all was OK only to find there had been a fire at the building where we did our rehearsals but no one was allowed near the scene until the brigade gave the safety all clear. We had been practising there the night before. At this stage we were not too worried as the building was quite large and used by other groups including a bodybuilding club. We used a very small room at the end of the building. After mid week practice, the gear was always left locked away until the next gig, usually Friday.
It so happened that three of the STC managers, each year, were invited to a company Christmas bash at a hotel in London and it was customary for managers from all the locations throughout England to come up with a party piece, to add to the evening's entertainment. My gaffer, who was one of the three, knew that Paul and I played in a band and asked if we could provide them with a bit of backing music to a skit which they had written. They wanted to record this on tape to take to the party. This was to be done after work for which Paul and I would get paid overtime, so there was no problem. The previous night Paul and I had brought our gear home from the rehearsal hall so that we would have them for the managers Thursday night practice.
Shortly after lunch I got a call from a security guard saying that there were some people outside the front gate asking to speak to Paul and me. We went out of the factory to the front gate and there were the lads peering through the bars, smiling, with the good news. Total wipe out, everything up in smoke. By a stroke of luck Paul and I were the only two not to lose our instruments. Drums, PA system, speakers, rhythm and bass guitars, mikes and stands, echo box, the heap all gone - and a dance to do on Friday night. Nothing was insured. That was a waste of money. We only insured the minibus because we were forced to by law. What a to-do. What will we do? The old adage again. The show must go on. They would go down town and buy new gear, on the never-never of course, and this would be added to the existing debt. This they did and the show did go on, on Friday night.
22nd November 1963. Friday evening again. The pick up time had been pre arranged the previous night. It was dark when I finished work, went home, had some tea, got ready and had driven in from Monkstown, Newtownabbey that is, to Belfast and, as usual, parked my 1951 Ford Anglia outside Danny's house in Rockville Street off the Falls Road.
Danny was in charge of the minibus and did all the driving. He had already been to the practice hall and loaded up the PA system, drums etc. so after transferring my gear to the bus we set off to pick up the McGreevey brothers in Turf Lodge.
The normal meeting point for the rest of the lads was outside Maguire's garage on the Falls Road so we parked up, sat in the minibus and waited for Dessie, Hughie, Liam and Howard who would all arrive independently.
When all was safely loaded in we set off just some time after 6pm for our venue in the college at Maynooth 12 miles west of Dublin.
I should mention at this stage that up until now the band had been billed as the Easybeats and as we now had a new line up a change of name had been suggested and several proposals had been put forward, some laughed out of court, others considered as possibilities. Wednesday night was our get together to practise new material and at one of these sessions someone had suggested we call ourselves 'The Presidents', after all we already had the Capitol Showband, the Kings, the Royal, the Monarchs and many other high sounding names so why not us. After some deliberation it was agreed that for all new bookings we should be known in future as the Presidents. Existing bookings would still be fulfilled as the Easybeats.
That night the drive south to the border was uneventful and we were making good time with everybody in good spirits, talking music, new numbers, cracking jokes. In general all was well with the world, or so we thought.
Newry and Dundalk held us back a little as most small towns in those days had no bypasses so it was necessary to drive through the town centres main streets. However, we were still making good time when we eventually reached Drogheda. There was no bypass here either, no 'Bridge of Peace', but something strange was happening, hundreds of people were out on West Street and by the street lighting we could see many going into St. Peters church. The traffic was jammed back making progress very slow. Someone said 'they must have heard we were coming'. From the minibus we didn't know what was going on. Because lots of people were going into the church some of the lads queried if it was some special day in the RC calendar of which they were unaware.
Eventually, we made our way through the throng and now, pressed for time, it was necessary to make up the miles. We arrived in Maynooth slightly later than scheduled but still had ample time to set up and be ready. It was only then while we were unloading the bus we heard the news that President J.F.Kennedy had been assassinated in Dallas. This was the reason for the crowds in Drogheda.
The dance went ahead and went very well indeed and, what with us concentrating on the music and our intention to put on a good show, the news regarding JFK was temporarily forgotten until just before the end of the gig when we were due to play our final set of numbers, Joe Devlin our manager, reminded Joe McGreevey to include, in his final address to the crowd, that in future the band would be renamed 'The Presidents Showband'. The crowd erupted with applause thinking that we were doing this as a tribute to President Kennedy when in fact the decision had been made weeks before. In retrospect it sounded like a cheap publicity trick but it was a very strange coincidence indeed.
A pastel blue Commer minibus, circa 1960, seating capacity 10, with ample storage area at rear. Average mileage (if you can believe that). Driving well. Good value for money. Seemed the perfect wagon for all our needs.
However, when you stood back and looked at this model with its high rounded profile you got the impression that it had a narrow wheelbase and looked a little top heavy. That's only an impression. Time to put it to the test.
Easter 1963 or was it '64. The venue 'The Plaza Buncrana, Donegal'. First time to play this gig as the 'Presidents'. Must put on a good performance (to give the manager some bargaining power).
The afternoon started out like any other, everyone meeting at the appointed time outside Maguire's Garage. Proud of our new suits, powder blue jackets matched with light grey flannel trousers all carefully folded neatly and placed on top of the flat wooden engine casing sited between the driver and front seat passenger.
All aboard lets go. The banter was normal, the scenery drifted by on our way to the Glenshane pass. Soon we were groaning up the long incline up to the pass. We were in the slow lane steadily approaching the summit while the power machines roared past leaving us in their wake. At last we began to level out and as we passed the Ponderosa the minibus gathered speed and everyone agreed that it seemed like a good investment.
We were a few miles from Dungiven when tragedy struck. The minibus was on a slight downhill and we were progressing quite nicely when out of nowhere a car appeared from a lane or side road on our left and turned into our path also going our direction. Time to put that stability to the test. Danny was forced to swerve slightly right to avoid hitting the rear of the car, at the same time another car was coming towards us and a head on collision looked a certainty. This then necessitated a pull to the left so by now we were really rocking and rolling. We clipped the side of the oncoming car removing the silver strip along the side of the drivers' door and the combination of swerving and braking tilted us over and we rolled down the road. It is a strange sensation tumbling over, you lose your bearings and all I remember was watching the window beside me and waiting for the glass to smash. It stayed intact and finally we came to rest on our side. It was like a collapsed rugby scrum with bodies and instruments piled on top of each other. Someone shouted 'Is anybody hurt' and somebody groaned in agony. The only casualty was Joe who had taken the PA amp against his right shin and this was badly skinned and bleeding.
We scrambled out the top through the side door and began to assess the damage. The oncoming car had stopped and the frightened passengers came back to see if we were all OK. The car that caused us to swerve was long gone either oblivious to the carnage or decided not to get involved. The bus lay on its side in the middle of the road hissing like a downed elephant on a safari shoot, its lifeblood oil and water leaking. The rear door was opened and the gear was removed from the bus and stacked at the roadside. The Plaza Buncrana seemed a million miles away. Fortunately it wasn't raining. The powder blue jackets hadn't escaped either. Red water from the damaged rusty radiator had leaked and the top jackets now had a modern art theme scrawled across. So what do we do now? Well the police were called and Danny gave a statement to what had happened. But that old showbiz adage kicked in 'The show must go on'.
Joe, our manager, arranged for four taxis to come from Derry and pick us up and transport us to the Buncrana with all our gear but was there any damage? Would the PA system work? Would any of the instruments be kaput?
We arrived at the Plaza, set up and fortunately everything was functioning OK and we performed to a new high. After what we had endured we were invincible. Getting home after the dance was going to be problem.
I had a job to go to next day, so had Paul, so we travelled back to Belfast with the manager in his car while the rest of the lads stayed overnight in a local hotel. There wasn't a big pay out that night and now we had more mounting debts. I don't recall what happened to the minibus. Perhaps some local farmer near Dungiven did us a favour and agreed to take it off our hands for a tenner.
There was one thing about the Presidents, they knew how to spend money.
The problem was, as you can imagine, nothing was coming in to our pockets.
Ronnie Campbell