Living the Band Life
by Brian "Shorty" O'Kane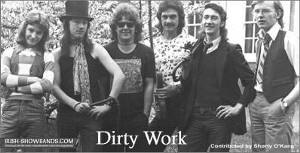 My name is Brian O'Kane, but most people know me as Shorty. I am a bass player/vocalist, and was a member of Belfast based pop/rock band, Dirty Work in the mid seventies. That's me wearing the Top Hat. We played mostly around the city, but rarely ventured far from home.
Around 1977, manager Louis Walsh (Boyzone, etc.) heard us playing and asked us to move down to Dublin to become Tony Kenny's backing band. Tony had just finished the runs of Jesus Christ Superstar & Joseph & The Amazing Technicolour Dreamcoat. It was a big step, but also a great opportunity, so we took the chance.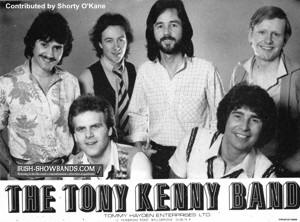 Tony had decided that he wanted to go back on the road, so off we went as The Tony Kenny Band, and we were managed by Connie Lynch. I remained with Tony for nearly three years, during which time the band underwent a couple of line-up changes – when guitarist Iggy Ward and drummer Peter McKinney returned to Belfast to form rock band Katmandu, later moving back to Dublin where they based themselves for several years. Most notable musicians to join the Tony Kenny Band were:
On guitar: Bobby Kelly from Dublin (ex- Greenbeats & Freshmen)
and later on guitar, Pat Coldrick from Navan (ex- Jim Tobin & Firehouse, and who later joined The Memories); On Drums: Niall Power from Kildare (ex-Rob Strong & Las Vegas; The Gibney & Donovan Band; and more recently seen on tour with Westlife, and currently playing in Bob Geldof's band). And later on drums, Barry Patterson (ex- Candy; Sunshine; Colm & The Sundowners; and Cahir O'Doherty & The Dazzle Band)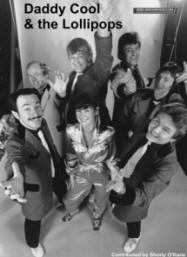 In late 1980, after a brief spell with the Dublin-based band,
The Lovers
, I then joined
Daddy Cool & The Lollipops
, managed by Mick Quinn. "Daddy Cool" was Jim Farley, the famous sax player who has been around since the 1960's. He had been with Roly Daniels, and had his own badns like the Tophatters and the Jim Farley Superband.
Three of us (myself, Ivan Laybourne & Len Guest) left that band in 1982 to form The TopCats – later to become The Strangers, where I remained until my return to Belfast in 1983 when I formed Shorty & The Heartbeats, in the Daddy Cool mould.
In 1986 this band spawned The Chevys, who are currently one of the top bands in the North – managed by Mickey Magill. In 1991 I folded the Heartbeats and joined The Chevys as their sound engineer, where I remained for 12 years! I left them last year (2004) to re-form Shorty & The Heartbeats, and we are also managed by Mickey Magill - but we have recently dropped the name and are now called The Naked Flames, and are playing pop/rock all over the North.
I myself only got to see the tail-end of the real showband era. When I was with Tony Kenny, I was only 21, and I remember us maybe playing to 1000 - 1500 people, and Connie Lynch complaining that the great days had gone, because in 'the old days' there would have been 2000 there!
In Daddy Cool they complained that it wasn't as good as it was in the '70's - and even now The Chevys would express concern that it's not as good as it was in the '80's!! I think a good band will always pull a good crowd. I think it was Brian Coll who famously said ...."We used to play to 2,000 people with a 200 watt P.A. system - now we play to 200 people with a 2,000 watt P.A. system!!" How true that is!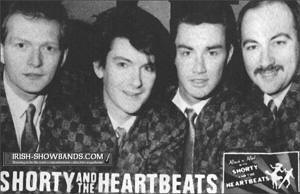 Other Links for more info: