28th December, 2013....Death of Houston Wells (Premier Aces, Trident)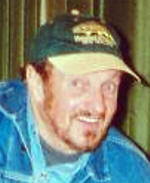 We received the sad news today from Anthony O'Hagan that former showband frontman, Houston Wells has passed away in New Zealand. The former lead singer with the Premier Aces as well as joining The Trident Showband based in Limerick. We received an email from Houston in 2005 where he told us that in recent years he had signed a deal with Rollercoaster Records UK, and had new songs recorded in association with his son Rob Smith as well as other session musicians in New Zealand, where Houston has lived since the 1973. Both original songs as well as covers of many classic recordings were included the new double album "Just For Old Times Sake" released in 2005. Our sympathies are extended to his family and friends in Ireland, England and his adopted home in New Zealand.



20th December, 2013...Showband tribute, "Do You Come Here Often" back on the road!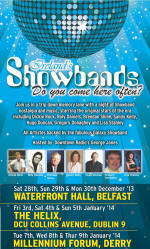 We received news today from David Hull that his annual showband tribute show, Do You Come Here Often is back again. For over seventeen years, the show has brought many of the showband legends together once more to thrill audiences with the talent that made them the top entertainers of the showband era. This year's show is no different and features: Dickie Rock (Miami and Dickie's Band), Roly Daniels (Nevada, Jim Farley and Green County), Brendan Shine, Sandy Kelly (Fairways, Duskey Sisters and Sandy Kelly Band), Hugo Duncan (Tallmen), Gregory Donaghey (Cadets and Nashville Sound) and Lisa Stanley (daughter of the late Maisie McDaniel) and is hosted, as usual, by George Jones (Dave Glover Band and Clubsound). As in previous years, the show will be presented in Belfast, Derry and Dublin: On the 28th, 29th and 30th of December in the Waterfront Hall in Belfast; the 3rd, 4th and 5th of January in the Helix in Dublin; and the 7th, 8th, 9th of January in the Millennium Hall in Derry. Check your local paper for more information on ticket prices or book tickets online, more info at www.davidhullpromotions.com.
13th November, 2013....Sweeney's Men Reunion Gigs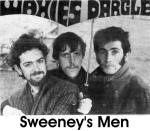 We received an email from MacDaragh Stapleton letting us know that after 40 years, Sweeney's Men are performing several reunion gigs this weekend and doing a tour. The first is in the The Town Hall Theatre, Galway this Friday 15th November and then The Set Theatre, Kilkenny on Saturday, the 16th November. The lineup is: Andy Irvine (Planxty), Johnny Moynihan (Planxty, De Dannan), and Terry Woods (Steeleye Span, Gay & Terry Woods, The Woods Band and The Pogues). Contact the theatres for details.



12th November, 2013....Showband Lunch Date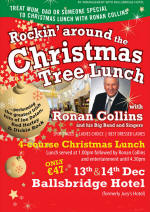 We received an email from Pat Egan about yet another opportunity to hear the songs from the great showband era, including hits by artists such as Red Hurley, Joe Dolan and Dickie Rock. Rockin' Around the Christmas Tree Lunch is the title of these lunchtime concerts which will feature RTE personality and former Dickie's Band drummer, Ronan Collins, and his big band. The concerts will take place on the 13th and 14th of December in the Ballsbridge Hotel (formerly Jury's) and as an added bonus to members of our community, Pat has offered a 10% discount on ticket prices for all those who just mentions "irish-showbands.com" when booking. For more info, call the events team at the Ballsbridge Hotel (01) 637-9383.
20th September, 2013....Showband Concert Date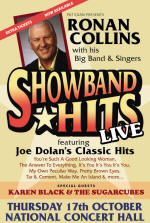 We received an email from Pat Egan telling us about an upcoming gig in the National Concert Hall. "Showband Hits Live" features Ronan Collins (ex-Dickie's Band) with his Big Band and Singers. They are doing a show featuring Joe Dolan's Classic Hits. Also on the bill are Karen Black (ex-Nevada) and her band, The Sugarcubes. The gig is Thursday, October 17th in the National Concert Hall in Dublin. A great night of music and memories is guaranteed for all who attend. (Click on the picture left for a full view of the poster.)







August 17, 2013....Bundoran Heritage Festival Showband Session
My sincere thanks to Tom Dillon from Bundoran for inviting me to be a part of the panel at this year's "Planes, Trains, Jigs and Reels" weekend held in Bundoran. Also on the panel was Eurovision winner, Charlie McGettigan (originally from Ballyshannon), broadcaster and Irish Senator, Paschal Mooney and Marc Geagan, local historian. The event was chaired by Tommy Graham the Editor of History Ireland. A great success, the session was attended by many local showband luminaries including Brian McEniff, Kathleen Fitzgerald, Sean Gallagher and Gerry McKiernan. I also met an old friend, Paul Clarke of UTV at the event. You can listen to an audio recording of the event here:
https://soundcloud.com/discover-bundoran2/historyirelandhedgeschool. We hope to have some photos of the event shortly.
20th July, 2013....Death of Vinny Baker (Plainsmen, Times)
It was with great shock that we learned of the sudden death of great friend to the site, Vinny Baker. Vinny played with the Firehouse Five, The Plainsmen, Real Country, and the The Times. In recent years he continued to be a major force on the Irish music scene recording many hit records in his VeeBee Recording Studios located in Mullingar. He released several albums recently and played with many bands including the Dolans. In recent years, Vinny had returned to his bluegrass roots and in fact, had as single out in 2012. You can see Vinny on YouTube playing some bluegrass standards here: http://youtu.be/vE_a-FDOdWI
A great musician, he will be sorely missed. We extend our sincere sympathies to Vinny's family and friends around Ireland and the rest of the world. His passing is a sad reminder that the musical heritage of the showband era continues to slip away with the passage of time.
15th July, 2013....Death of Margaret O'Rourke (Hi-Lows)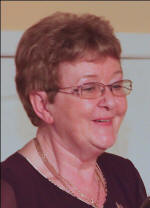 We received an email from Sharon Tighe-Mooney telling us the sad news that Margaret O'Rourke sadly passed away suddenly on July 15th after a short illness. By the time she was in her teens Margaret was noted for her fine singing voice and sang with a number of groups and bands in Leitrim. In 1976 she joined the Hi-Lows Showband and released several records including The Perfect Match with Gerry Reynolds. She continued to sing in the church choir, at charity functions and in later years at weddings and funerals. Unfortunately, Margaret had to cease her singing career when she lost her voice in the early 1990ís. Howvere she continued to be very involved with local theatre and the ICA in Leitrim. Our sincere sympathies are extended to her family and friends around Ireland. She will be sadly missed by her husband Thomas and two daughters.



4th July, 2013....New Limerick Showband Album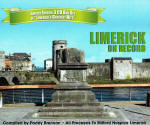 Friend and contributor to our site, Paddy Brennan, has just told us about a new CD compilation which features 52 songs by Limerick artists and was released for the Milford Hospice in Limerick. As a great supporter of the site and the showband era in general, we wish Paddy all the best with the new release.




1st June, 2013....Death of Paddy O'Sullivan (Regal Showband)
We received the news today from Mike Ahern that Paddy O'Sullivan, original bass player with the Regal Showband passed away on June 1st at Mercy University Hospital. Our sincere sympathies are extended to his wife Marjorie (nee - Toomey) and children Stephen, John, Eva, Michael & Alan, and siblings Finbarr, Anne and Stephen. Paddy will be sadly missed by sisters-in-law Claire and Carmel, and his grandchildren, daughters-in-law, son-in-law, relatives and many friends.
13th May, 2013....Death of Michael Kelly (Jack Ruane and Margo's Band)
We received the news today from Bernard Joyce that Michael Kelly of Ballinrobe, Co. Mayo passed away today in a Galway hospice. Michael played with Ballina based Jack Ruane's band and also with Margo in the 1970's. Our sincere sympathies are extended to his sisters Kate (Corrandulla), Anne (London), Patricia (Galway), Rita (Tullyduff), brother Oliver (London), brothers-in-law, sister-in-law, nephews, nieces, relatives and friends.
11th May, 2013....Death of Fergus O'Brien (Tony and the Graduates)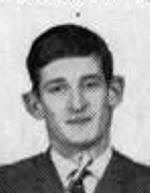 We received the sad news today from Ken Aust that Fergus O'Brien, trumpeter with Tony and the Graduates passed away in Spain where he has been living in retirement since around 2007. Not only did Fergus play the trumpet, but Ken tells us in later years he also played sax. Fergus was an avid golfer and played every day he could while living in Spain. Our sincere sympathies are extended to family and friends in Spain and back home in Santry where he was buried.
20th April, 2013....Death of Tommy Hayden (Nevada)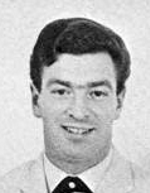 We received the sad news today from several sources including Tony Killeen, that Tommy Hayden, founding member of the Nevada Showband and highly successful manager has passed away in Greystones, Co. Wicklow after a long illness. Originally the leader of the Artones Showband, they changed their name to the Jets and then became the Nevada, Tommy played sax as the band was managed by George O'Reilly. In 1968, Tommy took over management of the band and was replaced by his own brother Bunty Hayden on sax. Of course the band went on to great things helping build the careers of stars like Kelly, Roly Daniels, Red Hurley, Tina, Glen Curtin, Roy Taylor and Karen Black. Tommy went on to form one of the greatest management organisations in Ireland, T.H.E which formed it's own label and guided the careers of many more stars and managers, including Louis Walsh. He will be sadly missed by family and friends and our sincere sympathies are extended to his wife, Anne, brothers Peter and Bunty and his entire family.
1st March, 2013....Death of John Harrington (We Four)
We received the sad news today from Michael Campion that John Harrington of We Four passed away at his home in Rathmines, Co. Dublin. John was married to Niamh and had two children, Elaine and Paul. He will be sadly missed by his loving family, brother Jerome, sisters Maureen and Joany, brothers-in-law, sister-in-law, his nieces, nephews, relatives and friends. Reposing in Fanagans Funeral Home, Lower Kimmage Road. Removal on Monday (4th March) to the Church of St. Paul of the Cross, Mount Argus arriving at 5pm. Funeral on Tuesday after 11.30am Mass to Bohernabreena Cemetery. We extend our sincere sympathies to John's family and friends.




4th January, 2013...Death of Frank Ellis (Duskey Family Roadshow)
We received sad news today that Frank Ellis (drummer and patriarch of the Duskey family road show) passed away in Strandhill, Sligo after a long illness. Frank and his family band toured Ireland in the fifties and sixties before the showband era when entertainment in locals towns and villages was scarce. He is also the father of Sandy Kelly and Barbara Ellis, both of whom used the Duskey family name when they first came on the scene in the 70's. Sadly missed by his loving wife and family, brothers Pat and Tommy, sister Rita, sister-in-law May, son-in-law Michael Kelly, grandchildren William, Barbara and Sandie, William's partner Kristiina, relatives, neighbours and many friends.