"Do You Come Here Often" Concert Series...27th, 28th 29th Dec (Belfast), 2nd, 3rd, 4th Jan (Dublin) and 8th, 9th and 10th Jan (Derry).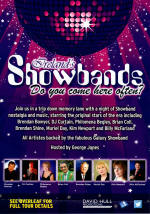 David Hull reminds us that his annual Do You Come Here Often tour is getting underway in just a few weeks. With three dates in Belfast's Waterfront Hall (Saturday 27th, Sunday, 28th and Monday 29th Dec), Dublin (Friday 2nd, Saturday 3rd and Sunday 4th January) and Derry (Thursday 8th, Friday 9th and Saturday 10th of January), this year's show promises to be a blockbuster. In its 18th year, the series feature showband stars, Brendan Bowyer, D.J. Curtin, Philomena Begley, Brian Coll, Brendan Shine, Muriel Day, Kim Newport and Billy McFarland. George Jones will be your Master of Ceremonies and backing is by the Galaxy Showband which includes musicians from many of the era's greatest showbands.

Ronan Collins Showband Hits...30th December, 2014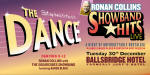 Ronan Collins is bringing his showband tribute show to the Ballbridge Hotel in Dublin for "the Dance." The one night only gig on Tuesday, 30th of December, will feature Ronan and his tribute to Dickie Rock, Joe Dolan and the entire showband era, as well as the Sugercubes Showband which features former Nevada vocalist Karen Black,

Upcoming Showband Concert Dates.....17th September, 2014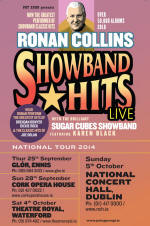 Word from Pat Egan's office that Ronan Collins is back out on the concert trail with his tribute to the era, Showband Hits Live. Dates for this tour include Glor, Ennis - 25th Sept, Cork Opera House - 28th Sept., Theatre Royal, Waterford - 4th Oct. and the National Concert Hall, Dublin, 5th of Oct. Ronan will be singing the hits of Brendan Bowyer, Dickie Rock and Joe Dolan and will be supported by the Sugar Cubes Showband which features Karen Black, formerly of the Nevada. Call your local venue for more info. You can also click on the image of the poster at left to see a full size version.
Death of John Coughlin....12th February, 2013.
Once is a while we hear of the passing of one of the showband era's personalities months or even years after their deaths. Once such case is John Coughlin, who for many years was the Editor and guiding light and then owner of Spotlight magazine which has been an incredible resource in building this site. I spoke to John several years ago when I was seeking permission to use the magazine on the site and he graciously gave me permission to use the images and facts from past issues to help build our site. Today I learned that he died last February at age 69 after a long and successful career in journalism and publishing. In this day and age of Internet, social media, TV, satellite and cable entertainment it is hard to imagine that one small publication could have such a huge impact on so many people. But back in the 60's and 70's if you wanted to know anything about the world of showbands (and eventually the International music scene), Spotlight was your monthly (and eventually weekly) authoritative source on all things entertainment in Ireland. John was one of the "behind the scenes" people who helped make the showband era a very special time in Ireland's history.

Death of Albert Reynolds....21st August 2014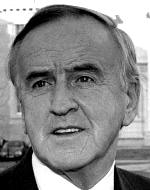 The sad news today of the death of Albert Reynolds, former Taoiseach of Ireland, but more importantly to many members of our community, co-owner of the Reynolds Brothers ballrooms which had such a major impact on the showband era in the 1960's and 1970's. Born on the 3rd of November, 1932 in Roosky, County Roscommon, Albert attended Summerhill College in Sligo. Along with his brother, Jim, he built his first ballroom, The Cloudland in his native Roosky with a capacity of 2000 dancers and it changed the industry. Eventually, the brothers would have 14 ballrooms across the country and they controlled a major portion of the showband era business. In 1966, Albert sold his interest in the ballroom business to his brother and focused on a career in business and politics which culminated in him becoming Taoiseach in 1991. A successful businessman, politician, and from our perspective one of the most important entrepreneurs of the showband era. Albert retired from politics in 2002 and published his autobiography in 2009. Our sincere sympathies are extended to his family and friends across Ireland and beyond.

Death of Tom Fitzgerald....July 6th, 2014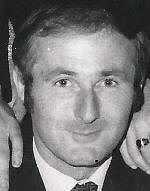 We received the sad news today from Siobhan Fitzgerald that her father, Tom Fitzgerald, former lead singer with the Conquerors, one of Ireland's longest running bands, passed away of the 6th of July. Our sincere sympathies are extended to his wife, Joan, son - Thomas, daughters - Angela, Michelle and Siobhan as well as Tom's family and friends, More to come.


Limerick Dancehall Days...June 14-28th, 2014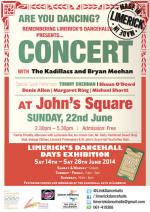 An exhibition, Limerick's Dancehall Days, will run in in the Stella Ballroom, Saturday 14th – Saturday 28th June and will feature photos and memorabilia from the dancehalls days in Limerick. The exhibition spans the end of the orchestra era in the late '50s, when great Limerick acts like the Johnny McMahon and Bud Clancy Orchestras performed, to the end of the showband and dancehall era in the early '70s. Some of the great Limerick dancehalls and showbands will feature, along with personal photos contributed by local Limerick people. Personal snaps from Todsies, the Stella, the Jetland and Cruise's Hotel amongst many more will be on display. The exhibition will be launched on Saturday 14th June at 2pm by Limerick showband legend Tommy Drennan and Paddy Brennan (Editor of "The Golden Era of Irish Showbands") and there's sure to be loads of stories from those days recounted!
9th June, 2014...Death of Eamonn Gibney (Arrows, Alyce, Brogue, Crypt, Purple Pussycat, Skid Row, Sands, Gibney & Donovan)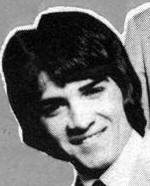 We received news today from community member, Bobby Kelly, that Eamonn Gibney has sadly passed away after a short illness in Rathfarnham. As can be seen above, Eamonn was the front man with many Dublin beat and rock groups as well as several showbands including the Sands (in the mid-70's) and the Arrows. Eamonn had played around the Dublin beat scene in the mid to late 1960's. In 1969, he was picked to front a new type of pop showband, The Arrows. Once he hit the big time, he never looked back later fronting the Sands Showband and Skid Row, one of Ireland's most celebrated rock acts of the early 70's. Our sincere sympathies are extended to his wife, Cora and children, Sean and Lara as well as his friends and family across Ireland and the rest of the world.
18th May, 2014...Death of Greg Hughes (Manager-Conquerors, Times and Hugo Duncan's Tallmen)
We received an email from Sean Creedon today telling us the sad new that Greg Hughes, former manager of the Conquerors. The Times, and Hugo Duncan and the Tallmen has passed away suddenly at age 75 at his home in Lorrha, Co. Tipperary. As well as being involved in the showband business, Greg was a well known County Offaly GAA footballer from the late 50's right through to the early 70's. In more recent years, he was a well known member of the local banking sector. Our sincere sympathies are extended to his family and friends.
4th May, 2014...Death of Earl Gill (Hoedowners)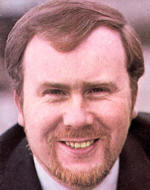 Sad news today from community member Michael Lynott that Earl Girl, trumpeter with Sean Dunphy's Hoedowners, has passed away in hospital after an illness. Although Earl Gill got his start in the 50's playing with other bands around Dublin, the Hoedowners started life as the resident band in the Shelbourne Hotel in Dublin. In fact, as were many bands of the day, they were actually more of an orchestra. During the winter the band played in the hotel ballroom, but during the summer they hit the road. In a 1969 Spotlight article Oliver Barry said that Earl was originally a piano player, but had an accident that severely injured some of his fingers and he turned his talents to the trumpet. However, his early training made him one of Ireland's most talented arrangers and sought after session musicians throughout his career. Our sincere sympathies are extended to his wife, Mavis, family and fans across Ireland and the rest of the world.
8th April, 2014...Death of Paul McManus (Chessmen)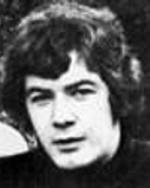 I received the sad new today from Michael Lynott that Paul McManus has passed away suddenly in Sligo. Paul started his career with the local Sligo showband, The Stylos, in the late 1960's. He then went on to play with the Chessmen in their latter years, joining the band in late 1969 and staying with them until they called it quits in the early 70's. He returned to Sligo and played with local bands, even taking up the drums. I got to play with Paul and got to know him at that time and we became good friends, although in recent years Paul had disappeared from the local music scene. It is with great personal sadness that I learned of his passing and my heart felt sympathies are extended to his family and friends in Sligo.
.
9th March, 2014...Further to the death of Norman Clifford (Miami, Gypsies and Brendan Bowyer)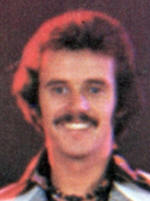 Ray Clifford sent me an email today, asking me to publish the notice of Norman's passing for his friends and fellow musicians in Ireland. We again extend our sincere sympathies to his family and friends.
Death notice
Norman Charles Clifford (Musician) late of Las Vegas and Bangor road, Crumlin. Norman died peacefully on the 13th of January 2014 at Sunrise Hospital in Las Vegas after a short illness. Norman's ashes will be buried in Glasnevin Cemetery after 10 o' clock Mass in Saint Bernadette's Church on Clougher road, Dublin on the 22nd of March. Family, friends and neighbours can meet after in Jacob's social club on Airton road in Tallaght. Family flowers only, donations to irish-showbands.com
28th February, 2014...Showband exhibition in Enniskillen Library March 2-14th, 2014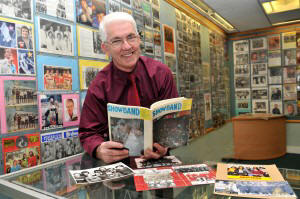 We received an email from Gerard Cassidy telling us that Philip Darcy has an exhibition running in Enniskillen Library from 2nd through the 14th of March. This will feature memorabilia from the 60s, 70s & 80s. It will include photographs of bands from the era, books, annuals, LPs, records, cassettes, stamps and other items of interest. In May, part of Philip's collection will go on display at the Fermanagh County Museum.



17th February, 2014...Tweed Reunion on March 7th in Kilkenny.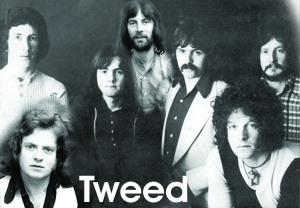 We received an email today from Eamon Cleere letting us know that Tweed, one of the top bands of the 70's and early 80's, are reuniting for one night only on March 7th, 2014 at the Set Theatre in Kilkenny. Formed in 1971, Tweed were one of the new "pop" bands which were so popular after the showbands. Along with bands like Chips, The Memories and others, they defined Irish pop music for more than a decade. They released more than ten singles which included songs like Painted Lady, My Lagan Love and Why Don't You Spend the Night. The lineup on the night will feature original members Brendan Ryder (vocals), Michael O'Grady (keyboards), Arthur Connick (trombone), Tony Ford (bass), and Johnny Scully (trumpet) along with later members Gay Brazel (guitar) and Dave Hallissey (sax). Completing the 8 piece line up will be drummer Brian Doran. For more info contact the Set Theatre, Kilkenny.


9th February, 2014...Death of Fred Hanna (Fred Hanna Showband, Laganmen)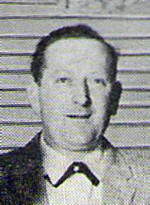 We received the sad news today from Teddie Palmer that Fred Hanna passed away today. We do not know a lot about Fred's career except that he was from Newtownards and that for much of his time, he called his band the Laganmen. We have also read that around 1965, Fred's band was known as the Calypso Showband. During the late 1950's Fred and his band were resident in the legendary Floral Hall in Belfast. They made an album called Lonely Woods of Upton. We also think he made an album around 1973 called Irish Family Favourites: Fred Hanna and his Irish Music which included many classic Irish tunes of the day. Not only was Fred the band leader, but also played the accordion. Fred was 88 years old when he passed away and our sincere sympathies are extended to Fred's family and friends.

13th January, 2014...Death of Norman Clifford (Miami, Gypsies and Brendan Bowyer)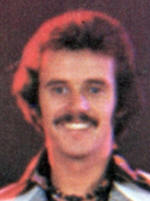 We received sad news today from Ray Clifford that his brother, Norman, has passed away in Las Vegas, Nevada, USA. Norman started his career with the Imperial Imps when he was only 14. He then went on to help form Lola and the Gypsies with Anne Mooney. After a stint with the reformed Miami, Norman joined the Big 8 and went to Las Vegas. Like several of his band mates, Norman stayed in Vegas and was performing in many of the casinos around the city. We will hopefully have more info over time. Ray told us Norman will be laid to rest at home in Ireland. Our sincere sympathies are extended to Norman's family, friends and fans both here at home and in the United States.






3rd January, 2014....Death of Phil Everly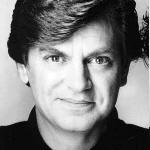 Sad news today that Phil Everly, one half of the world famous Everly Brothers has passed away at the age of 74 from complications from chronic obstructive pulmonary disease. Although Phil and Don were not part of the showband era, their influence on the era was unmistakable. Many showband musicians have cited musicians like Elvis, Lonnie Donnegan, the Beatles and the Everly Brothers as the inspirations for picking up a guitar and going on stage. In fact, several Everly songs were recorded by showbands over the years. Of course, their close harmonies provided the blueprint for singers for the last 50 years. Our sincere sympathies are extended to his family and fans across the world.



1st January, 2014..."Do You Come Here Often"...the book.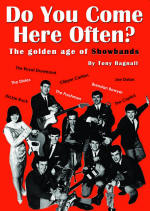 We received a copy of a new book from Tony Bagnall of Newry. "Do You Come Here Often" (as the title states) is a look back at the golden age of showbands, but with a twist. Not only does Tony trace the careers of some of the era's greatest stars, including Dickie Rock, Brendan Bowyer, the Dixies, The Freshmen, Susan McCann, Hugo Duncan and many others, he also brings us up to date on where they are now. The book includes some great photos of the bands, but also includes many images of bands as they are now (or in the recent past). This is a great resource about the era and a must have for anyone who enjoyed the sounds of the Irish Showband era. For more information, check out Tony's website: www.tonybagnall.com