April 1st, 2017....Death of Des Kelly, (Quicksilver, Des Kelly Band, Capitol Showband)

Sad news today from County Galway that Des Kelly, founding member of the Capitol Showband and entertainment legend in management has passed away after lengthy illness. Besides founding the band, along with brother Johnny (RIP), he also managed many of the biggest names of the era including Sweeney's Men, Planxty, Smokey Mountain Ramblers and more, For the last twenty years, her was a regular presented on Galway FM radio. Our sincere sympathies are extended to his wife, Maura, his children and grandchildren and all his family and friends around Ireland and the rest of the world.
February 8, 2017.....New book by Colm Lynch - Mushroom, A Collector's Item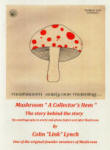 We received a package this morning from Colm "Link" Lynch, original member of the 1970's Celtic rock group Mushroom. The package included his new book about the band and his autobiography. Colm asked us about contributing to the book and it includes our brief history of the band along with many of the photos which appear on the website. The book is an amazing collection of facts and photo about the band and Colm's life both in Ireland and later when he went to live in Denmark. The original band (originally called Hessuanta) featured Colm (drums), Michael Power (keyboards), John "Dee" Donoghue (guitar), Alan Brown (bass), and Pat Collins (vocals and fiddle). Aonghus McAnally would join after the departure of John Dee in February, 1973. Colm tells the story in detail and really does a great job describing the excitement of the era when Celtic rock was just taking off in the form of the band, Horslips. We wish Colm every luck with the book and want to thank him sincerely for mentioning the site and helping keep the memories of this great era in Irish entertainment alive.