The Irish Music Press
(click on photos to enlarge)
Radio Telefis Eireann (RTE) Television

In 1961, the Irish entertainment landscape was transformed when RTE Television went on the air for the first time. For most Irish entertainers, an appearance on the country's only national television station was the essential first step on the road to success. Even then, there was no guarantee of "instant success." In the 60's, RTE was often the only game in town, unless you lived in Dublin or some rural areas near the border, where UTV from Northern Ireland and even the odd BBC transmission could be picked up.

On November 2, 1978, things changed again when RTE 2 went on the air. Now there were double the choices, double the programs, and double the need for entertainment. Together, both stations had to be all things to all people. What's more, they had to do this in the handful of hours they were actually on the air.

One of the mainstays of programming was the "variety show," of which there were many. Entertainers, themselves often from the dancehall or cabaret circuit, hosted these shows and Mike Murphy, Brendan Grace, Twink, and others became household names.
Special tribute, though, must be paid to two shows which launched many careers and provided a consistent conduit to the public, The Late Show hosted by the legendary Gay Byrne, and SBB, Ina Shui, an early evening children's show hosted by Sean Ban Breathnach.
RTE Radio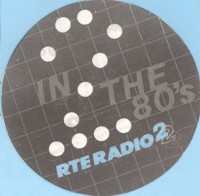 Until May, 1979, there was only one radio station in Ireland, RTE. That all changed when they launched RTE Radio 2, now known as 2FM. Click here for audio of station opening. Unlike RTE 1, which featured programming that tried to cater to everyone who lived in Ireland, RTE 2 was geared towards young people, and became the home to many DJ's who helped further promote Ireland's own pop and country talent. Click here to listen to RTE 2FM live. When RTE Radio 2 took to the airwaves, the DJ's were (where they are now): Larry Gogan (2FM), Jimmy Greeley (98FM), Ronan Collins (RTE Radio 1), Jim O'Neill (Today FM), Marty Whelan (RTE Radio 1), Dave Fanning (2FM), Marian Richardson (RTE 1 Producer), Ruth Buchanan (RTE Radio 1), Arthur Murphy (unknown), Paul Clark (UTV), Ken Stewart (unknown), Barry Lang (flying), Bryan Day (unknown), Mark Cagney (TV3-Ireland), Brendan Balfe (RTE Radio 1), Ciana Campbell (RTE TV 1), Ian Dempsey (Today FM), Pascal Mooney (Irish Senator), Gerry Ryan (2FM), Val Joyce (RTE Radio 1), Vincent Hanley (deceased), Pat Kenny (RTE Radio 1), Michael McNamara (Lyric FM), Dave Heffernan (Solas AM), Sean Ban Breathnach (Raidio na Gaeltachta), Pat Butler (RTE TV), and Aine Hensey (RTE Radio 1).


Although long gone, Spotlight magazine (renamed New Spotlight and then Starlight) was the "bible" of the Irish entertainment industry throughout 60's and 70's. Advertising itself as "Ireland's No. 1 Young Entertainment Weekly," it was THE source of news about your favorite Irish acts. The magazine was edited by John Coughlan, who later purchased the name and launched Starlight magazine. A search of the Internet today has turned up no information on the magazine or its history except for quotes from articles such as we have here on our site. On October 5, 1972, a new column was introduced as Julie Boyd took over Pat Egan's "Where It's At" column. It would become one of the most interesting columns for musicians as Julie's weekly travelogue was a diary of the comings and goings in the showband world. It was not uncommon to find Julie thumbing a lift from one dance to another or bump into her almost anywhere in the country as she traveled around writing about the band scene in Ireland. To see our growing collection of Spotlight Covers, click here.
RTV/RTE Guide


Started in 1961 as the RTV Guide, the Guide was primarily a source for TV and Radio schedule information. However, the RTE Guide has always featured stories about Irish entertainers. The photo on the left is the 21st Anniversary Edition. In the late 1970's and early 1980's, Brendan Martin contributed a regular column called "Sound & Vision" which covered the music scene, both domestic and international. Brendan reviewed singles and artists and was extremely helpful to many Irish acts. Although we do not not know how long Brendan did his column in the Guide, we do know he now lives in London and runs an organization called the Journalism Training Centre and still writes, although he now covers business, rather than entertainment! The RTE Guide was one of the main sources for publicity for many pop bands which played the circuit in the 60's, 70's and 80's.
Local Press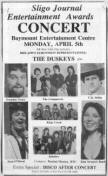 One the real mainstays of the Irish entertainment scene through the years has been the role played by local newspapers (and today local radio) in promoting Irish bands and their music. However, since local radio didn't really exist in the "good old days," it was to the local newspaper that loyal fans turned for news of their favorite singers and bands. Newspapers like The Western People, Sligo Journal, Tuam Herald, Connaught Telegraph, Tipperary Star and many more had weekly columns dedicated to the entertainment scene. Journalists dedicated to the local scene helped provide an important conduit between the bands and their fans. In fact, many papers sponsored major annual awards concerts and popularity polls every year. These events not only brought the stars together in unique and different ways, they also brought musicians together who would otherwise never meet either because of where they were based, or constant traveling.
Woman's Way

Woman's Way magazine was, and still is, one of the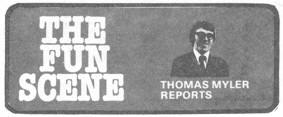 top selling weekly magazines in Ireland. The publication features everything you would expect from a woman's weekly. Thomas Myler's "The Fun Scene" was a weekly column which covered music, films, books, and everything else involved with entertainment. Although Thomas usually focused on international stars, he occasionally gave some coverage to Irish entertainers as well. We're not sure if Thomas still writes for Woman's Way, but we think he is still a contributing writer to the Irish Independent newspaper covering boxing and other sports.
Entertainment News

Entertainmnent News was a weekly publication from Top Rank Entertainment

based in Bree, Castleblaney, Co. Monaghan. Although the glossy magazine heavily featured artists managed by Top Rank, it also made room for a wide variety of domestic and international entertainers. Pictured on the cover (left) is Chips, one of Ireland's top pop bands during the 70's and 80's. In fact, Lynda Martin (second from left) went on to win the Eurovision song contest in 1992 with the song, "Why Me?" The main person behind Top Rank was Tony Loughman, who is no longer involved in the music scene (we think). Entertainment News was an ambitious endeavor with thirty pages of entertainment news priced at just 30p. We do not know when the publication stopped, but it benefited a wide range of artists in its day. Michael Cummins, contributed to the publication regularly with his column, "The Western Front." At one point now Senator Pascal Mooney also contributed to the magazine and was it's editor .
Hot Press

Introduced in 1977, Hot Press was dedicated almost exclusively to rock music in its early years. The 1981 Yearbook (pictured left) included listings for Record Companies, Bands, Record Shops, Venues, Festivals, The Folk Circuit, Promoters, Agents, Equipment, Recording Services, Media, and Hi-Fi Shops. Today, the magazine has expanded to include all forms of entertainment, including "current affairs, cinema, sport, humour, books, fashion, politics, sex – everything that matters – all receive the inimitable Hot Press treatment." (quoted from their website). Click here to visit. Generally, Hot Press had little time for the "showband" scene, but did (from time to time) feature some of the more progressive pop groups that were on the circuit. Of course, it's main focus was the rock scene, which was just coming of age in Ireland.
Others:
Mike Niblett wrote us a short note highlighting several other excellent sources which we have neglected to mention. They included: Cityweek, Ulsterweek (both colour tabloid mags mid 60's, maybe the first weekly colour mags in the whole country), The Belfast Telegraph, The Irish News, The Newsletter, or Northern Times........ all carried the music news in depth, as did most of the local papers. Music columnists, not particularly for the above mentioned would have included Doc (Dominic) Cunningham (Irish Times) and Chris Ryder (The Times) before they had joined those papers.
Our thanks to Mike for the additional info.