Danny Doyle Story (Active 1965-2011?)
Photo Gallery - Band Lineups - Discography - Audio samples - Where Are They Now?
The Story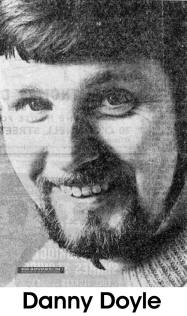 Danny Doyle was one of the few folk artists of the mid sixties who made the switch to the showband circuit in the early 70's at the time when the ballrooms were the only way to make "real" money in Ireland. Born in 1940, Danny was one of eight children. Growing up in Dublin, Danny quit school when he was fourteen and over the next few years, traveled around Ireland, soaking up the influence of musical acts like the Dubliners and Clancy brothers, learning the ballads which were sung in every corner of the country.
It was early 1965 when Danny started on the path to a career in music. In a 1967 Spotlight interview Danny said, "When I left school I didn't know what to do with myself. I worked in a shop but there was no future in it. It just wasn't me." He quit his job and headed to England where he drifted around the folk clubs and when he was lucky enough, he would sing a few songs. Two years in England helped Danny hone his musical skills as well as develop his own style.
"I was a carbon copy of the Clancys and the Dubliners before I went to England," he said, Suddenly it dawned on me to be myself and have my own style." Danny returned to Ireland brimming with new found confidence and started playing the rounds in the pubs. With his brother Michael handling his management, he got his first big break at the Embankment in Tallaght. Michael told the promoters Danny was just back from a roaring success in England and would draw huge crowds.
In late 1966, after a few months back home, Danny was earning £40 a week and signed with Mick Quinn, who had guided the futures of other stars on the folk scene (like the Wolfe Tones) and just started the Associated Ballroom Agency. Danny needed to make a record if he was to move to the next level on the Irish scene. His first record was, "Step It Out Mary" which began to get plays on all the stations. The record was a hit and spent eleven weeks on the Irish charts, eventually reaching number 4.
1967 had started with a bang for Danny and he was suddenly in demand. The folk and ballad revival in Ireland had hit full stride and Danny, along with artists like Johnny McEvoy, was riding the crest of the folk wave. A few months later, he released his second single, "The Irish Soldier Laddie" which was not as successful as Mary, but still managed to break into the top ten, reaching number seven.
In May of 1967, as Soldier Laddie was ending its run in the charts, Danny relelased his first E.P (four track 45 rpm disc) which included Step It Out Mary again. The release did little for his career and failed to chart. However in September, he released "Whiskey On A Sunday," which would prove to be his biggest hit yet. The record entered the Irish charts a week later and three weeks later reached number one. With this success, Danny joined Johnny McEvoy as one of the top ballad stars in Ireland.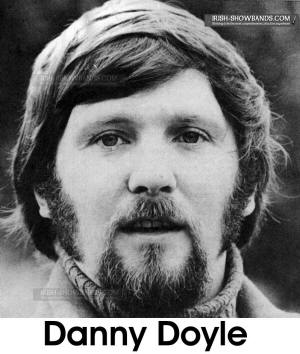 In the March 25, 1972 issue of Spotlight, and article reported that Danny was forming a showband. At the time, no name had been chosen, but they were scheduled to make their debut on Sunday, April 23rd in Claremorris. Danny moved from the folk circuit into the ballrooms when he teamed up with former member of Maxi, Dick and Twink - Maxi to form the band, Music Box. Maxi, who had been in Canada, came back to Ireland to join the band in March, 1972.
The original lineup of the band included: Stuart Smith (Jim Farley Band - keyboards), Damien McKerr (Dreams - guitar), John O'Connor (drums), Kevin Kennerly (Tomorrow's People - bass), Tony Meehan (Palms - sax), Danny Doyle (vocals), and Maxi (vocals). At the time of the article in Spotlight, a trumpet player had yet to be named.
Although on paper, the band looked like a sure fire success, in practice it was an uneasy partnership. Although Maxi's roots may have come from the folk realm with Maxi, Dick and Twink, the years since that group broke had been spent singing pop tunes almost exclusively. Additionally, Danny was trying to make the switch from folk to country, itself a challenge few mastered (including Johnny McEvoy).
Still, the combination of the two stars had plenty of drawing power and the band had some success on the ballroom circuit. However, we don't think they released a single during this period. All in all, the band lasted just three years and never quite clicked. Danny and Maxi were too far apart when it came to musical tastes. Said Danny at the time, "The Music Box were a great bunch but then again Maxi and myself were poles apart musically. She was keen on pops and I was always a country fan." Eventually, it made sense that they should each form their own band and so in June, 1974, Maxi left to form her own band which was reported would be called "Maxi and Company" and in July 1974, Danny and the Music Box played their final gig. An article in Spotlight announced the formation of his new band, "Country Music Box."
An advertisement in Spotlight in March, 1975 announced the search for a new girl singer for the new outfit. Rumours had abounded that Maxi might rejoin the band, but this was denied by management. This would not last long though as we think by 1976, Danny has resumed his solo career.
As an aside, later in the year (November, 1975) Maxi had left the ballroom scene, was married to drummer Stuart McDonald and had started a six week run in a musical at the Abbey Theatre called Innish, after recovering from exhaustion after a tour in Canada. She claimed she would not be returning to the ballrooms and was looking forward to trying a career in acting.
Danny's experimentation with country music would be a distant memory once he came back to his folk roots. He had several hit singles in the late 70's including Somewhere Somebody's Waiting which reached number 5 in the Irish Charts and he followed this up with Pete St. John's poignant tale of Dublin, The Rare Oul' Times which has become one of the all time classic songs about Dublin ever written and reached number one in the charts where it stayed for 12 weeks. In fact, it would be Danny's last hit record in Ireland. It was released a couple of years later and reached number 11.
A few years later, in 1983, Danny left Ireland for the United States where he continued to perform ballads of Ireland for new audiences.
click on thumbnails for full image
| | | | | |
| --- | --- | --- | --- | --- |
| | | | | |
| Danny Doyle - 1966 | Danny Doyle - 1967 | Danny Doyle - 1967 | Danny Doyle - 1967 | Danny Doyle - 1967 |
| | | | | |
| Danny Doyle - 1967 | Danny Doyle - 1967 | Danny & Johnny - 1967 | Danny Doyle - 1968 | Danny Doyle - 1968 |
| | | | | |
| Danny Doyle - 1968 | Danny Doyle - 1968 | Danny Doyle - 1968 | Danny Doyle - 1968 | Danny Doyle - 1969 |
| | | | | |
| Danny Doyle - 1969 | Danny Doyle - 1970 | Danny Doyle - 1970 | Danny Doyle - 1971 | Danny Doyle - 1971 |
| | | | | |
| Danny Doyle - 1971 | Danny Doyle - 1971 | Danny Doyle - 1971 | Danny Doyle - 1971 | Danny Doyle - 1971 (RF) |
| | | | | |
| Danny Doyle - 1971 | Danny Doyle - 1972 | Danny Doyle - 1972 | Danny & Maxi (RF) | Danny & Maxi (RF) |
| | | | | |
| Danny & Maxi (RF) | Danny & Maxi (RF) | Danny Doyle & Maxi - 1972 | Danny Doyle & Maxi (LR) | Danny Doyle - 1972 |
| | | | | |
| Danny & Maxi - 1972 | Danny & Maxi - 1972 | Danny & Maxi - 1972 | Danny Doyle - 1973 | Danny Doyle - 1973 |
| | | | | |
| Danny Doyle - 1973 | Danny & Maxi - 1973 | Danny & Maxi - 1973 | Danny & Maxi - 1973 | Danny Doyle of The Music Box - 1973 |
| | | | | |
| Danny Doyle - 1973 | Danny Doyle - 1974 | Danny Doyle (RF) | Danny Doyle - 1974 | Danny Doyle - 1974 |
| | | | | |
| Danny Doyle - 1974 | Danny Doyle (RF) | Danny Doyle - 1975 | Danny Doyle - 1975 | Danny Doyle (RF) |
| | | | | |
| Danny Doyle - 1973 | Danny Doyle - 1973 | Coming Soon | Coming Soon | Coming Soon |
| | | | | |
| Coming Soon | Coming Soon | Coming Soon | Coming Soon | Coming Soon |
Years
Vocals
Vocals
Guitar
Bass
Drums
Keyboards
Sax
Trumpet
1972
Danny
Doyle
Maxi
Damien
McKerr
Kevin
Kennerly
John
O'Connor
Stuart
Smith
Tony
Meehan
June
1975
Danny
Doyle
Tammy
(aka Bernie)
Jimmy
Marshall
Christy
Lundy
John
O'Connor
Stuart
Smith
Tony
Meehan
Discography (More to come)
Singles:
Step It Out Mary / Pretty Saro - #4 Irish Charts
Tribune Records - MJS.104 - December, 1966
Irish Soldier Laddie / Morning Train - #7 Irish Charts
Tribune Records - TRS.103 - April, 1967
Step It Out Mary / Sam Hall / Early Morning Rain / Red Haired Mary E.P.
Tribune Records - Tribune 501 - May, 1967
Whiskey On A Sunday / Reason To Believe - #1 Irish Charts
Tribune Records - TRS.108 - September, 1967
The Mucky Kid / Gone Away - #17 Irish Charts
Tribune Records - Unknown - March, 1968
Johnny / Leaving On A Jet Plane
Tribune Records - Unknown - October, 1968
The Long and Winding Road
Tribune Records - TRS.141 - June, 1970
Take Me Home Country Roads
Plough Records - PLS.001 - August, 1971
A Daisy A Day / Far Away In Australia - #1 Irish Charts
Release Records - RL.671 - May, 1973
Thanks for the Memories / Kentucky Moonshine (Tennessee Wine?) - #2 Irish Charts
Release Records - RL.709 - January, 1974
A Very Special Love Song / Morning Bells WIll Chime - #11 Irish Charts
Release Records - RL.736 - July, 1974
Jesus Is My Kind of People / Penny Annie
Release Records - RL.762 - February, 1975
Somewhere Somebody's Waiting - #5 Irish Charts
Music Box Records - Unknown - September, 1976
Rare Ould Times - #1 Irish Charts
Galaxy Records - Unknown - January, 1978
Old Dublin Town / Bells of the Morning
Galaxy Records - E.101 - 1978
Rare Ould Times (re-released) / Old Dublin Town - #11 Irish Charts
Release Records - RL.980 - September, 1979
Albums:
Expressions of Danny Doyle
Tribune Records - TRL.1003 - November, 1967
Whiskey On A Sunday
EMI Records - STAL 6010 - 1970
Danny Doyle
Plough Records - PL.1001 - August, 1971
Grand Ole Irish Opry
Release Records - BRL.4038 - 1973
The Highwayman
Granauile Records - GRLP.001 - 1982

Audio Clips
| | |
| --- | --- |
| | Danny Doyle: The Country Music Box appears to have lasted until 1976 at which time Danny resumed his solo career and went back to folk music. He relocated to the United States in 1983. He continued to perform for audiences throughout the 80's and 90's. We think he still lives there. An article about him on Wikipedia states that he has retired from performing. We also understand from several online sources that Danny underwent major surgery around 2008 (although we do not know what the surgery was for). From his humble beginnings as a Dublin lad with a guitar, Danny became one of Ireland's most successful balladeers, singing his songs for audiences and celebrities across the world. |
| | Maxi (Irene McCoubrey): In 1973 Maxi represented Ireland at Eurovision singing Do I Dream. In the late 70's she joined another girl trio, Sheeba with Marion Fossett and Marion Campbell. They were in Eurovision in 1981 singing Horoscopes. Sheeba ended in 1982 after a road accident in 1982. Maxi then worked as a broadcaster with RTE and also as an actor. Most recently she was sideline with an illness. She was also was appointed special representative for UNICEF Ireland, and one of her first public engagements was to highlight the situation is on several disaster fronts, particularly in sub-Sahara Africa. |
| | Damien McKerr: |
| | Stuart Smith: |
| | Kevin Kennerly: |
| | John O'Connor: |
| | Tony Meehan: |
| | Band Member: |
| | Band Member: |
| | Band Member: |