Rob Strong Feature (1965-present)
Bands: Polka Dots • Plattermen • Rockets • Las Vegas • Rob Strong Band
Photo Gallery - Band Lineups - Discography - Audio samples - Where Are They Now?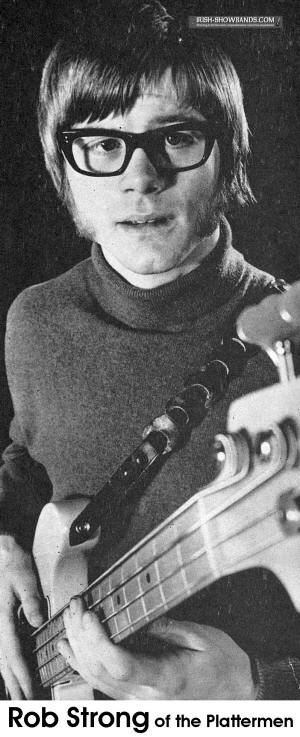 The Story
In the early 1970's nobody in Ireland personified the raw energy of rock and blues music like Rob Strong, one of the most unique voices of the era. Rob and the overdrive brass section of the Plattermen laid down some of the funkiest sounds ever heard in an Associated Ballroom. But it wasn't always that way. A rather tame looking Rob first entered the showband scene as the bass player with The Polka Dots, a far cry from his latter days with the Plattermen.
Rob started his showband career around 1965 when he joined the Polka Dots showband after playing with a few local bands around Derry. Around that time, the Polka
Our best guess is that Rob started his career in the early 60's.
He's perhaps destined to be remembered as father of Andrew of Commitments fame, but Rob Strong is a force to be reckoned with in his own right....

Tim Brannigan found out more DERRY man Rob Strong has known many ups and down in his musical career. The sad thing is that he may be known as the father of his son rather than for anything he has done in his own right.
"Well, to be honest Andrew's success and the film (Andrew was the precocious singing star of The Commitments) were good for me too. I got a lot of work out of the fact that my son was a big star," said the Dublin-based singer.

"I always get asked about my children and their careers but I mean what can you do when you're asked? You can't be ignorant to people."

Rob, who plays at the Empire tomorrow night, has been round a few corners as they say, and his career as a blues-tinged rocker has not always been an effortless journey. It started off well enough.

In the 1960s he was a key member of well-known showband The Plattermen who quickly gained a reputation as one of the best showbands in the whole of Ireland.
This was no mean feat because show bands were the second most popular career option in Ireland at the time. The first was emigration. "Those were great days and they will always be important to me. The showband scene was fantastic and we really took it seriously, practising three and four days a week. "It's not like the bands now who don't bother practising half the time. Today the music industry is split in two between the people at the top and those at the bottom.
"In the past there was also a middle layer which was where I was but it's all much more tough now."
Rob has a theory about why this is and he points the finger at one of the most disturbing trends in music today: the rise of
the 'tribute' band. "Everywhere you look now it's counterfeit bands. There must be three Bob Marley bands on the go and then there are Eagles bands, Pink Floyd bands, Abbaesque and loads of others. "It would be fine if these bands were any good but most of them aren't. To be a tribute band you have to be really good and not just OK if you plan to pay a tribute."
He lost out on the possibility of joining rock legends Deep Purple because of poor decisions by his management.
Rob's career began in the sixties and has continued ever since, although when things got tight he wasn't above turning to a day job to make ends meet.
"Well, this is the real world and you've got to pay your bills. There are plenty of artists whose pride won't let them work a nine-to-five if needs be. But I'm not like that. If I have to work on a building site I will."
For almost 10 years Rob's day job was not the normal nine to five, and his dedication to it led him into Mountjoy prison ­ as a teacher. "Yeah, it was funny but I got asked to go in and teach the lads in there how to play the guitar. It was a very interesting experience but by the end of my time there I just wanted to get out of there and get back to music full-time."

The pull of live performing still has a hold on Rob but he feels that constant travelling rejuvenates his zest: "I am going to
Sweden for five days and soon after that I go to Germany for a fortnight. "I still have a good fan-base in Europe and that's great. A lot of Irish and British acts are very insular and seem to overlook Europe but I've always enjoyed it. I also go to America a fair bit too which helps keep me sane."

Rob's father was a musician and his son Andrew currently has a number-one hit in Denmark and still plays regularly across Europe. Now his daughter Niamh (18) has started to make waves musically, and is currently receiving a lot of attention from a major music company.

He doesn't seek to discourage her: "No, she's got a great voice and I just think that if that's what she wants to do then great." So long as he is doing what he likes best ­ touring ­ then he seems happy to let his off-spring go wherever the road may take them. Rob Strong is at The Empire in Belfast tomorrow night. Tickets are available at the door. Priced £5.
In November, 1975, Ray Doherty, who had recently left the Big Eight, announced the formation of a new band, Las Vegas. An article in Spotlight reported that the idea came to Ray when the band had been playing in Vegas (where they spent six months a year). The band's lineup included: Rob Strong (vocals and bass), Ray Doherty (multi), Jon Murphy (vocals), Kevin O'Brien (trumpet/sax), James Delaney (keyboards), Brendan Bannigan (brass) and Niall Power (drums).
May 1978- Rockets
December, 1974-Rob Strong Band
1976 Las Vegas with Kelley
More to come.....
click on thumbnails for full image
| | | | | |
| --- | --- | --- | --- | --- |
| | | | | |
| Polka Dots (BS) | Rob Strong circa 1970 | The Plattermen | Rob Strong - 1972 | Rob Strong Band-1974 |
| | | | | |
| Rob Strong & Las Vegas (BK) | Coming Soon | Coming Soon | Coming Soon | Coming Soon |
| | | | | |
| Coming Soon | Coming Soon | Coming Soon | Coming Soon | Coming Soon |
| | | | | | | | |
| --- | --- | --- | --- | --- | --- | --- | --- |
| Years | Vocals | Guitar | Bass | Drums | Keyboards | Sax | Trumpet |
| | | | | | | | |
| | | | | | | | |
| | | | | | | | |
| | | | | | | | |
S - #3 Irish Charts
M
Coming Soon
| | |
| --- | --- |
| | Band Member: |
| | Band Member: |
| | Band Member: |
| | Band Member: |
| | Band Member: |
| | Band Member: |